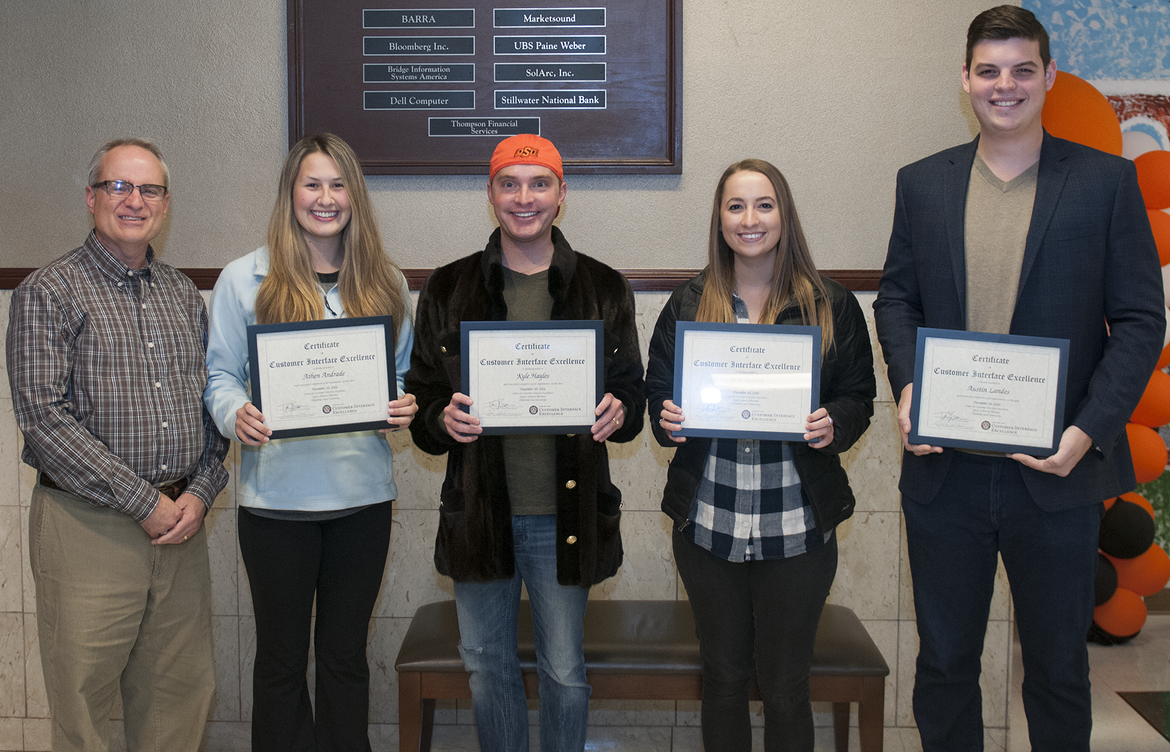 The Center for Customer Interface Excellence (CIE) in the Spears School of Business at Oklahoma State University may be just a name in a directory for many OSU students, but for marketing students, it's the fast-track to industry success.
CIE's goal is to focus on the point of connection between an organization's frontline employees and its customers, providing a specialized education for students interested in careers in retailing, personal selling or services marketing. Students who are accepted into the program work toward earning the Certificate in Customer Interface Excellence. The program partners with businesses to provide students insights into a variety of industries. Participating companies benefit by gaining exposure with highly qualified job candidates.
The program officially launched in the fall of 2014 under the direction of Tom Brown and Todd Arnold, both professors of marketing in the Spears School. Since then, students have been getting a foot up on the competition. "We have over 700 marketing majors in the Spears School – that's a lot of people competing for the good jobs. Our graduates find great jobs, often with the companies that participate with us in the Center," Brown said.
"The things I have learned by being a part of CIE aren't just definitions you could learn in another classroom; it's exactly what you need to know to succeed," said Laney Wilson, senior marketing major at OSU. "Our industry partners meet with us to teach us about the hiring process, industry tips and tricks, and it's not the same thing every semester. I learned about things I would have never considered before, so I have CIE to thank for getting my foot in the door with these companies. If Dr. Brown hadn't pitched this program to my marketing class, I wouldn't have my job offer today."
Currently, 12 well-known companies have partnered with CIE to engage with students in the classroom, on site visits, and during receptions. This spring, CIE students will meet with representatives from Cintas (Jan. 19), Target (Feb. 2), E&J Gallo Winery (Feb. 9), and Goosehead Insurance (March 2), plus take a visit to Bank of Oklahoma headquarters (March 23). On March 1, a reception with representatives from each of the 12 partner companies will be held as a networking event.
To learn more about CIE, visit cie.okstate.edu.