OSU's Ph.D. in Business for Executives cohort includes students from across United States
Tuesday, September 5, 2017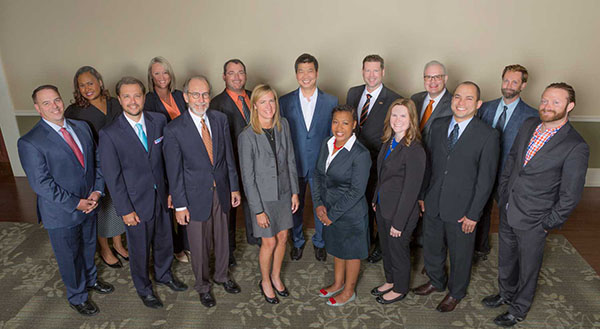 Oklahoma State University's innovative doctoral program for executives continues to grow as the sixth cohort of the Ph.D. in Business for Executives features 15 participants from across the United States.
The three-year doctoral program in OSU's Spears School of Business kicked off in August with an orientation session at the Student Union on the Stillwater campus. The sixth cohort joins 78 participants from across the world who have already taken part in the Ph.D. in Business for Executives program.
"We are very excited to welcome our sixth cohort to the executive doctoral program," said Ken Eastman, dean of the Spears School of Business. "The program is making a significant impact and continues to attract the quality and diversity of individuals we expected including representatives from such companies as American Airlines, Bank of America, Citigroup, Deloitte, Dell, Pfizer, Sprint, Walmart, and Wells Fargo. The program has a very good reputation and it shows in the quality of individuals who are admitted."
Executives from the sixth cohort participating are (listed alphabetically):
Samuel Bass, Accounting instructor, Missouri State University
Michael Caston, Associate professor of Industrial Design, Metropolitan State University of Denver
Nefretiri Cooley-Broughton, Executive Director, Student Affairs Marketing & Communications, University of California, Davis
Rick Desgroseilliers, CFO, Eyefinity
Nicole Flink, Adjunct faculty, Department of Professional Sales, Weber State University
Lee Grumbles, Vice President, Commercial Banking, Trustmark National Bank
Henry Kirn, Founder and Principal Consultant, BeyondIR Consulting Services
Edward McCabe, Owner, McCabe Energy Company
Russell Page, CEO, DaRK Capital, Inc.
Stephanie Phipps, Vice President, Human Resources, Mustang Fuel Corporation
Clint Purtell, Sr. Consultant and Entrepreneurial Executive, Mastech, Inc. and TES, Inc.
Julie Ravenscraft, Accounting instructor, Missouri State University
Kourtenay Schley, Director of Human Resources, Standing Rock Sioux Tribe
Marcos Souza, Vice President Cognitive AI and Analytics COE, Sprint
Dung Vu, President, MEP Green Design & Build Pllc
"I was looking for a PhD program that is research based but also takes into account the practical aspects of my career. This program was perfect for me," said Phipps, Vice President, Human Resources for Oklahoma City-based Mustang Fuel Corporation.
"I wanted the opportunity to go to a program that is rigorous, that is well respected, and that is AACSB accredited. And yet I didn't want to take five years away from my career to accomplish this. Oklahoma State University checked all the boxes," said Kirn, founder and principal consultant of BeyondIR Consulting Services in Dallas/Fort Worth. "I can work full time in my business and still pursue my degree. I looked at a number of different executive doctoral programs. What differentiated OSU was the rigorous nature of the program. Walking out with a degree is one thing. Walking out with a degree that is well respected is a completely different thing."
"The reason that I selected the PhD in Business for Executives program at Oklahoma State University is because I was looking for an AACSB-accredited PhD program that is tailored for working professionals. I had the opportunity during the application process to visit one of the residencies. I was able to meet the faculty, students, staff, and the administration. I was immediately impressed," said Ravenscraft, accounting instructor at Missouri State University in Springfield, Mo.
The cohort includes CEOs, CFOs, senior level executives, owners, and managers from well-known and respected organizations across the United States as well as faculty from esteemed universities. The program consists of individuals representing California, Colorado, Kansas, Missouri, Oklahoma, South Dakota, Texas, Utah and Washington.
"Several faculty have remarked that our sixth cohort could be our most impressive group yet, and I would agree," Toby Joplin, director of Executive Doctoral Programs, said. "OSU was one of the first and is still one of the few universities to offer an AACSB-accredited PhD in business in an executive format. Our students are attracted by the opportunity to work with some of the finest business research faculty in the world. Our students aren't simply applying known best practices, they are creating the best practices of the future."
These students are from industries such as energy, banking and financial, higher education, manufacturing, construction, aerospace/airlines, state government, health care, non-profits, telecommunications, transportation, bioscience, entertainment, information technology and engineering.
The doctoral program has graduated 34 students from the first three cohorts. The program has attracted executive students from all across the world, including Brazil, Canada, Malaysia, Mexico, and The Netherlands, and from 24 states.
The original stated goal of the program was to enable executives to better make data-driven decisions to make their organizations more successful. But over the past three years, research universities have discovered the quality of our graduates and our students have accepted positions at universities like Harvard University, the University of Notre Dame, the University of Texas, Texas Christian University, Marshall University, St. Edward's University, Weber State University, Tulane University and list continues to grow.
For more information or to explore how to become a member of the 2018 class, go to the Ph.D. in Business for Executives website: phdexec.okstate.edu.