The Veterans Entrepreneurship Program at Oklahoma State University continues to attract national attention as it enters its eighth consecutive year of empowering American military veterans as they turn their business idea into workable business models.
The program, headed by the Riata Center for Entrepreneurship, is designed for veterans who are interested in starting a venture as a means to financial independence or have an existing business that they would like to grow. Sixteen military veterans representing four of the five branches of the United State military will be traveling to Stillwater to participate in the innovative "boot camp" program Feb. 18-26.
"We believe in providing practical skills that will empower veterans to become financially independent," said Alexces Bartley, manager of events and outreach for the Riata Center. "We teach them the significance of being entrepreneurs. We provide industry knowledge and support for businesses at every step of implementation. Our faculty members and industry experts make sure the veterans are well prepared by the time they leave Stillwater, and what better way to thank our veterans for their service and sacrifice than by helping them achieve their goals in civilian life?"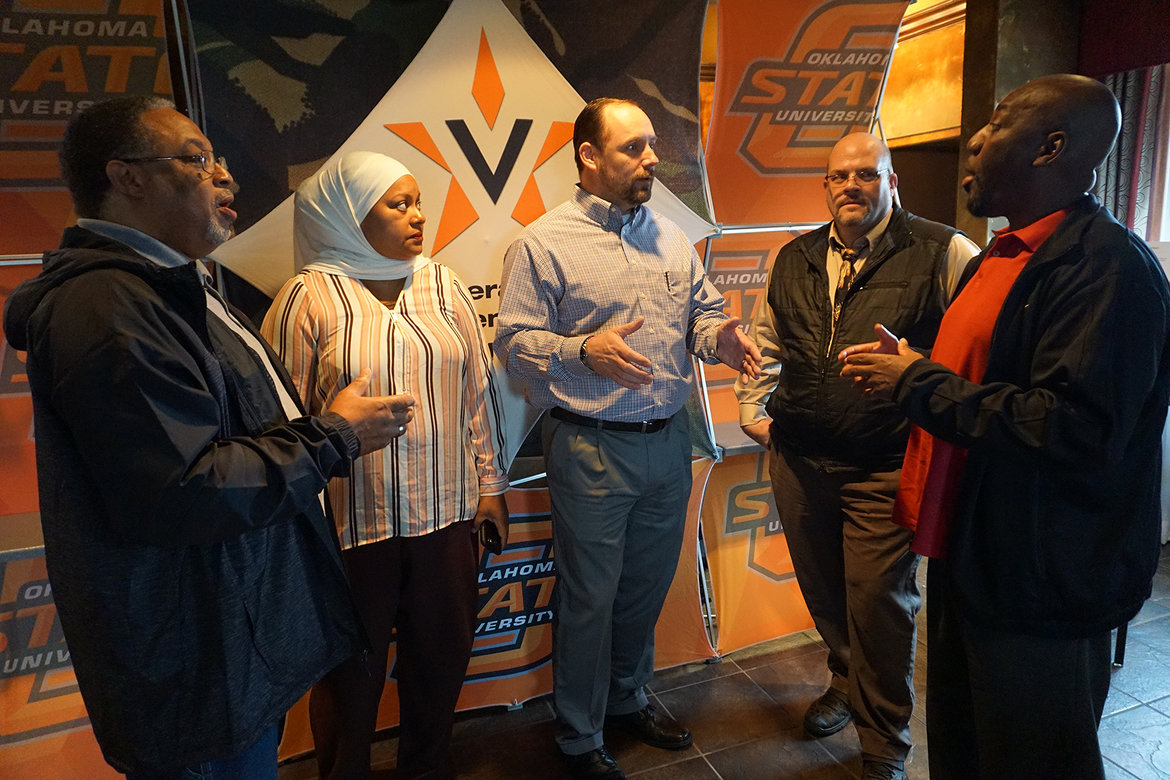 Participating in the 2016 VEP includes veterans from the Air Force (1 enrollee), Army (11), Marines (3) and Navy (1). They will be traveling to OSU from across the United States, including California, Colorado, Florida, Indiana, Missouri, Maryland, North Dakota, New Jersey, Oklahoma and Texas.
The eight-day residence provides an opportunity for hands-on learning and interaction with world-class faculty, guest entrepreneurs, business experts and others. The boot camp exposes the participants to the "nuts and bolts" of business ownership through experiential workshops and lessons. There is no cost to veterans to participate – the entire program is provided free of charge by grant funding as well as OSU alumni and donors that have a passion for both veterans and entrepreneurship.
"The Veterans Entrepreneurship program cannot be duplicated anywhere else," said Kyle McElhaney, owner of Founders Force and former VEP participant. "It adds tremendous value to yourself, your business and your future. The staff provides a network for growing your business and helps you every step of the way."
Of the thriving businesses that VEP have assisted, 17 have revenues between $100,000 and $500,000, 16 report revenues between $1 million and $5 million, and one has revenues in excess of $5 million.
The VEP is presented by the Riata Center for Entrepreneurship and School of Entrepreneurship in the OSU Spears School of Business and offers a three-stage learning experience. Participants complete online self-study sessions over a five-week period in December and January, travel to OSU's Stillwater campus for the eight-day on-campus boot camp, followed by 10 months of ongoing mentoring from entrepreneurship experts at OSU and online peer-to-peer networking.
For more information about the VEP, visit http://riata.okstate.edu/veterans/. Follow VEP on Facebook: https://www.facebook.com/VeteransEntrepreneurship/.