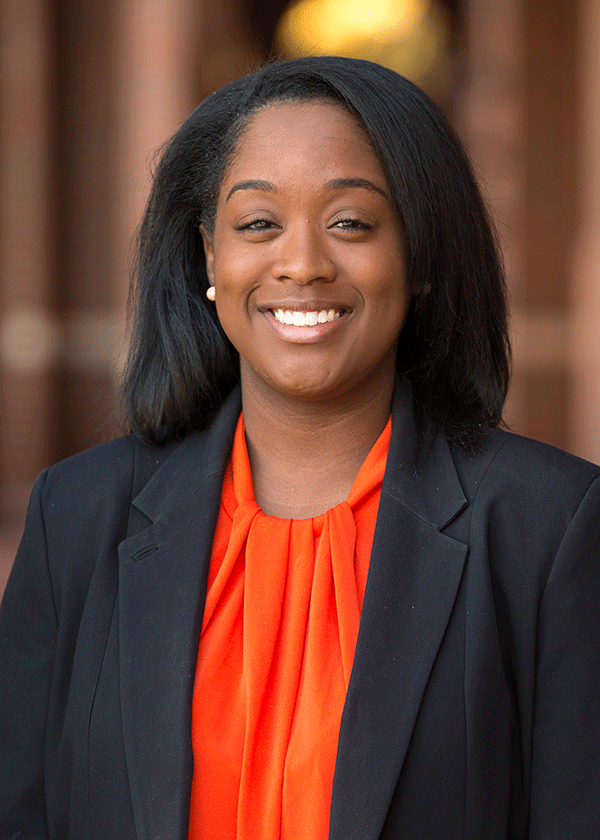 Tiffany Thurmond, a marketing and business management major at Oklahoma State University, is the recipient of the prestigious 2017 Raymond D. Thomas Award, given annually to the top senior in the Spears School of Business. Each year, a faculty committee in the business school votes who will receive the award and the lifetime membership to the OSU Alumni Association.
The honor will allow Thurmond to carry the Spears Business flag as a part of the opening ceremony to the Oklahoma State University spring commencement and will be the first business student to receive her diploma.
"When I look at this award, it brings tears to my eyes," said Thurmond. "Words could not express how thankful and honored I am to receive this award. For me, academic success and campus leadership are not the most important factors that this award signifies. The greatest factor that this award recognizes, a factor that is so precious to me, is the fact that it represents that I was blessed to have the opportunities to change people's lives while attending OSU.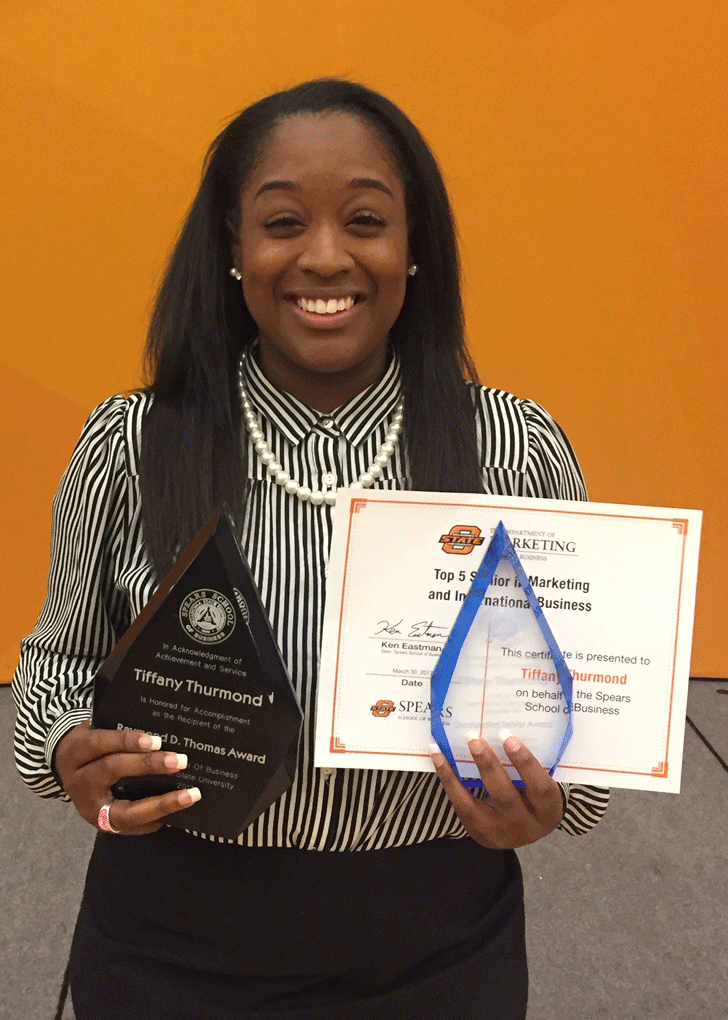 "As those who are close to me know, I started this journey determined to overcome the various challenges of today's society and break barriers while fearlessly chasing my dreams. I knew that I wanted to leave a legacy at OSU, in hopes of empowering other individuals to do the same. The Raymond D. Thomas Award helped me bring those goals to reality. Receiving this honor brings me so much joy because I know that those who come after me—especially within my community— will have a testimony to look up to that embodies the fact that no one can tell you what you can and cannot achieve."
Thurmond has also been named a 2017 Outstanding Senior by the OSU Alumni Association, a Department of Marketing Orange Book Outstanding Senior, a Top 5 Senior in Marketing Department and an Outstanding Senior by the Spears School.
On campus, Thurmond is the president of the African American Student Association and vice president of the Theta Mu Chapter of Delta Sigma Theta Sorority. She is also a member of the Beta Gamma Sigma, Phi Kappa Phi, National Society of Collegiate Scholars, Marketing Club, and the African American Business Student Association.
"Tiffany is a remarkable young woman who is indeed worthy of being named an OSU Outstanding Senior," said Jason Kirksey, Vice President and Chief Diversity Officer at Oklahoma State University. "In addition to her exceptional academic achievements at OSU, Tiffany leaves a lasting legacy of leadership that will continue to transform the institution. Her pursuit of excellence and perseverance epitomizes the OSU spirit. We are proud and honored to have watched her develop over the past four years, and eagerly anticipate the extraordinary things she is certain to achieve in the future."
After graduation, Thurmond will join the sales development team of Qualtrics, a private research software company, at their headquarters in Salt Lake City, Utah.
Thurmond is the daughter of Eric and Gayla Thurmond of Edmond, Okla. She shares how the Spears School and OSU helped her prepare for her future.
"From my very first class within the Spears School of Business to today, I have always received the best education that I could possibly attain. I am so thankful for all of my faculty, staff, and organizations that are within the Spears School of Business as they each have played an integral part into the development of my current and future success. One of my favorite parts of the Spears School of Business is the priceless relationships that have fostered over the past years. Whether it is with my advisor or with one of my professors, each go above and beyond to make sure that I develop professionally and personally," said Thurmond.
More Awards
See the full results from the 64th Annual Honors & Awards Banquet.