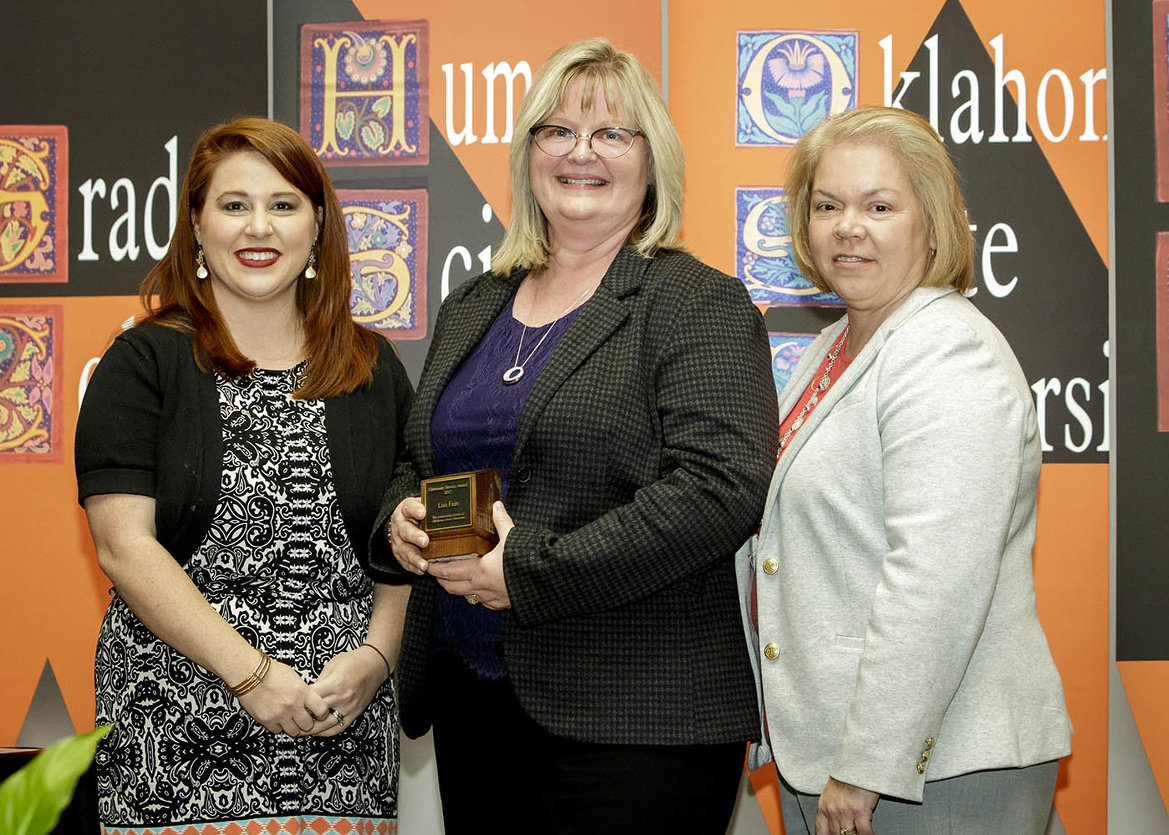 A number of Spears School of Business faculty, staff and administrators were honored Dec. 6 at the annual University Awards Convocation ceremony at the ConocoPhillips OSU Alumni Center.
The Spears Business employees honored at the event were:
MITO Material Solutions, a successful OSU student startup company with team leader Richard Gajan, Thoma Family clinical assistant professor in the School of Entrepreneurship, was one of three startups recognized with the President's Cup for Creative Interdisciplinarity award. MITO received the second-place award and $3,000.
Griffin Pivateau, assistant professor of legal studies, was recognized as a recipient of the Regents Distinguished Teaching Award, which carries a $2,000 permanent stipend. The award recognizes faculty who have shown unusually significant achievement in the instruction of students for an extended number of years.
Ali Nejadmalayeri, ONEOK Chair and associate professor of finance, was the presented the Merrick Foundation Teaching Award and a $2,500 stipiend. The award recognizes a faculty member who is judged to bring students a better understanding and appreciation of the American economic system.
Lee Manzer, professor of marketing, received the Outreach Faculty Excellence Award, presented to full-time faculty and active participants in University Outreach activities. The awardee receives a $1,000 stipend.
Austin Haytko, senior academic counselor in the Business Student Success Center, was the recipient of the Advising Excellence Award.
Lisa Fain, director of operations, was presented with the University Service Award, given to a faculty member, a staff member and an administrator who have rendered meritorious service to the university.
In addition, the following Spears Business faculty were recognized after recently being appointed to endowed chair and professorship positions:
Shu Yan, Greg Massey Professorship in Finance
Emma Wang, Jay Helm Professorship in Business at OSU-Tulsa
Dave Biros, Fleming Professorship in Management Technology
John Winters, Priority: Excellence CBA Associates Chair
Harounan Kazianga, Carson Priority Excellence Chair in Business Administration
Tom Stone, Carson Priority Excellence Chair in Business Administration
Marlys Mason, William S. Spears Chair in Business Administration
Ali Nejadmalayeri, ONEOK Foundation Chair in Finance
Goutam Chakraborty, SAS Professorship in Marketing Analytics
A complete list of all OSU faculty, staff and administrators recognized at the ceremony is available here.