Spears School's Kinda Wilson recipient of 2017 Excellence in Teaching/Training Award
Thursday, May 4, 2017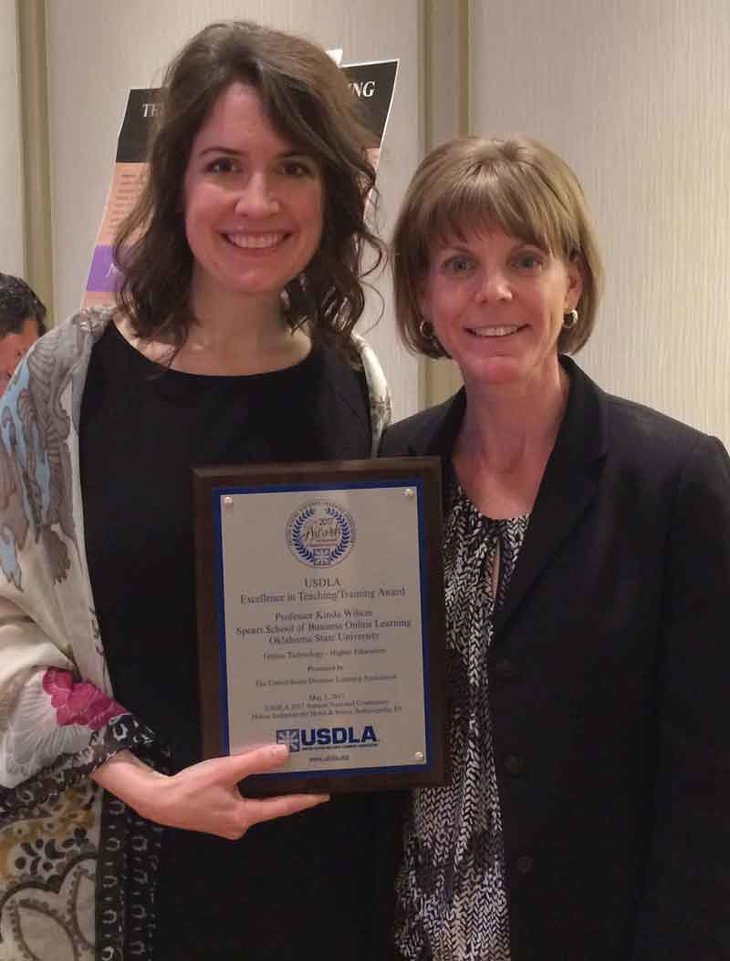 Spears School of Business marketing professor Kinda Wilson was recently awarded the 2017 Excellence in Teaching/Training Award at the United States Distance Learning Association (USDLA) National Conference in Indianapolis.
Wilson was nominated for the award by the Spears School Online Learning office staff. They worked with her over the past year on the development of her online undergraduate and graduate level Innovative Marketing Social Media Strategies courses. The online learning staff provided video production, instructional design and animation support for the course and nomination.
Wilson has taught for the School of Marketing and International Business for more than 10 years at the OSU-Tulsa campus. "She has proven to be one of the very best teachers I have ever had; and, having been a department head for over 20 years, I have seen many, many teachers," said Josh Wiener, head of the School of Marketing and International Business.
"This is such an honor to be recognized for the work we put into my social media marketing class," Wilson said. "I've really enjoyed trying new technology and techniques with student online learning over the past year. It's so rewarding to be on a team here with Spears School School of Business Online Learning where new ideas in teaching are not only encouraged but also empowered with resources and support."
The nomination video was submitted into the competition's Category 4, Excellence in Teaching/Training, and was judged on four factors: pedagogy/andragogy/heutagogy, assessment, learning engagement, and use of tools.
"The Online Learning unit worked closely with Professor Wilson on the course redevelopment beginning in the summer of 2016," said Marisa Dye, instructional designer in the Spears School's Online Learning office. "Kinda is a student-focused innovator who is constantly looking for ways to improve her courses. She made it easy to write the nomination. It was a team effort, and we couldn't be more excited to accept this award."
It's the second year in a row for a member of the Spears School faculty to be honored with the national award by the USDLA. Jim Pappas, head of the Spears School's Department of Management and associate professor of management, was the recipient of the 2016 Excellence in Distance Learning Teaching – Silver Award.
The USDLA Awards were created to acknowledge major accomplishments in distance learning and to highlight those distance learning instructors, programs and professionals who achieved and demonstrated extraordinary results through the use of online, videoconferencing, satellite and blended learning delivery technologies.
"This year's USDLA Award recipient Kinda Wilson represents the finest examples of online courses, best practices, and leadership in our field. The depth and breadth of the USDLA membership allows us to engage with leaders from higher education, K-12, industry, military, and government who daily demonstrate the power of distance learning. We are so very proud and excited to be able to recognize this level of excellence," said Ken Conn, president of USDLA.