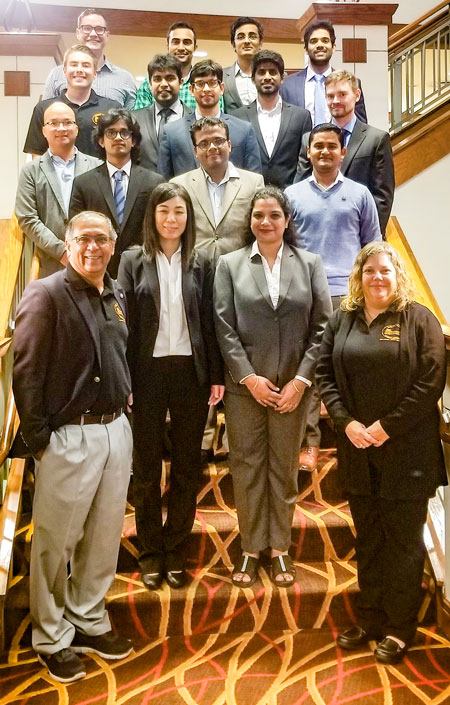 OSU business analytics students enjoy experiencing South Central SAS® Forum
Monday, November 19, 2018
Oklahoma State University's Master's in Business Analytics program was well represented as a group of students and faculty were participants in the 2018 South Central SAS® Users Group (SCSUG) Educational Forum in Austin, Texas.
The four-day conference allows OSU Spears School of Business analytics students to come together with SAS® users in Oklahoma, Texas, Louisiana, Arkansas and New Mexico with the purpose of learning and sharing about the software, network with SAS staff and other users, and provide a platform for everyone to expand their knowledge of SAS.
"This is the fifth year in a row that our analytics students have participated and won scholarships at this conference," said Goutam Chakraborty, SAS professor of marketing analytics and director of the Master's in Business Analytics program at Spears Business. "I am very proud of their accomplishments."
The OSU scholarship winners presenting at the conference were:
Dylan Cox, "Factors Influencing Academic Performance: A Data Analysis Project"
Kwideok Han, "Estimating the Impacts of EDA Public Works Program Investments on County Employment Using Spatial Econometric Methods in SAS/ETS 14.2 Software"
Nhan Nguyen (Master's in Quantitative Financial Economics and Grad Certificate in Business Data Mining), "Predicting the Federal Reserve's Next Federal Funds Rate Decisions"
Vrushank Shah, "Predicting the Success of a Startup Company"
The students participating in the student symposium were:
Anjali Bansal, "Are You in Danger of Stroke? An Insight into the Leading Causes"
Arun Teja Baireddlapalli Krishna Reddy, "Understanding General Trends in Permanent Visa Applications and Predicting Visa Decisions Using SAS Enterprise Miner"
Isaiah Hartman, "NBA Draft Analytics: Boom or Bust?"
Others from OSU presenting were:
Alex Lobman, "The Opioid Crisis and Predicting Drug-Seeking Behavior"
Dhruv Sharma, "Housing Prices Evaluation and Prediction in New York City"
Gaurav Jhanwar, "Detecting Fake News"
Man Singh, "NCAA Basketball Analysis"
Onkar Mayekar, "Prediction of Academic Performance of Students"
Prashant Gour, "Text Analysis of Users? Review for Airbnb"
Priyansh Dadar, "Deciphering Cryptocurrencies: Sentiments and Prices"
Rohit Banerjee, "Text Analytics and Linguistics"
Several of the OSU students spoke about the benefits of attending the conference.
"It was great to attend the conference and present my research," Cox said. "Previously, I had never presented at a professional conference, so it was great to gain the experience and get thoughtful feedback on my research paper from established analytics professionals. I also connected with other professionals and students attending the conference who were able to offer insights and advice for my future career. Apart from gaining presentation experience, I was able to attend other presentations from analytics professionals at the conference. These presentations introduced me to different techniques that I can now use to solve problems in my future career. It was a great experience overall."
"The benefits of attending the conference for me personally largely derives from the opportunity I had to participate in the student symposium," Hartman said. "I was able to not only engage with some of the brightest minds in this industry, but I was able to showcase my talent and gain useful insights through my presentation of 'NBA Draft Analytics: Boom or Bust?' This experience taught me to stretch the way I currently view data analytics in the present and gain a better understanding of how I can utilize it to pursue my goals in the future. I learned how to look at problems from a completely different perspective and to use the analytic skills I've already fostered to address problems that I face every day outside the realm of my work, but in society."
Visit the website for more information about the Master's in Business Analytics program at OSU.