Bill Pickering, a first-year student in Oklahoma State University's Master of Business Administration program, holds three world records for conducting the largest dodgeball game ever played, and his talents don't stop there.
Pickering lights up a room when he walks in and greets everyone with a charming smile and a wink. One might mistake him for a native Oklahoman or at least a southerner, but he is quite far from the place he calls home, which is the small town of Okotoks in Alberta, Canada. Pickering notes the similarities of the area in which he grew up and Stillwater.
"I would say I had a very similar childhood and similar values growing up that I would have experienced down here," he said.
Pickering obtained his undergraduate degree in English and history at the University of Alberta where he was highly involved in campus life, and he did earn three world records for the world's largest game of dodgeball. The record-setting games were organized by the Students' Union of which Pickering was an active member, and the largest of the three had a total of 4,979 participants.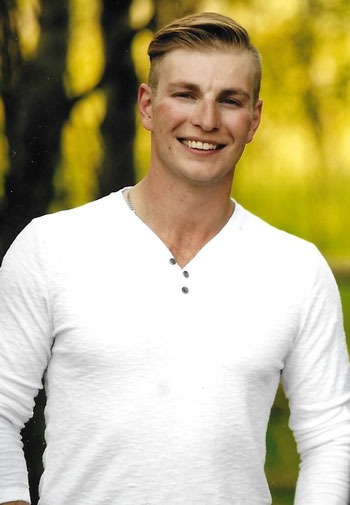 After his time at UAlberta, Pickering found himself gravitating toward the oil field.
"In Canada, rig work is considered a skilled trade, so after I graduated I started working full time on a super series rig that my company produces," he said. "It's actually the largest slant rig in the world, which is kind of a niche market. There's only a handful of slants in America, but they're big business in Canada."
Pickering found himself making the journey to Oklahoma, and specifically Stillwater, for the same reason as many – the oil and gas industry.
"Well OSU seemed like a natural fit, but more than anything, I grew up in the oil patch," Pickering said. "My dad worked in oil up in Canada. I've been working in oil ever since I got my undergraduate degree, so when it came time to expand my career, I was able to get meetings with both the CEO and CFO of my drilling company, and they both said if you want to stay in oil you have to go down to America. You have to look at Oklahoma, and you have to look at Texas. After researching most of the Big 12 schools, OSU just seemed like the best fit."
Pickering spent 4 1/2 years working on the oil rig, resigned on Aug. 5, and caught a flight to Oklahoma three days later. He is excited about continuing his education with the MBA program at OSU and is confident it will provide him with the knowledge and connections needed to advance in the oil and natural gas business.
"I'm excited that there are classes that focus on energy," he said. "I'm excited that a lot of the interest in the MBA program comes from people like Chesapeake or Devon. It's clearly an oil school. You can tell the influence of the industry, so for someone like me, that's not just a selling feature but a source of excitement."
Pickering is undoubtably making the transition to an OSU Cowboy with ease. He cites everything from the red brick buildings on campus to the Oklahoma accent as extremely endearing.
"My first impressions of Stillwater and Oklahoma in general would be incredibly friendly people," Pickering said. "Everything about it has been really wholesome."
Pickering will surely find his way back to his passion of the oil industry in no time, but this time with an MBA under his belt.
By Kinsey Clemmer