A donation by the Cintas Corporation is going to assist Oklahoma State University business students as they prepare for job interviews and internships during their college careers. The Tulsa office of Cintas donated 684 pieces of professional clothing – sport coats, shirts, pants, skirts, blouse and accessories – for use by OSU students.
The donation, valued at more than $45,000, enables the Career Closet, hosted by the Eastin Center for Career Readiness in the OSU Spears School of Business, to assist students who seek to dress professionally.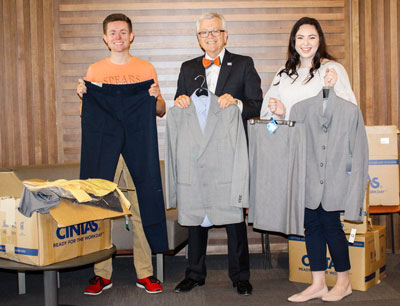 "The donation that Cintas provided was a very generous gift that will enable some of our students who may not have the resources for whatever reason to acquire the professional clothing necessary to feel confident for career fairs and interviews," said Abbey Davis, director of the Eastin Center.
The Cintas donation adds a significant amount of inventory to the Career Closet, which enables students to look and feel confident when they walk into a job interview. The donation not only provides OSU business students with clothing needs but also provides accessories, such as belts, pocket squares, etc., that will help complete the outfit.
"Cintas has been a proud supporter of OSU for over 20 years specifically through recruiting OSU students for our management trainee and internship programs. When we heard of OSU's need for clothing donations for their Career Closet we thought it was a perfect match for Cintas," said Holly Fisher, Regional HR Director.
"Our mission is to help our customers get 'Ready for the Workday' and what a better way to do that than to help OSU students be ready for interviews and job opportunities by providing business professional garments to wear. We understand the confidence students can gain when they are professionally dressed for that all important first impression with a company. We are honored to partner with OSU and the Eastin Center in supporting students' success," Fisher said.
The Eastin Center for Career Readiness believes that every student has a significant contribution to make to this world. Their mission is to guide and support students so that they are prepared to pursue professional opportunities, practice continued growth and fully develop that contribution. The Cintas donation will help the Eastin Center support this mission.
Visit the Eastin Center website for more information.