Dan Gilliam could be the poster boy for HireOSUgrads.com. Should be, perhaps.
Gilliam was there at the outset of the popular program that continues to help plug scores of Oklahoma State University students into the job world, even consulted on the domain name change. And he's always done his part, regularly returning to his alma mater to recruit OSU graduates during a notable 38-year run at the company known today as Phillips 66.
Recognizing his many contributions, Gilliam will be inducted into the Spears School Hall of Fame during a ceremony set for Oct. 5. Induction into the Hall of Fame is the highest honor Spears Business can bestow on an alum.
"I can't think of any other person I know personally who has impacted OSU more and been more involved and made more tangible contributions than Dan," said Bob McGrew, a friend of Gilliam's since childhood and another Oklahoma State alum.
"I know his impact on the Alumni Center with his role with Conoco, and I know the time he has spent with the School of Accounting and helping them through the years. I know he's highly respected. And I know he feels deeply for OSU."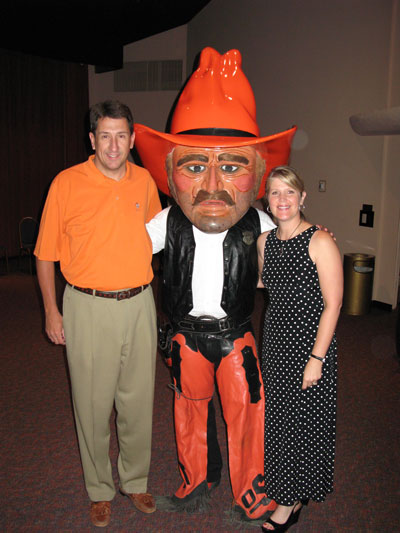 Gilliam, who grew up in Ponca City, followed a path of both parents in attending Oklahoma State, although it wasn't quite automatic.
"When I was a senior in high school, my best friend was going to go to OU," Gilliam said. "I came home one day and said, 'Dad, I'm thinking about going to OU with Doug.'
"He said, 'Well, you can go anywhere you want, but the check is going to Oklahoma State.'"
Gilliam, of course, accompanied the check to OSU, and the result has been dynamic, for the man and the school.
Upon graduating in 1979, he quickly joined Conoco as an internal auditor. The next 38 years saw Gilliam rise through the company, holding management positions in most of the accounting groups with Conoco, ConocoPhillips and Phillips 66, including internal auditor, several staff analyst positions, accounting director, refinery finance manager, assistant controller, manager of corporate accounting and manager of corporate affairs.
He colored the company orange, too, hiring hundreds of OSU grads during his run with the company. Gilliam's connection to the school also extended to include stints as chairman of the OSU Alumni Association and chairman of the Spears School of Business Associates; and membership on the School of Accounting Advisory Board. He's also served on committees at Spears, assisting in hiring searches.
"He bleeds orange like nobody else I know," said Ann Oglesby, a colleague at Phillips 66. "Everything about Dan reminds me of OSU. Obviously, he talks about OSU a lot. He does a lot to give back to the university.
"But more than that, he lives out the values of Loyal and True. And he recruits like crazy."
About that…
Mike Pregler, who would become close to Gilliam, recalls when they went head-to-head in recruiting Pregler's son Matt from OSU. It was before the merger, when Pregler worked for Phillips Petroleum and Gilliam for Conoco.
"Dan came to me and said, 'Mike, would it be OK if I made Matt an offer to come work for Conoco?'" recalled Pregler. "I said, 'Sure, not a problem.' And I respected Dan for that."
Eventually, they both got their man.
"Matt actually wound up going to work for Phillips Petroleum Company, but we merged in 2002, so in the end he wound up going to work for ConocoPhillips. So we both were winners."
Gilliam retired from Phillips 66 in August of 2017 and now proudly reports that "Every day is a Saturday." He proudly remains dedicated to Oklahoma State University, too.
"The College of Business, the Spears School of Business, this is my home," he said. "Between the Business Building and the Alumni Association, that was my world. So the business school is important to me. So it's a real honor to be recognized as someone who went through the school, went out in the business world and was successful, and also gave back to the school and hired a lot of our kids.
"If you get the names of the past people named to the Spears Hall of Fame, I don't feel I'm worthy of being on that list. There are some real heavy hitters, guys I grew up idolizing. So, it's quite an honor. I'm very honored."