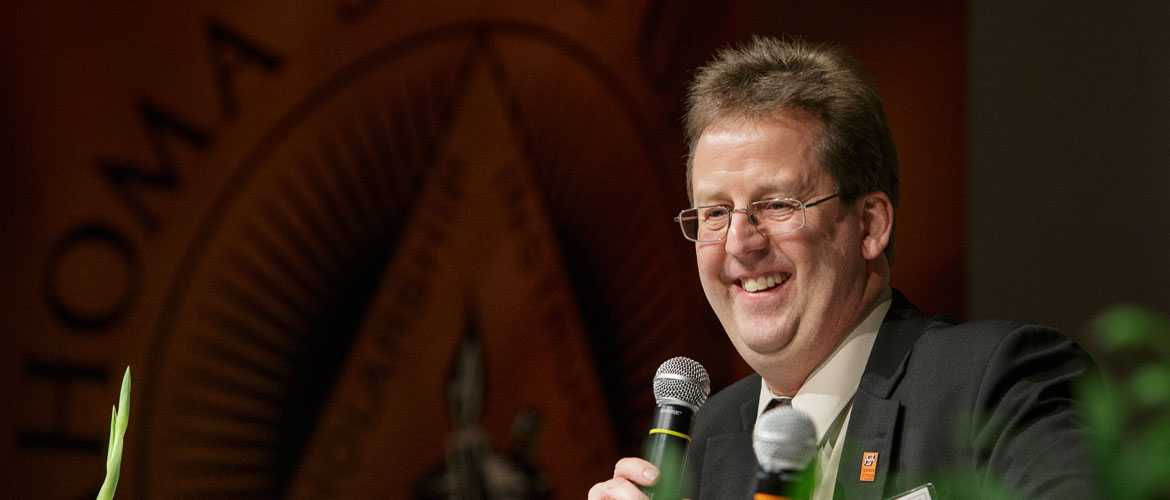 Dan Rickman named Fellow of the Regional Science Association International (RSAI)
Tuesday, August 14, 2018
Dan Rickman with the Department of Economics and Legal Studies in the Spears School of Business was recently named a Fellow of the Regional Science Association International (RSAI).
On faculty at Oklahoma State University since 1996, Rickman is a Regents Professor and has received the Regents Distinguished Research Award.
"To be included with the list of luminaries of regional science that I studied as a young scholar is the greatest honor of my career," said Rickman, who is one of only 85 recipients of this prestigious award.
He will receive his award in November at the 2018 annual meeting of the North American Regional Science Council (a supranational section of RSAI) in San Antonio.
Fellows of RSAI are distinguished scholars with a proven and recognized research record in the field of regional science during a considerable part of their scientific career. The RSAI fellowship is a world-wide sign of scientific recognition that is bestowed on a regional scientist with outstanding research credentials in their field.
Founded in 1954, RSAI is an international community of approximately 4,500 scholars interested in the regional impacts of national or global processes of economic and social change. Members include people from all parts of the world and from a wide range of academic disciplines and professions who share an interest in spatial issues. Regional science is an expanding field which is devoted to the development of theory and method in urban and regional analysis and policy.
Rickman also is a Fellow of the Southern Regional Science Association and has served as president of both the North American Regional Science Council and the Southern Regional Science Association.
The complete list of RSAI Fellows can be found on the RSAI website.
Visit the website to learn more about OSU's Department of Economics and Legal Studies.