Madeline Betts made the move from small-town Calumet to big-school OSU with ease
Thursday, January 11, 2018
Transitioning from a small high school with a graduation class of 13 students to a large university with an enrollment of more than 25,000 students can be a challenging adjustment. Still, Madeline Betts was up for such a challenge.
Betts, a management and marketing sophomore at Oklahoma State, grew up in Calumet, Okla., along with her older siblings, Sheridan and Tanner. She attended high school at Southwest Covenant in Yukon, where she was actively involved in many sports and organizations.
One organization she was heavily involved in was the Oklahoma Medical Research Foundation. Serving on the student board, Betts was able to get a behind-the-scenes look on what goes into planning a big event.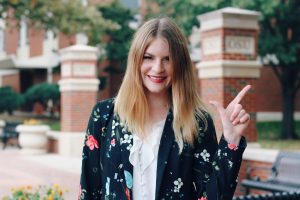 "We actually got to set up a philanthropy night to give back to OMRF, which was like really cool because it was the first time I was able to be involved in the planning behind something and be able to raise money," Betts said.
Though she bleeds orange now, Betts wasn't always sure where she wanted to go to college. Her parents each attended Oklahoma State and hoped she would someday call OSU her home. Once she stepped on campus, Betts was hooked.
"They got me on campus, and I fell in love like most people do," Betts said. "I always say, 'If you don't like OSU, you've never been here.'"
Fast forward to Betts' freshman year of college, and she quickly adjusted to life on the fast-paced, energetic campus. She joined Gamma Phi Beta, Spears Scholars Leaders and the Student Government Association and engaged in the behind-the-scenes work for large events like Into the Streets and Relay for Life.
Because of her involvement with the OSU community, Betts was selected as one of OSU's Top 20 Freshmen. After a detailed interview process, she was then selected as one of the Top 10 Freshmen; an honor that Betts said she was very thankful to receive.
When asked to share some advice with future freshmen classes, Betts emphasized the importance of being intentional.
"Get out of your comfort zone and be so intentional in connecting with people and cultivating relationships," Betts said. "College is your time to become a more diverse, well-rounded person, so take the opportunities presented to you to meet individuals different from yourself. Also, be intentional in what you are joining and what you bring to it. Don't just fill out an application. Find a reason why you want to do it and learn how you can be passionate about it."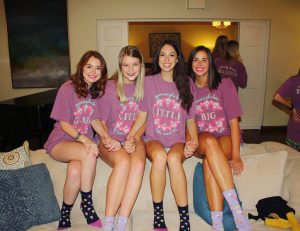 As a sophomore, Betts has continued to flourish. She served on the student advisory board for Welcome Week 2017 and is currently enjoying her internship in Stillwater, as well as serving as a senator for the Student Government Association.
"It's been a really cool experience," Betts said. "I've learned a lot. I've grown a lot as a person. I have been able to see things I know I would never have been a part of or even aware of… it's just really cool to be able be a part of helping other student groups."
She's also enjoyed serving on the community involvement executive team for Into the Streets, which was unfortunately rained out last year.
"We can't help the weather, but we'll help anything else to make sure it goes on this year," Betts said.
Betts has succeeded academically as well in the Spears School of Business. She chose to pursue degrees in management and marketing, both of which she called "a natural fit."
"Focusing on marketing, I just like people, so I decided I want to do more about that," Betts said. "And then management, I like being involved in things; I like seeing them from the beginning to end and kind of being able to have a hand in that and move things along."
She said she is thankful for the Spears faculty and staff, referring to them as "Spears' strongest asset."
"I think in Spears a lot of different authority figures and a lot of different staff and faculty have been like a part of my walk so far academically," Betts said. "They're constantly pushing me and like helping me find different places to grow and helping me find career-wise things I can look into in a few years."
Betts credits her seamless adjustment to the support system she found at OSU, through the different organizations she's involved in and through Spears.
Her next adjustment? Going to law school after graduating from OSU. Until then, Betts can be found on campus, giving back to and guiding the OSU community through her leadership skills and cheerful attitude.