Management student creates Pete's Pet Posse coloring book
Friday, February 16, 2018
Senior management student Cailin Brown arrives at Oklahoma State University's Student Union early for her interview. Punctual and dressed in a tailored jacket with her short hair tousled just perfectly, it's quickly noted that she is a sharp go-getter who strives to always make a great first impression.
Raised in a suburb outside of Dallas, she planned on staying in state and attending Texas A&M. Fate or perhaps serendipity had other plans. Due to overlooking a step in A&M's enrollment process, Brown found herself nearing the end of her high school days not knowing what or where she would end up.
"A friend asked me if I had ever considered OSU," she said. "I applied, they accepted me and from the initial orientation I found I loved it. Even though it was a stressful start, I think it ended up working out for the better and I've really enjoyed my time here."
Brown's quirky and smart sense of humor is beginning to show as she talks about how impressed she was with all the resources OSU makes available for students to succeed.
"Last year I had gone to Career Services where they helped me fix up my résumé. And there are all different classes on writing cover letters, memos, reports as well as seminars and workshops. There's a lot of opportunities beyond what you learn in class that the Spears School provides and that OSU provides."
Peeking out of her chestnut saddle-bag is an oversized sketch pad. When asked if she is an artist, Brown humbly mentions taking a few elective art classes and she shares that she has always had a gift and passion for drawing. Brown was even prodded by professors in the art department to switch her major from business management for art. She laughs and says her December graduation date is the main reason she wouldn't change her focus of studies.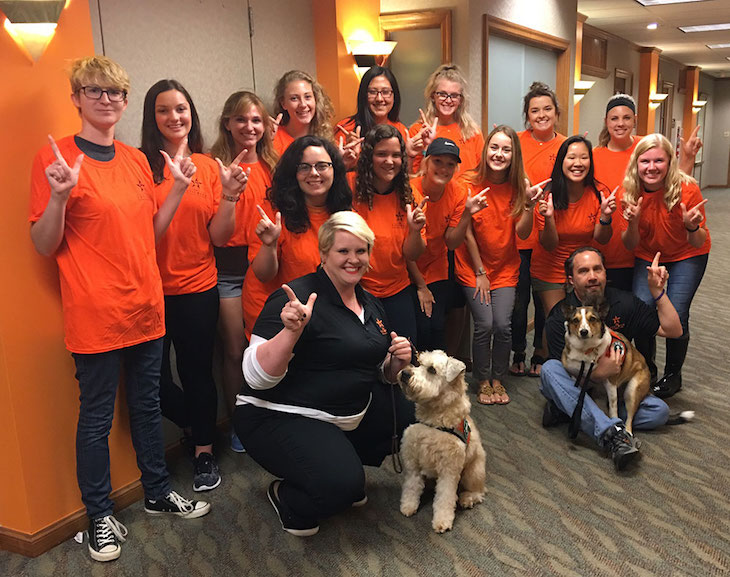 Her passion and talent for art allowed her an opportunity to put real life business skills to use while leaving behind a very special keepsake here at the university. Brown heard about OSU's pet therapy program, "Pete's Pet Posse," and asked if there were volunteer opportunities. At the time, there wasn't a need for volunteers but her interest in the program was remembered and tucked away for future use.
So, when the time came to brainstorm a fundraiser for the program and a coloring book was decided on, program organizers knew just who to ask to draw the illustrations. Brown's pride and dedication to the project are obvious as she shares about how time consuming and challenging the labor-of-love became. But in the end, she is grateful for the unique experience of combining her love for drawing and the pet therapy program while utilizing real-world business scenarios that she was learning about in her classes at Spears Business.
"There were things like contacting vendors, publishers, (and) trying to see, ok, who do I need to go to for printing? Who do I need to make contact with for binding and all the different processes that go on? As well as figuring out distribution and sales," Brown said. The coloring book is available for sale at the OSU Student Union and online.
When Brown found herself needing a higher-level business course she took a chance on adjunct professor Tom Westbrook's Creative Experiences class, based on how much she enjoyed previously taking his Introduction to Entrepreneurship class. The Creative Experiences course has its own tagline: do something creative every week. It will be remembered as one of her favorite classes.
Each week the students experience everything from an on-site visit of a construction site to being shown how to "fake fight" by actors. Brown's eyes beam as she explains how Westbrook, and the way he teaches the class, have made her challenge the way she thinks and interacts with others.
"It's not really what you would expect from a business class, but I think that's what makes it interesting and makes you think. Thinking outside the box," she said. "The way (professor) Westbrook teaches it, he encourages you to take on different perspectives, to think in different voices. He encourages us to learn how to read people by looking at body language and non-verbal cues. He makes us think by asking us questions like, 'Are you really listening when someone is speaking to you?'"
When not drawing at home or in class, Brown also works 15 to 20 hours a week at Baja Fresh inside the Student Union. She is currently applying for jobs and spending time researching employers, but much like her laid-back personality, nothing is set in stone. "I'm just looking for a good company and we'll see where the wind takes me."
It may have been pure happenstance that Cailin Brown even ended up at OSU, but the talented artist and witty, open-minded thinker will leave her mark on the university for years to come.