A number of Oklahoma State University Master's in Business Analytics students recently traveled to St. Pete Beach, Fla., to participate in the three-day 2018 Southeast SAS® Users Group (SESUG) Conference.
The conference allowed OSU Spears School of Business analytics students to meet with SAS® users from Alabama, Florida, Georgia, Kentucky, Mississippi, North Carolina, South Carolina, Tennessee, Virginia, West Virginia, Maryland, the District of Columbia, and Puerto Rico with the purpose of learning and sharing about the software, network with SAS® staff and other users, and provide a platform for everyone to expand their knowledge of SAS.
"This is the fourth year in a row that our Master's in Business Analytics students have participated and won scholarships at this conference," said Goutam Chakraborty, SAS professor of marketing analytics and director of the Master's in Business Analytics program at Spears Business.
The OSU students presenting at the conference were:
Stuti Mehrotra, "Fight Human Trafficking using Text Analytics"
Surabhi Arya, "Solving Problems of 5-Star Rating Method in a Recommendation System"
Lohit Bhandari, "Undergraduate Student Retention, Catch Them Before They Fall"
Apoorva Chandrasekaran (awarded a scholarship to attend the conference), "Analyzing Factors Influencing Dropouts in Sophomore Enrollment"
Soumya Ranjan Kar, "Understanding Crime Pattern in United States by Times Series analysis using SAS Tools"
Sivateja Reddy Kandula, "Predicting the Risk of Attrition for Undergraduate Students using SAS Enterprise Miner"
Shashi Chebrolu, "Text Mining to Predict College Admission Trends"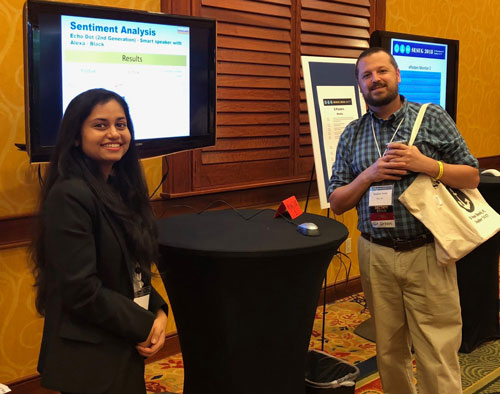 The OSU analytics students spoke about the benefits of attending the conference.
"The most significant attribute I gained during the conference was the perspective towards data analytics and my future aspirations," Arya said. "SESUG not only provided the opportunity to present my research idea but a great platform to communicate with intellectual people having domain expertise in different industries. For me, learning how to use tools is easier but knowing when and where to use these tools is difficult, and SESUG helped me to steer my thoughts to deal with these difficulties. Finally, after being a part of this conference I am a lot more confident person and my curiosity towards analytics has been leveled up.
"The focal point of the conference was the participants' diversity," she said. "The conference was a channel to communicate ideas and share experiences related to real-time challenges faced by industry experts and the solutions they adopted. Apart from that, the conference was well organized in the sense that a student like me had enough chances to interact with people and share our experiences in the analytics field. Also, attendees were very enthusiastic towards the ideas presented by students and their appreciation was very well reflected in their positive feedbacks. Last but not least, the venue for the conference was an awesome location and SAS always chooses the best locations for its conferences."
Visit the website for more information about the Master's in Business Analytics program at OSU.