A team of two Oklahoma State University Master of Business Administration students, Moumita Sen and Grant Reeves, have won the JMP Discovery Summit student poster competition.
The Discovery Summit is an annual conference hosted by JMP, a statistical software company, in which industry professionals come together in a comfortable, creative environment to exchange ideas on best practices in data and statistical exploration.
The students cited out-of-class opportunities such as this one as an important benefit of the MBA program at OSU.
"I feel that since we are both concentrating in marketing analytics, and this is the path that we are both going to take after graduation, this particular project was a good experience," Sen said.
"In a real-time corporate scenario, you don't always get data that is ready to work with. You get very raw data and have to find a way to make it suitable for you to do further analysis."
The students' project focuses on predicting depression among adolescents.
"This idea was prompted after the Stoneman Douglas High School shooting in Florida last February," Sen said. "If the depression of the shooter could have been predicted before the shooting, perhaps it could have been prevented."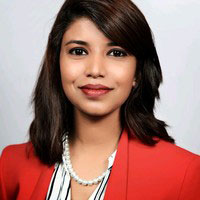 The team spent an intensive three weeks working on the poster before submitting it, welcoming this challenge with open arms.
"The training wheels were off on this one, so receiving this news was a nice pick me up," Reeves said. "We were so happy to hear our work will be recognized."
The Discovery Summit conference will be Oct. 23-25, in Cary, North Carolina, and will feature multiple keynote speakers and breakout sessions on the JMP statistical software. Sen and Reeves will be present at the conference to be recognized for their outstanding work.
More information on the Discovery Summit can be found here: https://discoverysummit.jmp/en/home.html.