Kingfisher's Mike and Judy Johnson to be inducted into Spears Business Hall of Fame
Wednesday, September 19, 2018
Many Oklahomans know, or know of, Johnsons of Kingfisher, an institution when it comes to the business of automobiles and farm equipment in the state.
A good many know the Johnsons, too: Mike and Judy, whom together represent an institution, especially when it comes to their institution: Oklahoma State University.
"They are for Oklahoma State," said former OSU President James Halligan. "They are loyal and true. They are orange and black. No question about it."
Mike and Judy Johnson, who met at OSU, graduated with accounting degrees from OSU and remain attached and committed to OSU, are due to be inducted into the Spears School Hall of Fame. They'll be inducted Oct. 5 as a couple, which is fitting. Induction into the Hall of Fame is the highest honor Spears Business can bestow on an alum.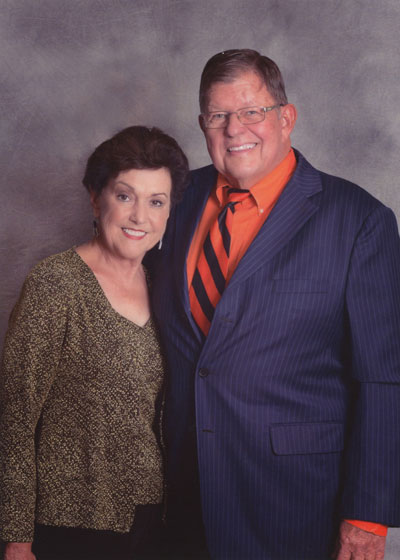 "Loyalty is in our school's alma mater, that we sing after every sporting event," said Oklahoma Lieutenant Governor and OSU alum Todd Lamb. "Mike and Judy Johnson personify that. Mike is loyal to Judy. And Judy is loyal to Mike. They are loyal to one another.
"Mike and Judy are loyal to their family, the Johnson family, but also to friends who they adopt into that circle. Mike and Judy are loyal to Oklahoma State University. And they're loyal to community, loyal to state."
Mike earned his degree in accounting in 1966; Judy hers in 1967. But before Mike left OSU, during his senior year, it was a chance encounter that brought he and Judy together. And together they've remained, working side-by-side, raising a family and elevating OSU through donations to benefit scholarships, faculty and facilities, as well as to athletics.
"I look back and try to see why we have had so much love for OSU," Mike said. "It's hard for me to put any finger on it, but it's probably because of Judy. That's where I met her. We had great times there."
Said Judy: "It was just a wonderful place. We thoroughly enjoyed it."
Good thing that Mike rose to president of the Men's Residence Hall Association in his senior year. In that leadership post, he formed a queen contest and set out to find candidates.
Mike found the MRHA queen, and his queen all in one.
"I always told her I stuffed the ballot box," Mike said. "I was just smitten."
After marrying in December of 1966, Mike and Judy were partners in everything, including as owners of a tropical fish store in Oklahoma City and then a CPA firm in Edmond. Eventually, they moved to Kingfisher, joining the family's Chrysler dealership. Today, Johnsons of Kingfisher stands as one of the most honored and successful Chrysler dealerships in Oklahoma.
Lamb, for one, is glad they didn't settle in the tropical fish business.
"I don't know how many goldfish you have to sell to equate to a Dodge Charger, but that's a lot of goldfish," Lamb said jokingly. "For a university that's been the recipient of a lot of their money, as alumni that has been a part of a lot of their encouragement, I'm sure glad that they got out of the tropical fish business and got into cars and dealerships and agriculture and everything else they've done over the years."
The Johnsons emerged early as major supporters of OSU, giving back to the school as soon as they could. Today, they endow four scholarships: Judith Freeman Johnson Professorship in Accounting Fund, Michael D. and Judith A. Johnson President's Distinguished Scholarship, Michael D. and Judith A. Johnson Scholarship in Accounting, and the Mike and Judy Johnson Endowed Football Scholarship. Their resources are intentionally given to recruit and impact students and to highlight OSU, something particularly important to Judy.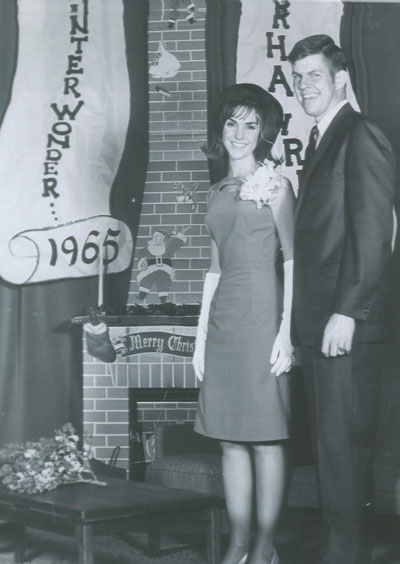 "My family didn't have a lot of money," she said. "So, it's wonderful to be able to help students in need."
The Johnsons sent their own kids to Stillwater, too, with all three – Lori, David and Rob – graduating from OSU. Mike and Judy regularly bring several of their 14 grandchildren on campus for Grandparent University each summer.
While always active in businesses – and Judy supported Mike during a 12-year run in the Oklahoma State Senate as well – the Johnsons made time to serve their community. Judy was involved as a family and child advocate, serving on the Youth and Family Services Board for Canadian, Kingfisher and Blaine counties for over 17 years, including a term as board president. Mike has been a leader in the Kingfisher community for decades, serving as President of the Kingfisher Chamber of Commerce Board, President of the Kingfisher School Board, and being an active Rotarian.
And they did all of it while remaining dedicated to their own family.
"You look at the type of people they are, they are tenacious," said Carlos Johnson, alum and longtime supporter of OSU. "They persevered. Mike set up the CPA practice in Edmond and Judy worked for him, and she had three children. When you talked to Judy – and she's always been with Mike as a team – she raised three kids under her desk while she was doing her work.
"I've always found that intriguing, that they were able to work together like that, having children right there."
When Halligan arrived as OSU's 16th president in 1994, he and his wife Ann quickly grew to appreciate the Johnsons, of Kingfisher.
"Shortly after we arrived, we became aware of them and their intense commitment to the university," Halligan said. "They're just wonderful people that are tried and true. You talk about loyal and true people, that's the Johnsons. They love OSU. They've exemplified that in many ways for many years."
That long-term and consistent dedication, Lamb said, is why Mike and Judy Johnson are a natural addition the Spears School Hall of Fame.
"They're deserving for so many reasons," Lamb said. "Successful in business? Yeah, but that alone should not get you into the (Spears School) Hall of Fame. They're loyal. They're loyal to the school, they're loyal to community, they personify a loving marriage. And they give back to OSU, and not just financially; it's hard to go to any event at Oklahoma State University and not see Mike and Judy Johnson there.
"Mike and Judy Johnson are great examples of what it is to be committed alumni. They attend. They give back. And they encourage other alumni to do the same."