Two Oklahoma State University Master's in Business Analytics students were participants in September at the three-day 2018 Western Users of SAS Software Conference in Sacramento, Calif.
The conference allowed OSU Spears School of Business analytics students to meet with SAS users from Alaska, Arizona, California, Colorado, Hawaii, Idaho, Montana, Nevada, Oregon, Utah, Washington and Wyoming with the purpose of learning and sharing about the software, network with SAS staff and others, and provide a platform for everyone to expand their knowledge of SAS.
OSU master's students Imran Selim and Thu Nguyen presented a paper and poster at the conference.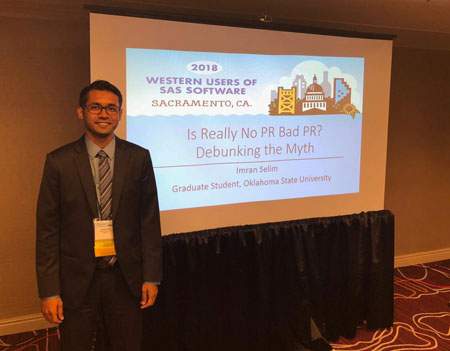 "It was a great experience to present my paper to fellow industry professionals," Selim said. "At the conference I met with other SAS users and shared our experiences and learned from each other. It was a great platform to network with other professionals."
Nguyen said, "The Western Users of SAS Software Conference is an eye-opening opportunity. Not only did I learn how professionals use SAS software for different projects, I've learned how they approach real-life analytical problems. This conference has shaped my focus on the knowledge and applications that matter in the real world. Moreover, many talks in the conference address novice analytical methods that are not taught in class. From attending the conference, I've also expanded my networks from meeting professional in the industry. The new connections that I've made and the knowledges that I've gained from the conference certainly assist my future career.
Selim collaborated with OSU alum Devanand Chintoju on their paper, "Is Really No PR Bad PR? Debunking the Myth."
Nguyen participated by submitting her poster, "Optimizing exam schedules at Oklahoma State University."
"This is the second time in the last three years that OSU's Master's in Business Analytics students presented papers or a poster at this conference, and I am very proud of their accomplishments," said Goutam Chakraborty, SAS professor of marketing analytics and director of the Master's in Business Analytics program at Spears Business.
Visit the MSBAN website to learn more about OSU's MSBAN program.