Oklahoma State University's new Business Building has drawn rave reviews since opening in January, and now the state-of-the-art facility is being recognized as one of the five-state region's best new projects.
Built by Manhattan Construction Company, the new OSU Business Building received the Award of Merit in the Higher Education/Research division of the ENR (Engineering News-Record) Texas and Louisiana's 2018 Best Project competition. Of the 121 entries received from the states of Texas, Louisiana, Oklahoma, Arkansas and Mississippi, the team of judges selected 42 projects across 18 categories as the region's best.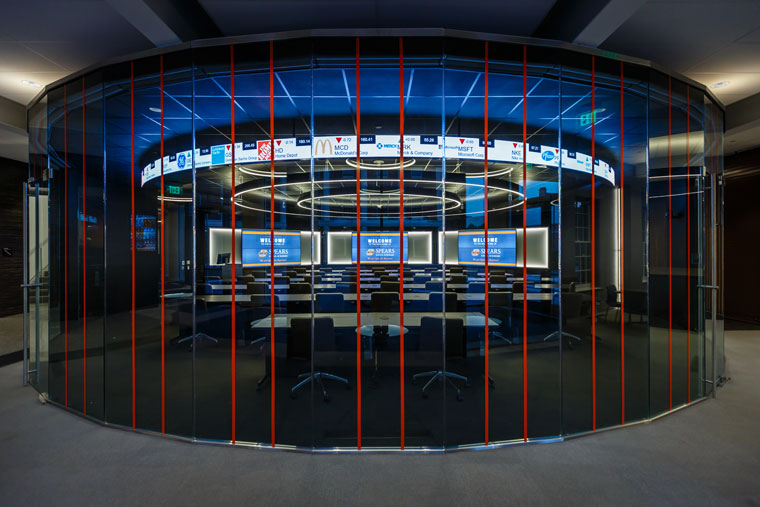 "We are delighted with our new building and it has exceeded our expectations," said Ken Eastman, dean of OSU's Spears School of Business. "It is great to walk in every day and see so many people enjoying all the unique spaces. We are pleased that the building has received this award and it is a testament to the great partnership among Manhattan, Elliott + Associates and OSU that made this such a successful project. Manhattan Construction built it with great care and passion and the results speak for themselves.
Today, OSU business students have opportunities they never dreamed of thanks to the eye-catching new 147,450-square-foot building. The crescent-shaped structure's distinct personality is showcased inside and out through its look, its feel and its aim to effectively serve students and faculty. The total cost of the building project was $72 million.
"The new Business Building truly is an amazing facility," said Craig Abbott, project director for Manhattan Construction. "It's an honor to be recognized for our work, but ultimately, the project's success is the result of outstanding vision and teamwork. This award is a testament to the dedication and collaboration between Manhattan, our friends at Oklahoma State University and Elliott + Associates."
The building was designed by Elliott + Associates Architects of Oklahoma City.
The Award of Merit will be presented to Manhattan Construction officials in Houston on Oct. 18, where ENR will also announce the 2018 Project of the Year, honor the 2018 Legacy Award winner and celebrate the 2018 Firms of the Year.
Visit the new Business Building website for more information.