Oklahoma State business analytics students, alums join Chakraborty at SAS Global Forum
Thursday, May 10, 2018
Oklahoma State University was well represented at the SAS Global Forum 2018 with nearly 140 representatives, including marketing professor Goutam Chakraborty serving as the chair of the annual conference.
The conference drew 5,400 SAS enthusiasts from across the world, attracting an audience of international users, executives and academia.
Chakraborty, who has been a Spears School of Business faculty member for 27 years, was selected as the conference chair for his long-standing relationship with SAS, a trusted analytics company for organizations seeking immediate value from their data. In addition, about 70 current OSU master's in business analytics students and around 70 alumni of the program attended, joining Chakraborty on stage at the opening ceremony.
"I am very proud of our analytics students and alums who have continued to excel at the SAS Global Forum conference over many years," Chakraborty said. "It was particularly memorable for me as the chair of this year's conference to have OSU students and alums on the main stage with me in front of 5,000-plus attendees at the conference.
"This was a very big day for OSU's analytics program and I am extremely happy to be able to showcase the talent that we have at OSU to the rest of the world."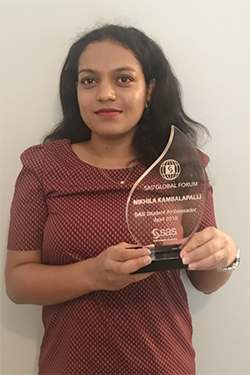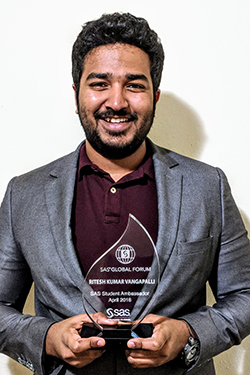 Four business analytic graduate students – Nikhila Kambalapalli, Sujal Reddy, Zaid Shaikh and Ritesh Vangapalli – were recipients of the SAS Ambassador Award, which included an all-expense paid trip to the conference to attend and present their papers. Less than 20 awards are given each year to students worldwide, and this is the eighth year in a row that at least one OSU student has received the award.
"It means a lot to me as SAS is a pioneer of analytics and to be associated with the award I feel deeply honored," Vangapalli said. "It opens a wide range of opportunities to connect with the like-minded people who are using SAS for solving different business problems."
"Being a SAS Ambassador provided me an incredible opportunity to share my research and to demonstrate my knowledge and skills to an audience of prospective employers and coworkers," Shaikh said. "It also provided me a distinct professional recognition beyond the traditional academic acclaim. It was an ideal platform to showcase my presentation and communication skills beyond the confines of the university."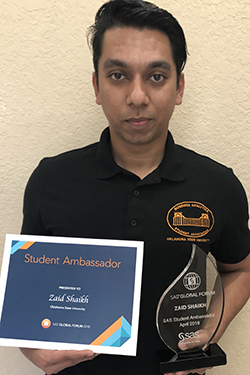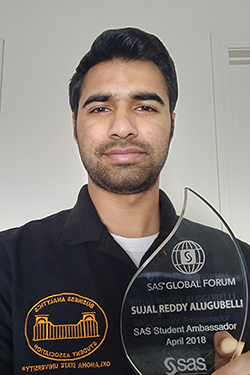 Two groups of OSU graduate students finished among the top eight teams (out of more than 60) in the SAS Student Symposium. Members of both teams received an all-expense paid trip to attend the conference and present their research symposium ideas.
One team included master's in business analytics students Smitha Etlapur, Venkata Sai Mounika Kondamudi, Sujal Reddy Alugubelli and Varsha Reddy Akkaloori. The other OSU team making the top eight consisted of Travis Miller, Rosie Nguyen, Rishanki Jain and Linyi Tang. Faculty adviser for both teams was Venu Lolla, while Maheshwar Nareddy was alumni mentor.
Twenty-nine students and three faculty members represented OSU and Spears Business by presenting papers and posters at the SAS Global Forum:
Enhancing Subscription-Based Business by Predicting Churn Likelihood by Smitha Etlapur, Venkata Sai Mounika Kondamudi, Sujal Reddy Alugubelli and Varsha Reddy Akkaloori (Student Symposium, top-8 team presentation)
Bitcoin Price Forecasting Using Web Search and Social Media Data by Travis Miller, Rosie Nguyen, Rishanki Jain and Linyi Tang (Student Symposium, top-8 team presentation)
Analyzing Theft Occurrences in Chicago Using SAS® Enterprise Miner and SAS® Enterprise Guide® by Shikha Prasad and Kunal Parekh
Data-Driven Marketing Strategies for an Online Retailer by Jaideep Muley
Examining the Drivers of Hospital Re-admission of Type-2 Diabetic patients by Shashank Reddy Gudipati
Oscars 2017: Text Mining and Sentiment Analysis by Karthik Sripathi
Which Smart Phone to Choose? by Mohana Krishna Chaitanya Korlepara
Zillow's Home Value Prediction Using Data Mining by Vivek Singh
Analysis of Unstructured Data: Topic Mining and Predictive Modeling Using Text by Ravi Teja Allaparthi
Human Resources Analytics: Why Do the Best Employees Leave? by Ankita Khurana
Predicting Crime Incidents in Los Angeles for the Year 2017 by Zaid Shaikh
Understanding the Influence of Day of the Week on Written Reviews by Sujal Reddy Alugubelli
Image Classification Using SAS® Enterprise Miner 14.1 by Akshay Arora
Analytics Applications in Targeted Marketing and Forecasting Demand: A Two-Stage Model by Anurag Hardikar
Identifying Semantically Equivalent Questions Using Singular Value Decomposition by Varsha Reddy Akkaloori
House Prices Segmentation by Mettila Kaimathuruth
Leveraging Multivariate Testing for Digital Marketing Using SAS® Enterprise Guide® by Jui Salunkhe and Vanadana Reddy
Medical Appointments: Show/No-Show by Shubham Panat
Text Analysis and Cluster Analysis of Airplane Crashes from 1908 to 2009 by Ritesh Kumar Vangapalli
The Game Is Played Away from the Ball by Lee Manzer
Analysis of Nokia Customer Tweets with SAS® Enterprise Miner and SAS® Sentiment Analysis Studio by Vaibhav Vanamala
Classifying and Predicting Spam Messages Using Text Mining in SAS® Enterprise Miner by Venkata Sai Mounika Kondamudi
Text Mining of Donor's Conversation with Solicitors by Harsh Gupta
The Ultimate Data-Driven Guide to U.S. Canned Craft Beers Using SAS® Enterprise Miner 14.2 by Linyi Tang
Sentiment Analysis of Netflix and Competitor Tweets to Classify Customer Opinions by Rucha Jadhavar and Agastya Komarraju
Working Together for Public Health: Using SAS®, Esri, and Tableau to Enhance Data Presentation by Jennifer Han and Miriam McGaugh
Sentiment Analysis on YouTube Movie Trailer Comments to Determine the Impact on Box-Office Earnings by Rishanki Jain
Mylan's EpiPen Controversy: Leveraging Text Analytics During a PR Crisis by Nikhila Kambalapalli
The Life Expectancy of Phone Numbers in Escort Ads by James Van Scotter, Denise McManus, Miriam McGaugh and Joni Shreve
Code Doctors Information Session by Art Carpenter, Miriam McGaugh, Tasha Chapman and Richann Watson
Using Smart Analytics to Drive a Data-Driven Culture: An Institutional Research Perspective by Stephanie Thompson, Christie Hawkins, Sean Mulvenon and Francesco Costigliola
Measuring Response to the Ultimate Driving Machine: Consumer Sentiments and Brand Advertising by Dr. Amit Ghosh, Praveen Kumar Kotekal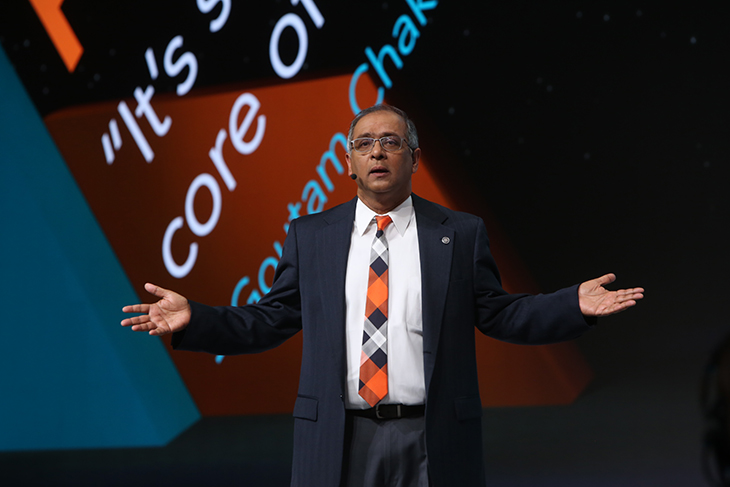 The conference left a lasting impression on several OSU students.
"It was a great opportunity to meet and network with the like-minded people and understand the work and research they have been doing with SAS," Vangapalli said. "This understanding broadened my view in analytics and showed me the hidden doors of research."
Shaikh said, "The SAS Global Forum was an outstanding opportunity to learn, interact and share knowledge with the dreamers and doers that are the SAS professionals. As an aspiring data analyst, I value the opportunity that I gained from the podium talks, posters, demos, presentations and the champions of data. It is without any doubt the best place to meet and network with SAS professionals from around the world representing practically every industry and sector. In addition, I gained knowledge on how business, social and scientific problems are being addressed using SAS technologies."
For more information about the master's in business analytics program at OSU, visit https://business.okstate.edu/analytics/msban/[BROKEN LINK].
For more information about the SAS Global Forum, visit https://www.sas.com/en_us/events/sas-global-forum.html.