Oklahoma State University alumna Abbey Davis is joining her alma mater as director of the Eastin Center for Career Readiness in the Spears School of Business.
The Eastin Center is focused on inspiring and developing students in professionalism, business etiquette and career readiness. Davis will provide leadership for the Eastin Center's three main functions: career readiness, corporate engagement and career services.
"We are delighted for Abbey to join us as director of the Eastin Center," said Ken Eastman, dean of Spears Business. "She brings with her a wealth of experience in corporate recruiting and a keen interest in helping students succeed. She will be a tremendous asset as we strive to enhance the career readiness of our students.
Davis has two degrees from OSU, earning her bachelor's in management (2008) and an MBA (2011). She has been employed with ISNetworld, Chesapeake Energy Corporation and most recently as People Development Partner with The Charles Machine Works Inc., where she helped create, implement and support employee development initiatives and served as a coaching resource for leaders.
Born in Pittsburgh and raised in Morgantown, W.Va., she is looking forward to working with Spears Business students in her new role overseeing the Eastin Center.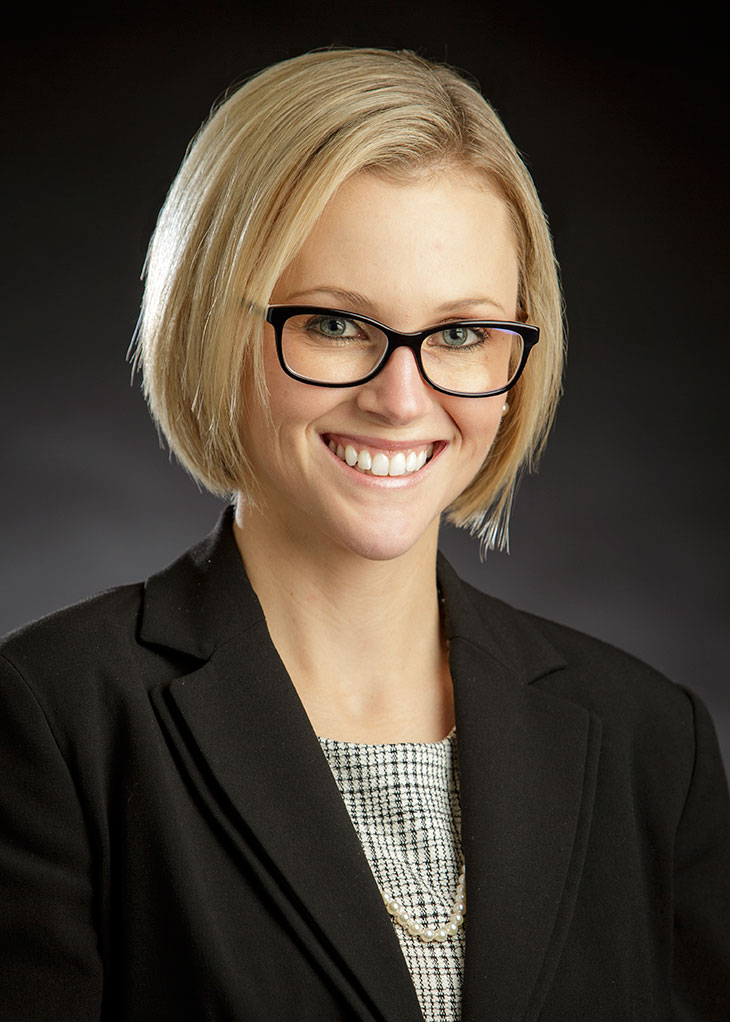 "The students' curiosity and desire to learn more about their passion and purpose in life is inspiring, and we're excited to participate in their journey," Davis said. "There are so many endless career possibilities, many that students have not been introduced to yet, and the Eastin Center is an opportunity to learn more about who they are personally, what they are interested in professionally and how we can prepare them to be successful in the competitive business environment."
Davis says it's imperative that Spears Business graduates gain during their college careers the soft skills necessary for success upon graduating and finding employment. She references a Wall Street Journal survey that states 92 percent of executives say that soft skills were equally important or more important than technical skills and that 89 percent say they have a difficult time finding people with these attributes.
"In my experience in the corporate environment, you rarely see a leader struggle with technical proficiency, any challenges or setbacks they face are almost always tied to the lack of necessary leadership qualities that are included in soft skills," she said. "Talent management departments across the globe have been increasing the amount of competency and leadership-based trainings to help alleviate this skill gap but still find it difficult to play catch-up with their workforce.
"I heard this from a coworker once and while comical, there is a lot of truth behind it, 'you don't know what you don't know.' Our hope is to support students with their professional self-discovery goals and then help them identify skill gaps they need to focus on. There is an opportunity to understand a broader definition of soft skills. Many see this term and think of communication, professional image and networking. Those are all important skills that we will help students focus on, but we also want to help students develop the necessary skills that are a bit harder to define like self-awareness, resiliency and critical thinking," said Davis, also an instructor of human resources management for Spears Business.
"Not every student will have the same development needs, and we hope to tailor our approach so students have access to the necessary coaching and resources to help them grow their unique skill sets," she said. "We want to compliment some of the key technical skills our students learn in the classroom with the critical soft skills that are needed by providing them with opportunities to practice these skills and receive feedback on their progress."
Davis has a vision for the Eastin Center and believes current and future students will be the beneficiaries.
"The Eastin Center was established to help provide our students with a competitive advantage in terms of personal and professional development," she said. "Some of our short-term objectives will be to focus on how we can make the biggest impact with our resources and efforts. When it comes to interpersonal and professional skills, the best way to become proficient is through repeated practice with feedback. We want to provide a safe environment for our students to experiment with these new skills and receive real-time feedback to help them grow.
"Another short-term goal will be to focus on increasing our employer network to offer more opportunities to our students. Whether a student is interested in pursuing a career in-state, regionally, nationally or globally, we want to help them make those connections.
"Long term, we want our story to be shared. By our story, we mean the success stories of our students. We want to hear about how a former student was selected to lead a high-profile project due to their strong collaboration skills. We want employers to be asking us what we did different to give our students a competitive edge. Years down the road, we want to hear from alumni about how they helped develop their employees using the techniques they learned here."
While getting her MBA, Davis worked as a graduate assistant in OSU's Office of Affirmative Action. In 2015, she earned her professional in human resources certification. She was recognized as one of the Outstanding Young Alumni in 2016 for the Spears School of Business.
Also, Davis is the Vice Chair for the OSU MBA Alumni Board and has been a member of the board since March 2014. She is currently involved with the Spears Business mentoring program and enjoys staying connected with current students.