Longtime Oklahoma State University Spears School of Business faculty member Betty Simkins was recently appointed to serve a three-year term on the Market Risk Advisory Committee of the U.S. Commodity Futures Trading Commission (CFTC).
Simkins, head of the Department of Finance, was selected to the federal appointment because of her expertise and knowledge of derivatives and risk management, particularly with respect to energy commodities, the nomination letter from CFTC Commissioner Rostin Behnam stated.
"I am honored to serve on this important committee," said Simkins, the Williams Companies Chair of Business and the head of the Department of Finance since January 2017. "I will do my very best to provide insights into potential systemic issues that may threaten the stability of the derivatives and other financial markets."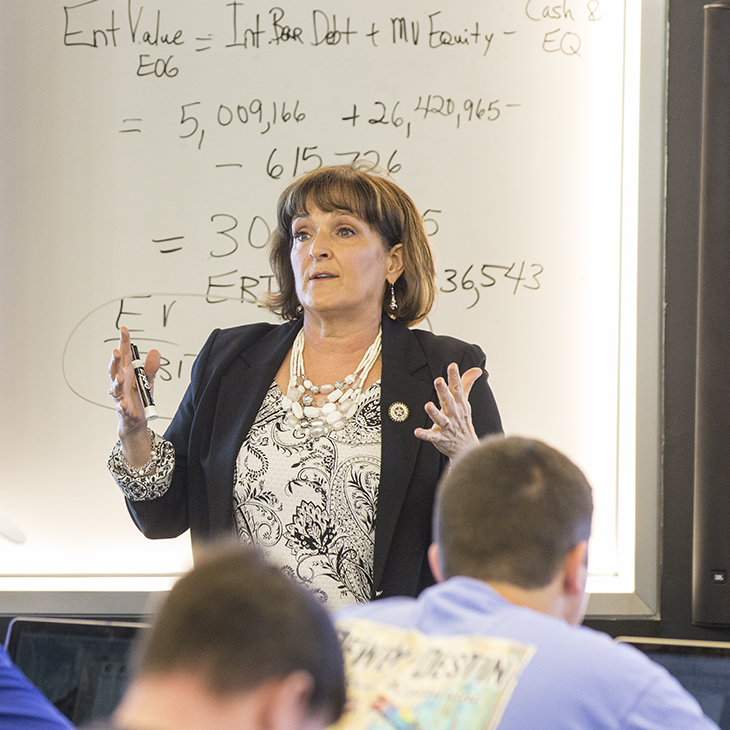 On faculty at OSU since 1997, Simkins has earned the Regents Distinguished Teaching Award, the Regents Distinguished Research Award and the Outreach Excellence Award.
"We are proud of Dr. Simkins and her appointment to this prestigious committee," said Ken Eastman, dean of Spears Business. "Her selection speaks well of her dedication to her profession and the respect that others have of her."
The newly-appointed Market Risk Advisory Committee's first public meeting is July 12 at the CFTC's headquarters in Washington, D.C.
"I'm going to learn a lot by being on this committee that I can take into the classroom," said Simkins, who becomes the first person from OSU to ever serve on the committee. "There's going to be a lot of work involved, but I'm looking forward to it. My mantra has always been to bridge the theory and practice of finance because I came from the corporate world before joining academia."
The appointment requires that Simkins serve as a Special Government Employee (SGE) member on the committee. She will be tasked with providing her own individual best judgment on behalf of the U.S. government during committee deliberations and also provide her expert advice in a manner free from conflict of interests.
Market Risk Advisory Committee (MRAC) member responsibilities include regular attendance and participation in MRAC meetings, review of any committee materials provided in advance of meetings, cooperation with the committee's designated federal officer and service for their appointed term. Members include representatives of clearinghouses, exchanges, intermediaries, market makers, end-users, academia and regulators.
Simkins joins with another academic, Thomas Philippon of New York University, on the current 36-person committee, and replaces past academicians on the committee, including Andrew Lo (MIT) and Anat Admati (Stanford).
The complete list of committee members is found on the website of the U.S. Commodity Futures Trading Commission.