OSU student-led teams win over $40,000 at Love's Entrepreneur's Cup competition
Wednesday, April 25, 2018
A pair of graduate-level teams from Oklahoma State University made history as winners at the 2018 Love's Entrepreneur's Cup. For the first time in the history of the OSU entrepreneurship program, the teams took first- and second-place in the statewide competition.
Contraire was awarded first place and $20,000, while Multivate placed second and received $10,000 in the High Growth Graduate competition. Each team also won an additional $2,000 for winning their respective interview categories and being selected as a finalist.
"We're extremely proud of all of the teams that participated in the Love's Cup Competition," said Bruce Barringer, head of the OSU School of Entrepreneurship. "We enjoy working with engineering students and are having increasing success matching engineering and business students to comprise business plan teams. All of the teams that competed have tremendous future potential."
Contraire is a group of civil engineering students that converted a scientific process into a business idea. Multivate is a mixture of engineering and business students.
Contraire, which includes OSU civil engineering students Aubrey McCutchan, Greg Hendrickson, Stephen Ogle and Rabecca Wiseman and was advised by David Thomison, clinical assistant professor and George Kaiser Family Foundation Endowed Chair in Entrepreneurship, placed first over the five other finalists in the High Growth Graduate division. The company is developing a predictive analysis control technology around numerous industrial sensors in order to provide real-time water quality metrics to wastewater treatment plants thereby enabling optimization of electricity and reducing usage by up to 45 percent. Municipal wastewater treatment plants can save up on average $250,000 annually in utility costs using the process.
The engineering students were introduced to the OSU entrepreneurship program through the School of Entrepreneurship's National Science Foundation (NSF) I-Corp program, and learned how to convert a scientific process into a business idea through the program, Barringer said.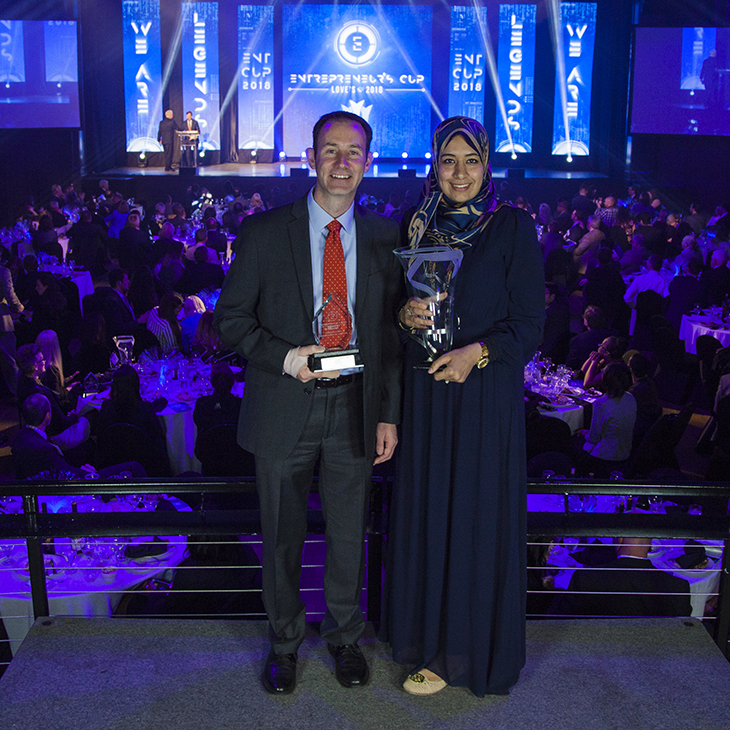 The second-place team of Multivate consists of mechanical engineering major/entrepreneurship minor student Austin Beaver, chemical engineering doctoral students Momen Amer and Jasmine Gabal, and advisor Richard Gajan, Don R. Brattain Assistant Professor of Practice in Entrepreneurship. They developed a novel multi-chamber, single-use bioreactor bag that reduces the cost of cell line production scale up by biopharmaceutical manufacturers. Multivate's technology can save bio manufacturers up to $200,000 annually in fixed costs.
OSU had a third team that was one of the six finalists in the High Growth Graduate competition. Indra-Lightning Strike Mitigation, consisting of entrepreneurship student ShawnDea Dunzy, OSU-Tulsa engineering graduate student Dilli Dhakal and advisor Haley Keith, has developed the patent-pending Thunderbolt Series of light-weight, resilient materials for use in lightning damage mitigation in the wind generation and aerospace industries. The material can withstand multiple lightning strikes, which are the number one cause of wind turbine downtime.
In addition, all three OSU teams – Contraire, Multivate and Indra-Lightning Strike Mitigation – were among the top five winners in the High Growth Interview competition, in which teams were chosen based on the knowledge of their business and the competitive advantages, how well they articulated the business model, how the business makes money and the competency across the team. Each team was awarded $1,000.
In the High Growth Undergraduate division, the OSU team of Safe Harbor Solutions (entrepreneurship students Kait Hillsman and Brendan Duke and advisor Haley Keith) was one of the six finalists. Also, the Go Chill team from OSU-OKC (students Patrick Arney, Albeiro Diaz, Jerry Gramajo, Tiffany Lewis and Alondra Lopez, and advisor Lisa McConnell) was one of the Small Business finalists.
Wiseman and Arney were named 2018 Paulsen Award Scholarship Award winners, and each will receive $5,000 from the Oklahoma Business Roundtable.
i2E is a nationally recognized, private, not-for-profit organization founded in 1998 and focuses on growing innovative small businesses in Oklahoma. Its mission is investing in entrepreneurs to build successful high-growth companies in Oklahoma and making a positive impact on the state's economy.
The Love's Entrepreneur's Cup is a statewide collegiate business plan competition that simulates the real-world process of researching a market, formulating financial projections, writing a business plan and pitching the opportunity to potential investors. In its 14-year history, nearly 2,150 college students have taken the Love's Cup challenge, producing over 600 innovative ideas from 36 campuses statewide and awarding more than $1.8 million in cash, $125,000 in scholarships and $231,000 in fellowships.
For more information about i2E and the Love's Cup, visit https://www.i2e.org/loves-cup/.