Oklahoma State University's Spears School of Business will honor four alumni – Bob Austin, Dan Gilliam, and Mike and Judy Johnson – with their induction into the school's Hall of Fame on Oct. 5 at the ConocoPhillips OSU Alumni Center.
The annual Spears Business Hall of Fame banquet recognizes graduates with distinguished professional careers who have given back to their communities and displayed leadership skills. Austin, Gilliam and the Johnsons will be honored as inductees into the Spears Hall of Fame, the highest honor awarded by Spears Business.
Also, Spears Business alums Justin Bell, Kyle Ensley, Jamie Mitchell and Jennifer Slatnick will be honored as Outstanding Young Alumni at the banquet.
"We are pleased once again to honor some of our outstanding alums," said Ken Eastman, dean of Spears Business. "Mr. Austin and the Johnsons have made their mark in entrepreneurial ventures, while Mr. Gilliam in the corporate world. Each one serves as a great example of how one attains career and life success, plus they are all strong supporters of Spears and OSU. In addition, our four young alums show that career success is not limited to those with years of experience. We are proud to have all these accomplished individuals as our graduates."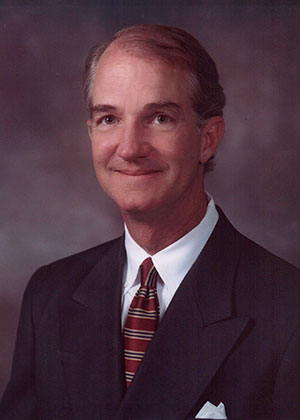 Bob Austin earned his bachelor's degree in marketing from OSU (1976), and he spent several years working in his family's retail clothing store, Austin's Men's Wear of Altus, Enid and Ponca City, before starting his own company. In 1981, Austin started a helicopter repair business from scratch. Starting with only a secretary, a telephone, a folding card table and a building, he grew Helicomb International into the leading company for the repair and manufacture of bonded structures.
Initially Helicomb's market focus was only the offshore petroleum industry in the Gulf Coast, Middle East, North Sea, Labrador, Canada, Africa, South America and the Far East, but the company's reputation for quality and delivery grew and the markets started to expand. Austin grew Helicomb from a 4,000-square-foot to an 80,000-square-foot facility. In 2009, Helicomb had approximately 85 percent of the world market in the repair of helicopter bonded structures. After 30 years, Austin sold and retired from Helicomb International in 2010.
He received many recognitions and honors over the years, including Tulsa Chamber of Commerce Small Business Person of the Year (1987), Oklahoma State Chamber of Commerce and Industry Small Business Person of the Year (1988), rated and published in the Inc. 500 Magazine (1988-1989), awarded the Boeing Company Small Business Supplier of the Year (2004), Tulsa Exporter of the Year from the Small Business Administration (2008), Blue Ribbon Award from the U.S. Chamber of Commerce (2010), and Distinguished Entrepreneur of the Year for OSU's School of Entrepreneurship and the Riata Center for Entrepreneurship (2012).
Austin enjoys spending time with his wife, Liz, and their four daughters Bailey, Darcy, Emma and Kate, and their seven grandchildren.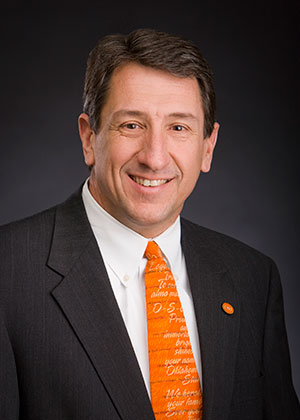 Dan Gilliam earned his bachelor's degree in accounting from OSU in 1979, and then went to work as an internal auditor for Conoco in Ponca City. Thirty-eight years later, in August 2017, he retired after working for Conoco, ConocoPhillips and Phillips 66, where he held numerous supervisory, managerial and leadership positions in Finance and Corporate Affairs. His career took him all across the United States as he lived in Ponca City (three times); Wilmington, Delaware; Lake Charles, Louisiana; Houston (three times) and Bartlesville (twice).
Gilliam has served on numerous boards including OSU Alumni Association (chairman), the Associates/Spears Business (chairman), the Spears Business Dean Search Committee, School of Accounting Search Committee, Ponca City Chamber of Commerce (chairman), Bartlesville Chamber of Commerce (chairman), Oklahoma 21st Century (chairman), Oklahoma State Chamber, Oklahoma Hall of Fame, Leadership Oklahoma, Bartlesville Sports Commission (charter member), and Bartlesville Community Foundation.
He was recognized in 2014 among the "Spears School Tributes: 100 for 100" during the 100th anniversary of business education at OSU.
Gilliam is married to his wife, Nancy, and they will celebrate their 35th anniversary in November. They have three children: Brittney and husband, Mark McKinney, who live in Katy, Texas, Chelsea and husband, Chuck Major, who live in Tulsa, and Tyler and wife, Jamie, who live in Owasso. Chelsea and Chuck are OSU grads and Tyler graduated from OSUIT in Okmulgee. They have five grandchildren.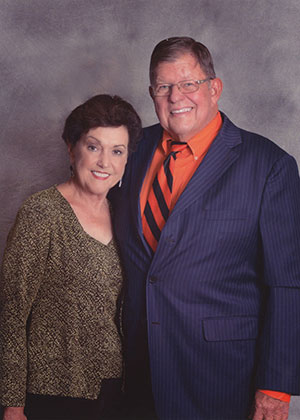 Mike and Judy Johnson met while at OSU, and both earned bachelor's degrees in accounting (his in 1966, hers in 1967).
Judy Freeman was a dedicated student at OSU, one of the few women to pursue an accounting degree at the time. She met Mike in the fall of 1965 when he was serving as president of the Men's Residence Hall Association (MRHA), and he was interviewing candidates for the first MRHA Queen. Judy won the MRHA Queen election, and soon thereafter the two accounting majors began dating. They were married in 1966, and this year celebrated their 52nd anniversary.
Soon, their business partnership took off, as owners of a tropical fish store in Oklahoma City and the opening of a CPA firm in Edmond. Later, they moved to Kingfisher, joining the family's Chrysler dealership. Today, Johnsons of Kingfisher stands as one of the most honored and successful Chrysler dealerships in Oklahoma.
The pair have always been active in their communities. Judy was involved as a family and child advocate, serving on the Youth and Family Services Board for Canadian, Kingfisher and Blaine counties for over 17 years, including a term as board president. Mike has been a leader in the Kingfisher community for decades, serving as President of the Kingfisher Chamber of Commerce Board, President of the Kingfisher School Board, and being an active Rotarian. With Judy's support, Mike was elected to the State Senate in 1998 and served for 12 years.
The Johnsons are major supporters of OSU, endowing four scholarships: Judith Freeman Johnson Professorship in Accounting Fund, Michael D. and Judith A. Johnson President's Distinguished Scholarship, Michael D. and Judith A. Johnson Scholarship in Accounting, and the Mike and Judy Johnson Endowed Football Scholarship. Their resources are intentionally given to recruit and impact students and to highlight OSU.

Mike and Judy's three children – Lori, David and Rob – each graduated from OSU, and Mike and Judy bring several of their 14 grandchildren to Grandparent University each summer.
In 2001, the Outstanding Young Alumni award was established to recognize alumni who have provided significant service and achievement early in their professional careers. This year, four outstanding individuals will be honored.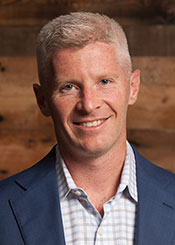 Justin Bell graduated from OSU in 2000 with a bachelor's degree in management information systems. He lives in Dallas and is president of Credera, a management and technology consulting firm. Justin began working at Credera in 2004 and has helped lead the firm to grow from 10 people when he started to over 325 today. Bell and his wife, Karla, have been married for more than 18 years and have two children, Grady and Riley.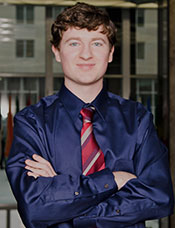 Kyle Ensley earned bachelor's degrees in international business and political science from OSU in 2009, and he also completed his master's degree in public policy from the Harvard Kennedy School of Government (2011). Ensley is a management consultant for Booz Allen Hamilton in Riyadh, Saudi Arabia. Prior to consulting, he was a U.S. Foreign Service Officer and Ambassador Thomas R. Pickering Foreign Affairs Fellow with the U.S. Department of State. His tours included serving in the Bureau of Economic and Business Affairs at the U.S. Department of State, the U.S. Embassy in the United Arab Emirates, and the U.S. Embassy in The Bahamas.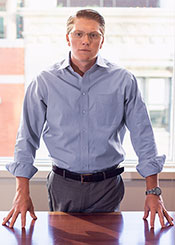 Jamie Mitchell earned a bachelor's degree in entrepreneurship in 2012 from OSU, and also earned an MBA in energy from TCU. Mitchell also attended Harvard Business School along with students from 37 different countries. His alumni status through the Executive Education program focused on Professional Leadership Development. He currently serves as vice president for Bosque Systems, an oil and gas service company headquartered in Fort Worth, Texas, where he is responsible for the evaluation, development and implementation of new business lines for the company.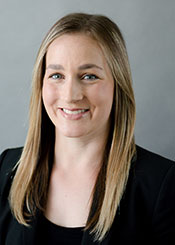 Jennifer Slatnick earned her MBA from OSU in 2009. During her tenure in the Spears School of Business, she served as vice president of finance on the MBA Student Association (MBAA). Upon earning her MBA, Jennifer began working at ExxonMobil Corporation in Houston. During her time at ExxonMobil she has held seven different positions, which include financial and accounting support of the Upstream Production and Global Service organizations. Today, Jennifer is a Corporate and Financial Reporting Supervisor at ExxonMobil. She has been married to Matt for five years and has two children, Jake, 3 and Nora, 1.
For more information about the Spears School Hall of Fame, please contact Lindsey Wallace at 405-385-5160 or lindsey.wallace@okstate.edu.