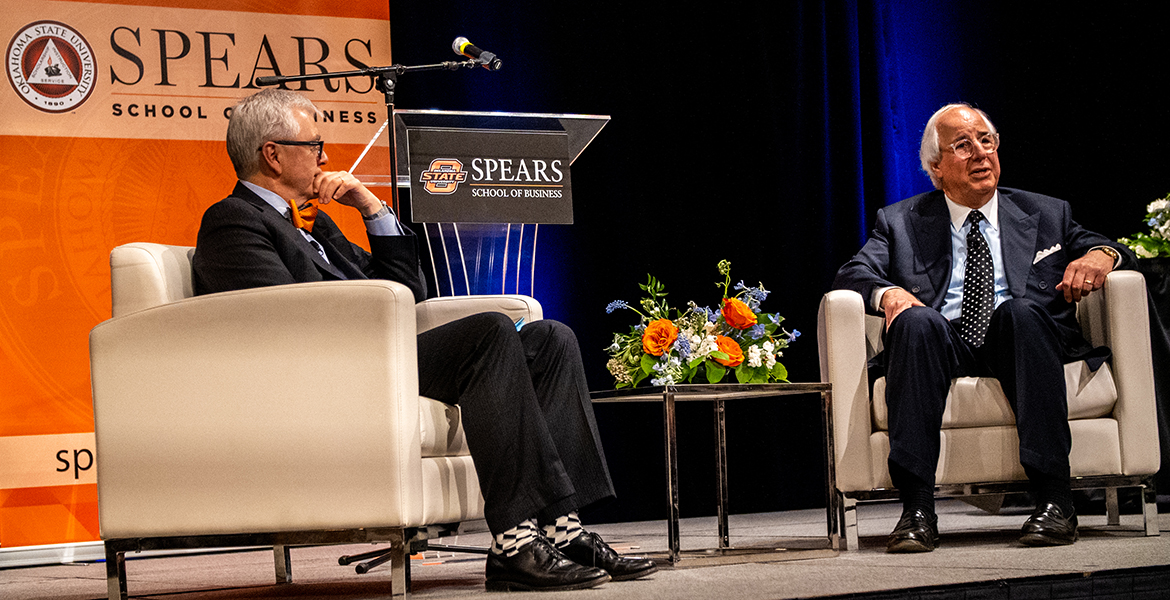 OSU speaker series spotlights staggering cost of cybercrime
Thursday, April 11, 2019
A short crime stint led to redemption for "Catch Me if You Can" subject
Those attending the Spears School of Business Tulsa Business Forums and Executive Management Briefings in Oklahoma City were treated to the unbelievable stories of Frank Abagnale's criminal antics and the unbelievable cost of cybercrime and identity theft in his talks. The best-selling author and subject of the movie "Catch Me if You Can" recounted his rise and undoing in crime, all before age 22, as well as the "staggering" cost of white-collar crime.
Living on the streets of New York in the 1960s, a 16-year-old Abagnale turned to cashing bad checks and impersonating airline pilots, lawyers and even doctors to survive. Through sheer audacity, Abagnale survived successfully living other people's lives until he was arrested and imprisoned in France at the age of 21.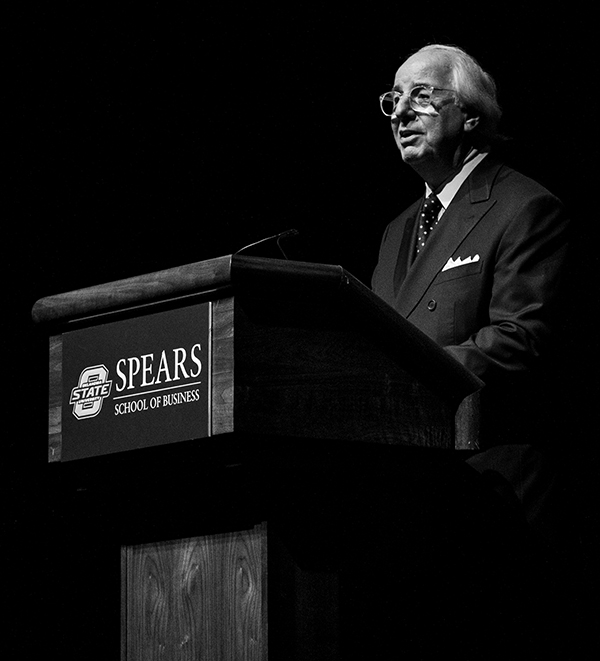 "I always knew that someday I'd get caught," he told the more than 1,300 people attending the Tulsa and Oklahoma City presentations. "Only a fool would think otherwise."
Abagnale, 71, recalled his years in prison in France, Sweden and the United States before he was offered the chance to redeem himself by working for the FBI undercover and teaching agents at the academy how to catch criminals like himself. After four decades working for the agency, he has become a world-renowned expert on identity theft and financial crimes. In the meantime, his story as a globetrotting teen criminal became a best-selling book, a hit movie by Steven Spielberg, staring Leonardo DiCaprio and Tom Hanks, and even a Broadway play.
But Abagnale also presented a serious message, reminding his audience how vulnerable the world has become to high-tech criminals who steal money by stealing the identities of the elderly and even children, and taking advantage of cybersecurity weaknesses of major businesses like Target and the poor online habits of average Americans.
"The total losses from fraud in the U.S. in 2018 amounted to about $994 billion and this is just fraud. This has nothing to do with burglary, drug or violent crimes. This is strictly white-collar crime," Abagnale said. "The defense budget of this country, with two theatres of war, is $740 billion."
Abagnale pointed out that much of those losses can be prevented by closing cyber soft spots in business and personal security protection. He reminded his audience that, contrary to common perception, hackers don't cause security breaches.
"Every breach occurs because somebody in that company did something they weren't supposed to do or somebody didn't do something they were supposed to do," he said. "All hackers do is wait for doors to open and thousands of doors open every day."
The Tulsa Business Forums and Executive Management Briefings are presented by corporate sponsors and Spears Business and are coordinated by the Center for Executive and Professional Development. The program brings in distinguished business leaders, authors and policymakers to the Tulsa and Oklahoma City business communities.