Top teams in data analytics case study competition showcase abilities
Thursday, November 21, 2019
A team of five Oklahoma State University business analytics master's degree students were recently selected as the winners of the MS in Business Analytics and Data Science (MS-BAnDS) program case competition at the Spears School of Business.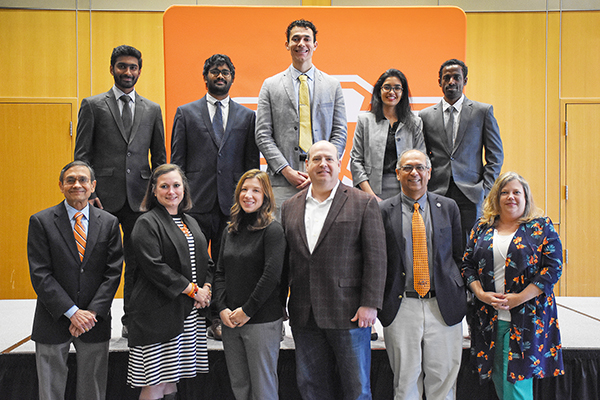 Nithesh Maruthi, Yasha Pastaria, Harish Reddy Patlolla, Anirud Vem and Nikhil Vishwanath were named winners of the second MS-BAnDS case competition, which was held for the first time on the Stillwater campus last year. The winning team, selected by judges made up of industry representatives on the program's advisory board, received a $1,000 cash prize.
"The business analytics case competition is an integral part of our MS-BAnDS curriculum," said Dr. Goutam Chakraborty, SAS Professor of Marketing Analytics and director of the MS in Business Analytics and Data Science program. "First- and second-year students work as teams analyzing business issues, crunching the numbers, creating appropriate visualizations and models and then present their results to judges from the industry."
In the preliminary round Nov. 8, 15 teams participated with three of those teams advancing to compete in the finals Nov. 15. Finishing second in the finals was the team of Kalyan Kumar Alisetty, Noah Heinrich, Venkateshwarlu Konduri, Vinil Rayala and Sravani Sigadam. In third place was Harshit Agarwal, Sreejita Biswas, Bhavana Erukulla, MD Anamul Hasan and Luis Martinez.
"We were extremely happy to see all the two weeks of hard work being finally paid off. It was a tough competition for us because the other teams were also equally great," said Pastaria, from the winning team. "Competitions like these are a great way to practically apply all the skills that we learn in our coursework. Working with my team has helped me manage a diverse group of individuals, communicate well, have a global mindset and effectively resolve conflicts. I think these are the kind of skills that are required in the real world."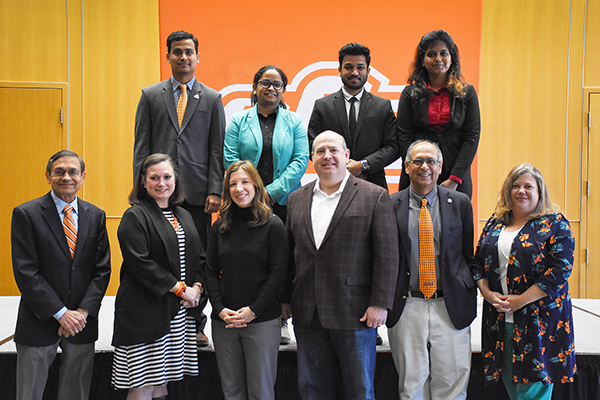 According to Chakraborty, companies in the field of data analytics are looking for employees with strong specialized talents, but they're also interested in job candidates who stand out in other ways, too.
"We hear from employers that technical skills such as programming and data analysis are important table stakes but to be really successful students must be able to explain their analysis in a compelling fashion often to non-technical senior managers and clients," Chakraborty said "The analytics case competition is a great way for students to practice and showcase their story-telling ability supported by powerful data analysis."
Visit the website to learn more about the MS-BAnDS program.
Media contact: Jeff Joiner | Communications Coordinator | 405.744.2700 | jeff.joiner@okstate.edu