Contest to name ranch teaches marketing creativity
Friday, December 13, 2019
Alum's financial support provides prizes for branding campaigns
Oklahoma State University alumnus Roger Cagle and his wife Cindy Cagle sponsored a recent competition for OSU students to create a brand campaign for the couple's Texas ranch. The Cagles were on hand at the Spears School of Business Dec. 6 to judge competition finalists and present a $1,000 first prize to the winning proposal and $500 to a Fan Favorite winner.
Cagle, a 1973 bachelor's in business administration and 1975 MBA graduate, and his wife and business partner recently retired from the oil and gas industry after more than 40 years working throughout the world. The couple co-founded oil exploration businesses including SOCO International, which they managed from London until their retirement in 2017 when they returned to the United States.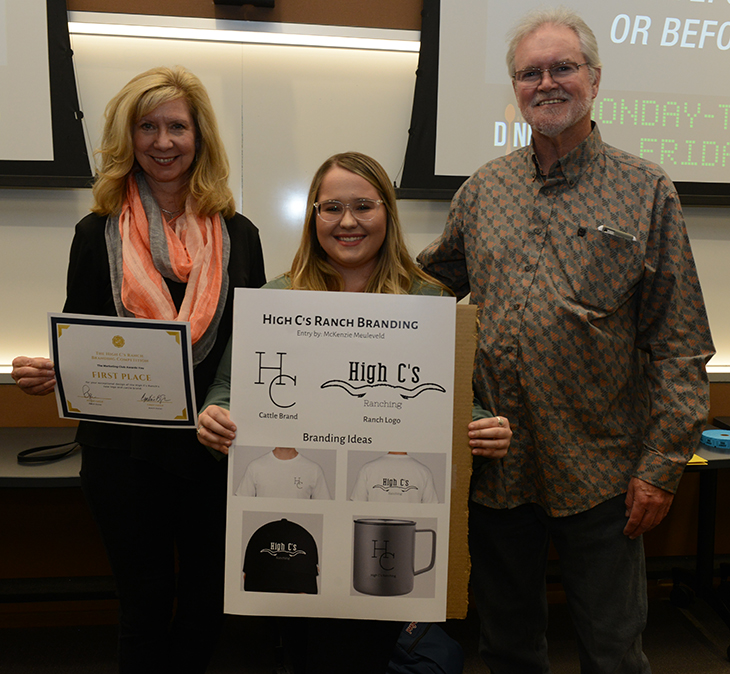 Before retirement, the Cagles made a substantial gift to Spears Business to support their love of international travel and global business, which occupied the majority of their professional lives. The gift made possible the creation of the Center for Advanced Global Leadership and Engagement (CAGLE), which is the home to international initiatives at Spears Business, including its study abroad program.
The Cagles suggested to the OSU Marketing Club holding a competition for students to create a brand for their High C's Ranch in Texas where they live and raise cattle. The club agreed to organize the event, which attracted 44 entries presented as posters. Students were asked to create a logo for the ranch and show its possible use on clothing, merchandise and on a website. They were also required to create a literal cattle brand that could be used by the Cagles to mark animals in their herd. The competition was open to students from any OSU college who were members of the Marketing Club.
Winning first place was McKenzie Meuleveld, a Spears Business finance and marketing analytics major.
"I really wanted to take more of a modern approach to their logo," Meuleveld said. "They said they were focused on bringing in that younger generation and I really thought a modern approach would do that. I also looked into the rules and regulations in Texas for cattle brands because I wanted to make sure what I was sending them was something they could get approved."
The winner of the Fan Favorite Award, based on a vote of those attending the judging, was Rustin Ham.
The Cagles said they were impressed by the creativity of the ideas presented and the amount of work students put into their entries. The competition was meant to not only provide them with a logo and marketing ideas, but to give students experience in the process of working with clients and selling their proposals, Roger Cagle said.
"It's not just what's on paper that matters. It's what's put on paper and how you communicate with us about what's on paper that matters, so your presentation is a big part of this," he said. "We're looking for your creativity to meet ours."
The Cagles will continue to work with Meuleveld to finetune her designs to come up with a finished brand they hope to adopt.
MEDIA CONTACT: Jeff Joiner | Communications Coordinator | 405.744.2700 | jeff.joiner@okstate.edu