Student entrepreneurs continue winning ways
Friday, December 20, 2019
Oklahoma State University student entrepreneurs Rabecca Wiseman and Brooks Robison have been named semifinalists in the ASU Innovation Open 2020 business pitch competition, which offers $300,000 in prize money to collegiate business startups. Wiseman, a master's student in civil engineering, and Brooks, an MBA student in the Spears School of Business, continue to win top-tier business plan competitions with their technology startup, Contraire.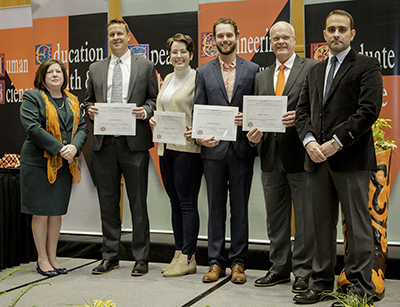 Developed as a predictive analysis control technology for municipal wastewater treatment plants, Contraire was originally conceived by students and faculty in OSU's College of Engineering, Architecture and Technology. The experimental system has been scaled up and now a CEAT and Spears Business team is working to commercialize the technology's business model. The team of Wiseman and Robison is working with faculty advisor David Thomison, assistant professor of practice and George Kaiser Family Foundation Endowed Chair in Entrepreneurship.
Contraire has already made a name for itself in numerous national and international business plan competitions including Princeton University's TigerLaunch competition and the Queen's Entrepreneurs' Competition in Canada.
"The team has never placed lower than third place and has won four out of five business plan competitions they have entered," said Thomison.
The first round of the ASU Innovation Open competition for technology ventures, sponsored by Arizona State University's Ira A. Fulton Schools of Engineering, attracted entries from 46 universities in the U.S. and internationally. Contraire was named a semifinalist and joined a list of 26 teams that will compete in the finals Jan. 31, 2020 in Tempe, Arizona.
Robison said the Contraire technology appeals to judges because it provides a needed solution to an environmental problem by more efficiently processing wastewater with the potential for saving municipalities thousands of dollars a year.
"We solve a significant real-world issue involving wastewater treatment plants that account for about 1 percent of the total energy consumption in the United States," Robison said. "Our technology has the potential to significantly reduce this number. Our calculations show implementing the Contraire technology will on average save municipalities $250,000 annually and as a result of reducing the amount of electricity consumed, the amount of greenhouse gas emissions related to wastewater treatment plants significantly decreases."
Two grand-prize winners in the ASU Innovation Open finals will each receive $100,000. The OSU team will compete with groups from universities including the Massachusetts Institute of Technology, Stanford, Penn State, Harvard and Northwestern.
"OSU is one of only a few state schools being represented at the competition so sharing America's Brightest Orange will be an honor no matter the outcome," said Robison.
Media contact: Jeff Joiner | Communications Coordinator | 405.744.2700 | jeff.joiner@okstate.edu