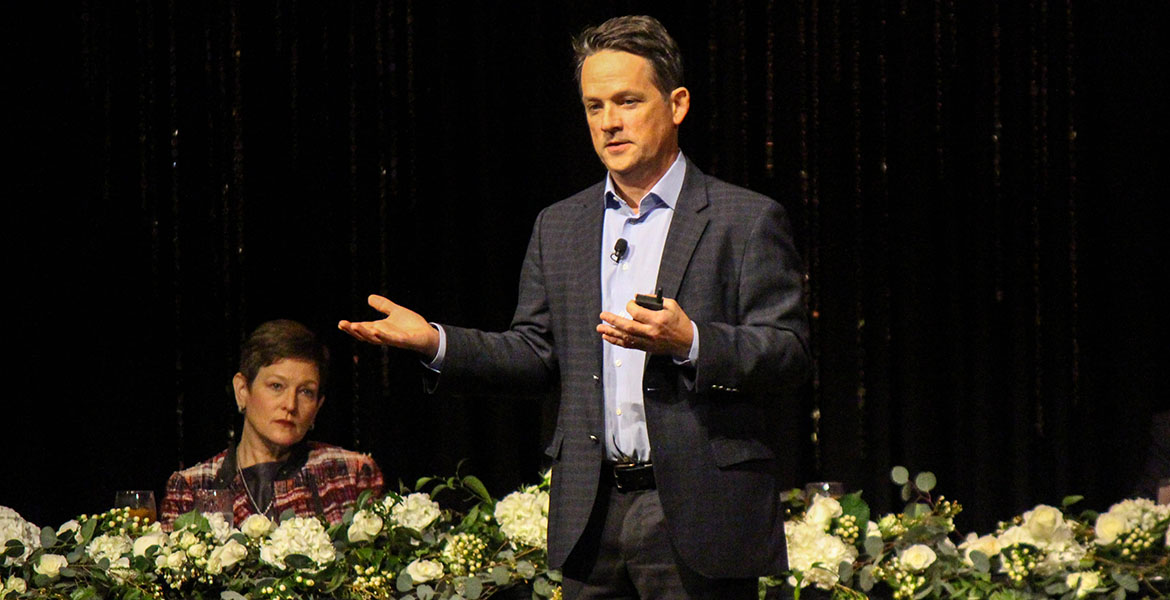 Learning why culture matters at the Executive Management Briefing
Friday, February 8, 2019
Is a business leader who cares about connecting with team members a liability who shows weakness or is he someone who's investing in a productive work culture? For Daniel Coyle, the answer is simple. An organization's culture is everything, and like investing in your business, leaders who make that investment will enjoy a return on culture.
"Culture – it's relationships; it's core values; it's mission. It's the soft stuff, but culture is the most important performance asset you have," Coyle said during Feb. 6's Executive Management Briefing presented by the Spears School of Business' Center for Executive and Professional Development at Oklahoma State University.
Coyle shared some of his findings from years of studying high performing groups from professional sports franchises to a U.S. Navy Seals team during the 31stExecutive Management Briefing at the National Cowboy & Western Museum in Oklahoma City. Coyle also spoke at the Tulsa Business Forums Feb. 7.
A New York Timesbest-selling author, Coyle described how organizations like the NBA basketball team the San Antonio Spurs succeed by connecting with each individual team member and building a culture of winning that includes honesty and vulnerability. And, like being a part of a winning sports team, it's fun.
"That culture is not about words. It's about behavior and making that culture your purpose," he said.
OSU President Burns Hargis said bringing ideas to Oklahoma is part of what a land-grant university like OSU does with programs like the Executive Management Briefing.
"A big part of being a land-grant university is sharing our knowledge and we're doing that by bringing great thinkers here like Daniel Coyle," Hargis said.
Coyle's concepts to build a winning culture came from his recent book, "The Culture Code: The Secrets of Highly Successful Groups," copies of which he autographed for attendees.