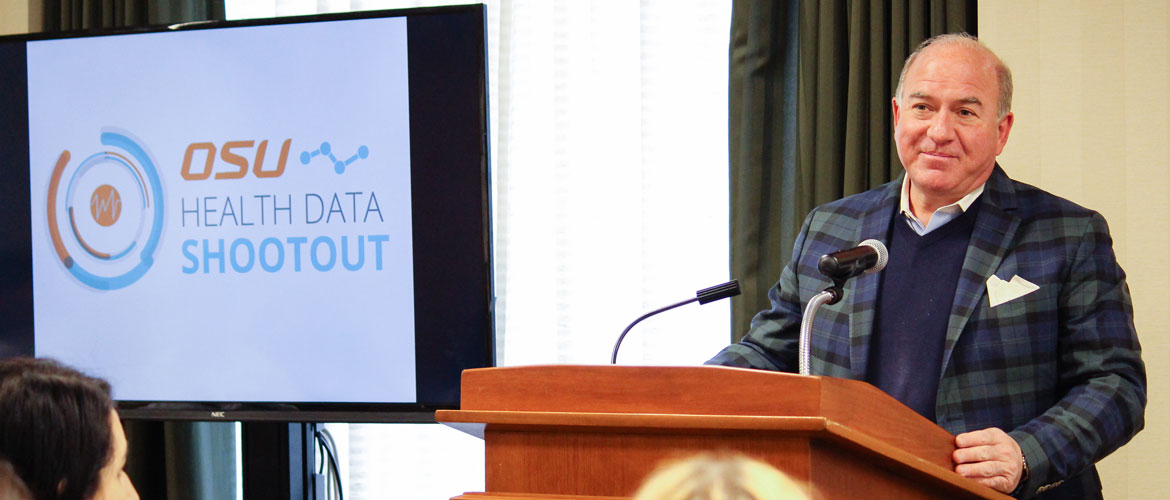 Health Data Shootout to target opioids
Friday, January 18, 2019
Oklahoma State University's Center for Health Systems Innovation Institute for Predictive Medicine is set to host the 2019 Health Data Shootout from Feb. 20 through March 29.
The competition enables OSU graduate and undergraduate students to combat relevant health issues. This year's competition is focused around an urgent public health issue, opioids. In the United States, over two million Americans are currently dependent on either prescription opioid pain pills or street drugs, resulting in the death of more than 130 individuals each day. Although opioid addictions affect every demographic, populations such as teens and veterans are impacted at a higher rate.
"Opioid addiction continues to be a major challenge in Oklahoma and nationwide," said Dr. William Paiva, executive director of CHSI. "Addressing this challenge will require a multi-pronged approach and health data analytic solutions will be one of those quivers."
Through the utilization of the Cerner Health Facts® Database, students will work on interdisciplinary teams of four to five members to develop real-world health solutions. The Health Data Shootout is open to all majors and offers students the opportunity to collaborate with the brightest minds from a wide array of disciplines. At the end of the event, students present their findings to a panel of industry experts for a chance to win cash prizes.
"We are extremely excited that this year's Data Shootout will focus on developing data analytic solutions to address opioid addiction," Paiva said. "In previous years, the quality of the projects promoted by the teams participating in this annual event has been remarkable. I expect this year's event to be no different."
Students are set to work on the dataset from Feb. 20 through March 24, after which they will submit a report and presentation of their data. Winners will be announced at the awards ceremony on March 29 at the Wes Watkins Center in Stillwater.
The Health Data Shootout will host two opening ceremonies in order to increase the ease of access for competitors. The first is set to be held in Tulsa at 1 p.m. Feb. 20 in the Tandy Conference Center at the Center for Health Sciences. The second will be at 1 p.m. Feb. 22 in the Starlight Terrace (Room 465) in the OSU Student Union in Stillwater. Competitors only need to attend one opening ceremony.
"We are trying a different approach this year to increase opportunities for interdisciplinary team work and to allow students from the OSU-Tulsa and CHS campuses to get more involved," said Elvena Fong, CHSI's Health Data Analytics Program Manager. "We are very excited to see what kind of novel solutions will come out of this year's competition. The opioid epidemic affects many individuals and communities, and we are hoping to tap into the power of health data to find innovative solutions to some of the most pressing problems."
The registration deadline is Feb. 12. Students must register on the Health Data Shootout website in order to participate in the competition. Follow the Health Data Shootout Facebook page for the latest news and updates.
By Tyler Bryant