Executives of Hal Smith Restaurants Group recently presented School of Hospitality and Tourism Management (HTM) students with newly established scholarships at Oklahoma State University in memory of a long-time company employee who died in a 2018 motorcycle accident.
Chief Operating Officer Hank Kraft and Vice President Mike Rogers presented the James Paul Blanchard Memorial and Hal Smith Restaurants Scholarship to four Hospitality and Tourism Management students during a company training program held at OSU in the Hal Smith Restaurants Demonstration Classroom. Blanchard was an area manager for Hal Smith Restaurants for nearly 24 years.
"A lot of our area managers said this is fitting because Jim often helped people and these OSU students are just the type of people that Jim would want to help out," said Rogers, an OSU alumna.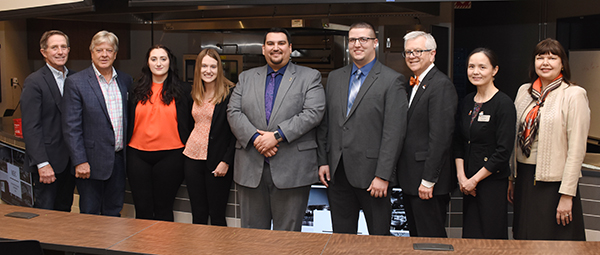 The $5,000 scholarships were presented to Nico Gerbrecht, of Ingelheim, Germany, and Tony Blackbear, from Tulsa, for the fall 2018 semester. Erika Farrell, of Oklahoma City, and Alyssa Garner, of McKinney, Texas, were awarded scholarships for the spring 2019 semester. Hal Smith Restaurants committed $20,000 a year to OSU for two scholarships a semester for five years.
"I grew up with four older siblings and being the last one to go to college, my parents were a little tight on money," said Garner, adding that the scholarship is helping take some of the financial burden off her parents.
Also attending the presentations were Spears School of Business Dean Ken Eastman, Li Miao, interim director of HTM, and Diane Crane, who represents Spears Business at the OSU Foundation.
The presentations were made at OSU during one of the company's twice-yearly training programs for its store managers held in the Hal Smith Restaurants Demonstration Classroom in the new HTM facility on the Stillwater campus. The classroom was made possible by a $1 million gift to OSU by the company.
"Recruiting great people is one of our biggest needs and we have a pool of talent being developed here at OSU and we try to tap into that as much as possible," Rogers said.
Hal Smith Restaurants, based in Edmond, Okla., includes 14 store concepts including Charleston's Restaurant, Louie's Grill & Bar and The Garage Burgers & Beer. The company employees more than 6,800 employees in 77 restaurants and its corporate offices.
In recent years the company has grown an average 8 to 10 percent a year, said Kraft, and because of its need for trained managers he said it makes sense to work with OSU's School of Hospitality and Tourism Management.
"People are our biggest criteria for growth," Kraft said. "We grow our restaurants as we attract talented people to work for us. That's one of the reasons we want to be here at OSU."