MBA student Jayci Robison won't allow invisible illness to slow her down
Thursday, March 7, 2019
Oklahoma State University graduate student Jayci Robison is a force to be reckoned with in the classroom and on the basketball court, but it wasn't long ago that she woke up surrounded by concerned teammates and coaches after passing out at her championship basketball game. This was the beginning of a journey she is still navigating today.
Robison was 17 years old and starting her junior year of high school. She had played basketball year-round since fifth grade, so when she passed out in that championship game, all she was thinking was that she had a game to finish.
"We just kind of brushed it off like I was dehydrated because it was so hot, and we didn't really think much about it," Robison, a first-year OSU MBA student, said. "Then I kept getting sicker and started passing out multiple times a day. I passed out driving one day, and that's when my parents were like, okay we need to start seeing what the deal is because it's not going away."
It took doctors four months to diagnose Robison with postural orthostatic tachycardia syndrome (POTS), which was a short time frame compared to this condition's average diagnosis process of seven to eight months. POTS is a dysfunction of the autonomic nervous system, which controls all the systems in one's body that perform the functions that one doesn't have to think about.
"So, your lungs, for example, you don't think about breathing; you just do it," she said. "Your heart beats; it circulates blood. Your digestive system and your reproductive system perform functions. Your nervous system fires signals to your brain, and your brain tells those systems to perform those functions."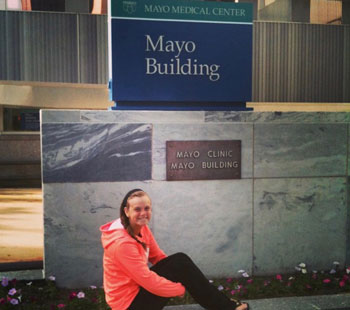 Robison's nerves fire the wrong signals. This causes a diverse set of symptoms for people living with POTS. One day, she'll pass out, the next day she'll suffer from an intense migraine and the day after that the slightest touch could feel like a knife to her skin.
After a year struggling with her health daily, Robison and her family decided to seek relief at the Mayo Clinic in Rochester, Minnesota. The Mayo Clinic specializes in treating extremely difficult cases and is one of the top-ranked research hospitals in the world. The visit may have saved her life.
"I went to the Mayo Clinic for two weeks, and we found a defect in my heart called inappropriate sinus tachycardia, so we scheduled heart surgery almost a year later in September of my senior year," Robison said. "They actually found two defects while they were in there, one we didn't know I had and probably saved my life."
Robison displayed strength and courage most teenagers never have to think about during her heart operation, an experimental procedure that required she remain awake the entire time.
"I didn't have any sedation, so I just laid on a table, they numbed my legs and sent catheters through my arteries to my heart," she said. "Then they pumped artificial adrenaline through the arteries to make my heart beat really fast and send me into an episode."
The goal of the surgery was to locate the correct sinus node to burn off.
"They burnt off part of it, but they hit my phrenic nerve, which connects to your diaphragm," Robison said. "So my diaphragm contracted, and I stopped breathing. Since I wasn't sedated, they had to stop. I was freaking out the whole surgery, but that was pretty painful."
Robison explains this process with a calmness and nonchalance that would amaze most people.
The surgery improved Robison's heart issues, but in the process doctors discovered it's a condition she wouldn't outgrow. Meaning, Robison takes about 17 pills a day and intravenous immunoglobulin (IVIg), which is an eight-hour infusion once a month to keep her body functioning correctly. This regime has helped her with physical activity and quality of life.
POTS took over Robison's body and affected her physically and mentally, but she is taking that control back with the intent to not become a statistic that is imprinted in her memory.
"I found a statistic a while back that 80 percent of people with POTS are homebound, whether they are too scared to leave, they don't want to pass out or they're just too sick to leave," she said. "I think hearing other people's stories pushed me to not be that statistic. Every morning I say what I'm going to do. Even if it's just taking my dog for a walk, I give myself a goal for the day."
To say that POTS changed Robison's life plans and goals would be an understatement. She cites her faith as the most important part of her journey. Robison had always planned on playing college basketball before her diagnosis, so when she learned that wouldn't be an option, her goals shifted. She decided Oklahoma State University would be the best place for her.
She quickly learned there would be more obstacles and roadblocks regarding her future career and goals that went beyond basketball. While completing her undergraduate degree in strategic communications and marketing, she attended career fairs and asked employers about disability benefits and accommodations. No one had answers for her.
"I don't know anyone with POTS that's able to work or have a job," Robison said. "That's really scary to enter the workforce and not be able to talk to anyone about their experience with it."
This is when Robison began seeing a need for research in the area and she began exploring the option of pursuing a doctoral degree.
"The more I started researching it, the more I realized there's not much information on invisible disabilities in the workplace," she said. "A lot of managers don't know how to handle the subject. They don't even know what to say when you ask them about it."
Robison is in the early stages of researching and applying to Ph.D. programs with the intent to focus her research on organizational behavior and the treatment of minorities in the workplace, specifically people with invisible disabilities. She is already doing research with professors and current Ph.D. students in the Spears School of Business as a graduate research assistant.
In a situation where Robison could feel so weak and hopeless, she brings strength and value to the MBA program. She serves as vice president of social affairs, plays on an intramural basketball team and will be traveling to West Virginia to compete in the Big 12 Case Competition this semester.
By Kinsey Clemmer