A group of Oklahoma State University Master of Business Administration students recently traveled to West Virginia University to compete in the Big 12 Case Competition.
Moumita Sen, Colin Kuzdak, Bill Pickering and Jayci Robison represented OSU in this conference-wide MBA competition in which teams of four are presented with a case study then have 24 hours to analyze, research and generate recommendations for a solution. At the end of the 24 hours, each team presents the case for two separate sets of industry-professional judges, and the top three teams are chosen.
The Big 12 Case Competition is an extremely competitive and intense environment in which students have the chance to showcase their talents and translate what they have learned in the classroom to a real-world setting. The OSU team cited this experience as being one of their favorite components of the MBA program.
"I would say the experience is incalculable," Kuzdak said. "We returned with all this new information, experience speaking and preparing for a presentation of this caliber and just a really fun experience in general."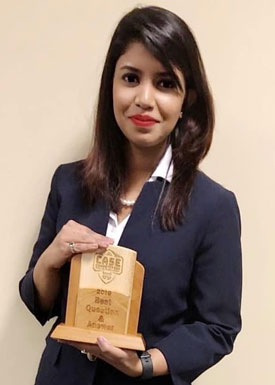 This was also a challenging experience that tested the students academically, professionally and even in terms of stamina. For the 24 hours of competition before presenting, the competitors could not be in contact with anyone outside their team, and they only slept about two hours throughout the competition in the form of sporadic naps.
"The most challenging part was seriously not sleeping," Robison said. "You don't have much time to prepare once you know what you're going to say. I think we finished the PowerPoint (presentation) at like 4 a.m., and then we had until 10:30 a.m. to sleep, eat, practice and prepare."
Sen was awarded with best question-and-answer out of the dozens of students who competed. This is the second consecutive time she has earned this title at a case competition. Just last semester, she brought home the title at the Ethics Case Competition at Baylor University. Sen said confidence is key when it comes to the question-and-answer round of the competition.
"In Q&A I really try to focus on the attitude of answering," Sen said. "It's not humanly possible, especially in that 24 hours, to remember all your sources and all the information you read. For example, there was an instance where I wasn't sure if the source I mentioned was the exact source we used, but at that point I just put it forward very confidently because I knew that research was there. Trust me, they aren't going to go cross check everything you say at that point."
The Watson Graduate School of Management and the Spears School of Business will host the Big 12 Case Competition in 2020, and the students said this is definitely something in which every MBA student should be involved if given the opportunity.
"Everyone I've talked to say case competitions have prepared them the most for their career after graduating," Robison said. "Take the opportunity if you have it."