Addison Price says she has plenty of people to thank for helping her win the Miss Oklahoma Pageant June 8, including the Spears School of Business and Oklahoma State University.
Price, 20, who just completed her sophomore year at OSU, competed as Miss Tulsa and beat out 43 other contestants from across the state to win the title of Miss Oklahoma in her first time competing in the statewide competition.
"I told my director that all the classes that I have been taking at the Spears School of Business, from interpersonal skills to consumer market behavior, were helping me so much in learning how to communicate and how to talk to people," Price said. "I saw a lot of growth in myself just in the past year because of those classes.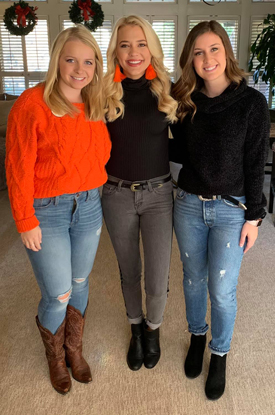 "I was able in my interview with the judges to tell them that I am pursuing a degree in marketing and a minor in non-profit management, and I felt like that was such an asset to Miss Oklahoma because you have to seek out sponsorships and you are representing the brand of Miss Oklahoma. There's no way that I would have made that connection if it wasn't for all of my classes at OSU and the Spears School of Business."
The first 48 hours of Price's year-long reign as Miss Oklahoma were hectic, but she's looking forward to sharing her platform across the state – empowering individuals with disabilities through self advocacy. She lives with dyslexia and her brother with Asperger's syndrome.
This fall, Price will be traveling across the state meeting and talking to students from elementary school to high school, and occasionally attending high school graduations.
"It's all about finding your voice. If you have a learning challenge or a learning disability, learning how to navigate that so that you feel confident in what you're doing and feel confident in talking to your teachers and asking for help and finding the resources that you need," she said. "I really think that translates to so many different groups of students because even if you don't have a disability you still can struggle and have challenges in school or in your life where you have to be able to ask for the help and navigate your way through life."
Price knows what it's like to struggle with a learning disability, and she wants to help others overcome their fears.
"For the longest time I didn't tell anybody. It was always a secret because I felt odd and ashamed because I didn't want to ask for extra help," she said. "That was really the defining moment when I realized that so many people have challenges and struggles. That's why I shaped my social impact to be about feeling confident in yourself to ask for help and not be scared to use the resources that are available to you."
While she's excited about winning and representing Oklahoma at the Miss America Pageant (expected to be held in December or January), Price, who won more than $20,000 in scholarships, will be taking the next year off from OSU to meet the time demands while serving as Miss Oklahoma.
"I'm really excited, and I'm very, very honored and humbled to represent the people of Oklahoma."
MEDIA CONTACT: Terry Tush | Director, Marketing and Communications | 405-744-2703 | terry.tush@okstate.edu