Spears School of Business receives approval from world's top accrediting body
Wednesday, April 3, 2019
Oklahoma State University's Spears School of Business remains among the top five percent of the world's schools offering business degrees with the recent approval of its re-accreditation by the Association to Advance Collegiate Schools of Business (AACSB) International.
OSU's business school has been accredited by AACSB International since 1958, and this week's announcement extends the accreditation for a five-year period through 2024. The AACSB distinction is a hallmark of business education excellence and places Spears Business among an elite group of institutions around the world.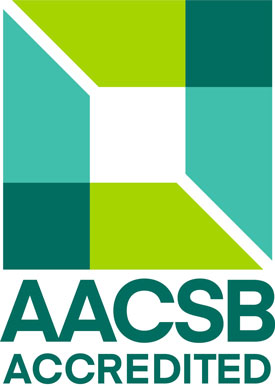 "We are very pleased to have our accreditation reaffirmed by the AACSB," said Ken Eastman, dean of Spears Business. "We had a wonderful review team comprised of deans and department heads from peer institutions, who were very complimentary of our activities at Spears Business. The team also provided us with valuable insight, which we will use to make our programs even stronger.
"My thanks to all of our students, faculty, staff and alumni who work diligently to create a dynamic learning environment at Spears. My special thanks to Dr. Carol Johnson, who has overseen the accreditation and assessment process here for several years and her tireless efforts helped ensure we would be re-accredited."
The OSU School of Accounting was also affirmed for re-accreditation by the AACSB. The accounting accreditation is supplemental to that of the business school. The School of Accounting served as one of only 10 schools in the world to pilot the new 2018 supplemental accounting standards. According to the AACSB, there are over 835 business institutions in more than 55 countries and territories that have earned AACSB accreditation; but only 189 institutions hold the additional, specialized AACSB accreditation for their accounting programs.
To receive AACSB re-accreditation, Spears Business was required to undergo a meticulous internal review and evaluation process. The school was required to implement a mission-driven plan to satisfy 15 quality standards relating to strategic management and innovation; quality of students, faculty and professional staff; learning and teaching initiatives, and academic and professional engagement. Key drivers in the re-accreditation process are the school's engagement initiatives, innovation and impact.
The school's extension of accreditation period was approved April 1 by the AACSB's Continuous Improvement Review Committee and the Board of Directors following a February visit to the Stillwater campus by a peer review team of business school deans.
"AACSB accreditation requires high-quality programs and a great deal of teamwork," said Associate Dean of Business Intelligence Carol Johnson, who oversaw the accreditation process. "This accreditation attests to the quality of our faculty and staff, our planning processes and our systems for assuring student learning. It would not be possible, however, without significant assistance from our leadership team, our employees and a generous and loyal group of alumni, recruiters and other supporters. One of the most rewarding aspects of our recent visit was to hear the peer review team tell us that the 'power of personal' came through loud and clear during their visit."
Founded in 1916, AACSB International is the longest-serving global accrediting body for business schools that offer undergraduate, master's or doctoral degrees in business and accounting. AACSB accreditation is considered the highest standard for quality in business education.
To learn more about Spears Business, visit the school's website. Learn more about AACSB International accreditation by visiting the accreditation section of the AACSB International website.