Face2Face with Trey Reeves
Tuesday, December 10, 2019
In life and sports, character counts
Among students at the Spears School of Business, Trey Reeves stands out. Walking to class in the Business Building, he is recognizable for his above-average height, his close-cropped head of auburn-colored hair and a friendly smile. He's also recognizable as a member of the Oklahoma State University basketball team, but in the halls of the Business Building, Reeves stands out as an academic star.
Reeves is preparing to graduate Dec. 14 with a bachelor's degree in accounting after maintaining a 4.0 grade point average. Earning a tough degree in accounting is no easy matter for any student, and it's especially challenging when you play for a NCAA Division 1 basketball program. The test is staying focused in both the classroom and on the court, he said.
"You know it's funny, because I think just like everyone else coming into college, you think you work hard, you think you've got your time management down, you think you've got everything figured out," said Reeves, a native of the small eastern Oklahoma town of Gans. "And I know it's not just with basketball, but the main thing for me was figuring out that there is another level of hard work I had to go to."
Reeves came to OSU with the need to balance school and sports and the expectations of family, friends and a generation of Cowboy basketball fans who remember the tall shadow his father left on the court at Gallagher-Iba Arena. Bryant "Big Country" Reeves played basketball for the Cowboys from 1992 to 1995, earning honors as an All-American center who still holds the team's single-season scoring record of 797 points and earning Big Eight Conference Player of the Year honors twice. Reeves ended his college career playing for Coach Eddie Sutton's Cowboy squad that advanced to the Final Four of the 1995 NCAA basketball tournament. He then went on to play six seasons in the NBA.
There was probably little doubt that Big Country's son would go to school anywhere but OSU, but Reeves said his parents left the decision to him.
"You know, my dad and mom did encourage me to take a strong look here, but they also wanted me to do whatever I wanted to do basketball wise – playing or not, coming here, going anywhere else, just finding my own path and doing my own thing," Reeves said.
After graduating as valedictorian at Muldrow High School, Reeves had his choice of universities to pick from based on academic talent, but he was also a talented basketball player and could have played basketball on scholarship for a smaller program, but OSU was in his blood, he said. The question was could he maintain good grades in his chosen major, accounting, and perform on the basketball court at an equally high level.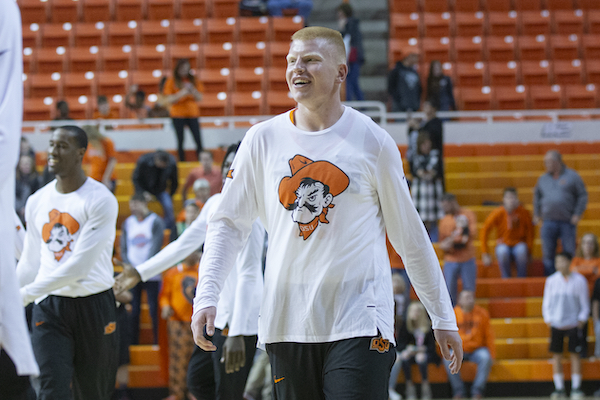 A walk-on player in his freshman year in 2016, Reeves continued as a walk-on for Mike Boynton when he was named head coach in 2017. In the 2018-19 season, Boynton awarded Reeves an athletic scholarship in recognition of the junior's talents both on and off the court.
"We talk about being totally committed to working as hard as possible and to not being selfish in your intentions and Trey exhibited those characteristics consistently," Boynton said. "It was important for us to recognize him and award him a scholarship for the commitment he's given to our program. A scholarship is a small amount of return that we can give him for all that he's done for us."
For Reeves, receiving an athletic scholarship as a member of the men's basketball team was the highlight of his athletic career at OSU.
"That (scholarship) means so much to me because it wasn't necessarily because of my basketball, the way I played," Reeves said. "It was more about coming to the table every day with everything I had, being an encourager, being a leader, just trying to help the team in any way I can with my character, with my leadership, anything."
Noting an unusual level of maturity for someone his age, Boynton said Reeves brings a high "care factor" to the team, including helping teammates learn schemes on the court or learn study skills.
"I've got a 6-year-old son and if all the guys on my team who I would hope he would try to emulate, Trey Reeves would be at the top of the list," Boynton said. "He's made me a better coach and a better person for being around him."
Reeves may not have been an All-American basketball player like his dad, but he was frequently recognized for his ability as a student-athlete. In 2017 he was named to the Academic All-Big 12 Rookie Team and the next year was named to the Academic All-Big 12 Team. This year, Reeves was awarded the Dr. Gerald Lage Academic Achievement Award, the Big 12 Conference's highest academic honor, and was one of only six Spears Business students named an OSU Senior of Significance and only the second men's basketball player so recognized.
In spring 2020, as he finishes out his college basketball career, Reeves will start graduate school at OSU to earn a master's degree in accounting. He plans to take the CPA exam and then to apply to law school. Though challenging, Reeves said he enjoyed balancing sports and school and that he learned a lot from playing basketball that can be applied to life and business.
"It gives you a feel for competition and not just competing against others but competing against yourself and being better the next day than you were the day before. That's a big point in basketball and that's a big point in business and life and everything," Reeves said.
Media contact: Jeff Joiner | Communications Coordinator | 405.744.2700 | jeff.joiner@okstate.edu