Face 2 Face with Yenifer Chaves
Tuesday, November 12, 2019
University education helps accounting student leave adversity behind
Yenifer Chaves has known challenges in her young life that have only reinforced the importance of her Oklahoma State University education. Born in a poor area on the outskirts of Bogotá, Colombia, and raised near Chicago in a neighborhood plagued by gang violence, Chaves is realizing her dream of building a life and overcoming adversity through hard work and an education.
A first-year master's student in accounting in the Spears School of Business, Chaves graduated with a bachelor's degree in accounting from OSU last year and was recognized for academic achievement and her involvement in accounting programs and Spears Business activities. She says her motivation is to succeed in her chosen career and to lift up her family. A first-generation college student, Chaves notes another milestone resulting from her family's misfortunes.
"Of five children in my family I am not only the first to go to college, I'm the first to graduate from high school," Chaves said. "I grew up in a rough area of Chicago where there were a lot of gangs and it affected my family."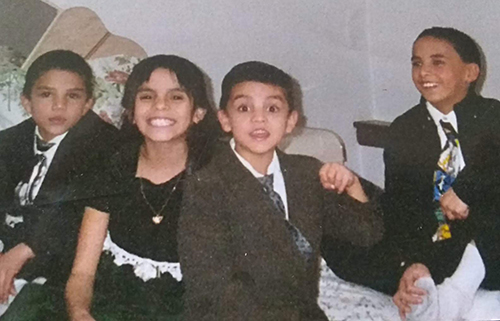 Chaves lived in Colombia until she was 6 years old when her dad moved the family to the U.S. for a chance at a better life. But the family found itself living in a Chicago neighborhood where opportunities were difficult to come by and violence common. Her brothers were pursued by gangs in an environment where if you didn't join, you were threatened by gang members. She recalls frequent fights and one time watched someone chase one of her brothers with a knife. Two of her brothers joined gangs.
"That caused a lot of harm to the family," Chaves said. "They would always get arrested and one of my brothers lost his residency, so he's back in Colombia now."
Chaves was determined to escape the family's situation and do what she could to help and she focused on financial independence as the best way out. And the only way to achieve that was with a college education.
After graduating from high school, Chaves left Chicago behind, attending Northern Oklahoma College in Enid and earning an associate's degree. She enjoyed her NOC accounting classes, which helped her decide she had a future as an accountant. Nearby OSU, with a nationally recognized accounting program, was a logical school to apply to and she says she has never regretted the decision.
"I just feel like I belong here. As soon as I came here, I saw there were so many opportunities to get involved with the school," Chaves said. "I think it was only my second semester here when I started as a teaching assistant and I'm a tutor. I like challenges like being a teaching assistant or being a tutor. Challenges kind of scare me, so let me go for it and see if I can keep up with it."
Chaves joined the School of Accounting's Collaborative for Academic Excellence (ACE) program where students tutor classmates in accounting. She also joined Beta Alpha Psi, the international honor society for accounting and finance students, and the Latino Business Students Association. Along with her program involvement, taking a full course load and working as a teaching assistant, Chaves also earned a 3.9 GPA as an undergraduate, which led to her being named a 2019 Public Company Accounting Oversight Board (PCAOB) Scholar, which recognizes outstanding students in accredited accounting degree programs in U.S. colleges and universities.
"The PCAOB Scholars Program is merit-based and having an OSU student selected speaks highly of the student's accomplishments," said Dr. Audrey Gramling, professor and head of the School of Accounting. "The financial impact that the program has on a student can be life changing."
The program includes a $10,000 scholarship, which has taken some pressure off Chaves who had planned on taking out student loans to help pay for graduate school. Along with financial assistance, the scholarship has been important recognition of her hard work, she said.
"I used to work 30 hours a week while taking six classes and it was a lot of work," Chaves said. "I wanted to get good grades and it means a lot to be recognized for that."
What does Chaves hope her future holds? After completing her master's and sitting for the CPA exam, she plans to start her career working in public accounting. She hasn't ruled out returning to school at some point to pursue a doctorate and teaching, but another career option also appeals to her. Chaves says she is interested in law enforcement and forensic accounting and would like to apply to the FBI.
"I think it would be really interesting to catch bad guys," she said.
Media contact: Jeff Joiner | Communications Coordinator | 405.744.2700 | jeff.joiner@okstate.edu