Students compete in virtual Love's Entrepreneur's Cup and MIT Clean Energy Prize
The COVID-19 pandemic couldn't prevent Oklahoma State University student entrepreneurs from competing in and winning awards in a virtual 2020 Love's Entrepreneur's Cup and finishing in the top four of a national college business plan competition through the Massachusetts Institute of Technology, which also featured teams competing remotely.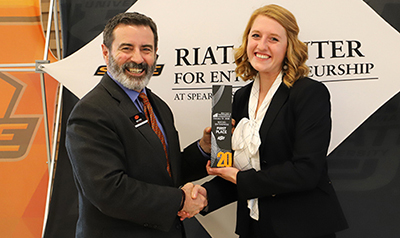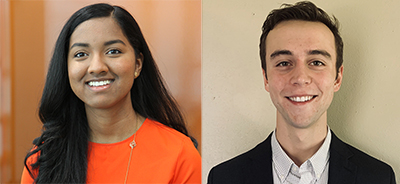 In the Love's Entrepreneur's Cup April 23, a statewide collegiate business plan competition sponsored by Love's Travel Stops & Country Stores, OSU winners were:
Henry Cannon, a marketing and non-profit management major in the Spears School of Business, took third place and $5,000 with his business plan for Whisk, an online dating platform that uses observable and verifiable data to create authentic dating profiles for users.
Rachel Brown, a Spears Business entrepreneurship and non-profit management major, received a $5,000 scholarship as the recipient of the Paulsen Award with her business idea for Strides, an app that provides exercise plans for mental health professionals to prescribe to patients.
Angela Peter, a chemical engineering student in the OSU College of Engineering, Architecture and Technology (CEAT), and Spears Business student Wolfgang Flick won the OG&E Positive Energy and Environmental Award and $1,000 for their venture/business

EmPads, a frugal innovation with a vision to empower women by repurposing textile waste from the fast-fashion industry into reusable, affordable sanitary pads

.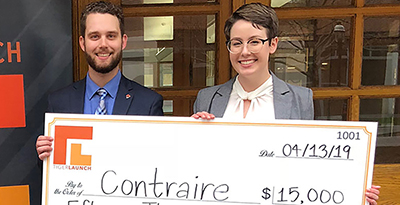 David Thomison, the George Kaiser Family Foundation Endowed Chair in Entrepreneurship and a clinical professor in the School of Entrepreneurship, is the faculty adviser for all three teams.
The OSU team of Brooks Robison, a Spears Business graduate student, and Rabecca Wiseman, a CEAT graduate student, who created the technology business startup Contraire, competed April 24 in the finals of the 2020 Clean Energy Prize @ MIT, the largest cleantech startup competition for university students.
"It is an honor to have the OSU brand represented in such a prestigious competition," said Thomison, who also advises the Contraire team. "OSU competed in the Final Four against an MIT and Harvard team, an MIT team and a Stanford team."
MEDIA CONTACT: Jeff Joiner | Communications Coordinator | 405.744.2700 | jeff.joiner@okstate.edu