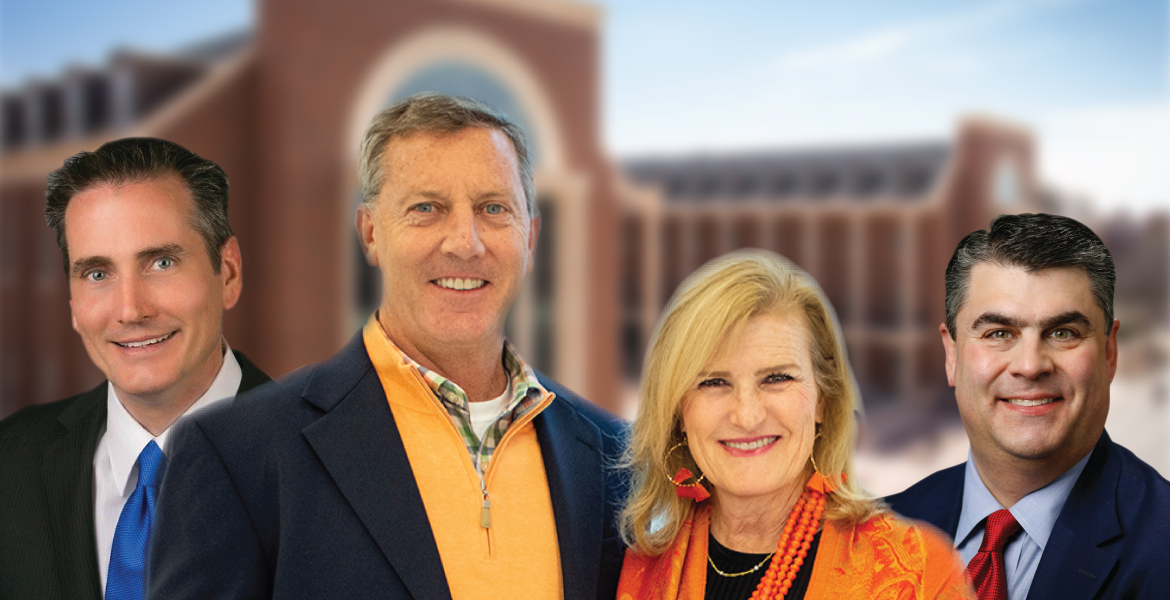 Spears announces 2020 Hall of Fame inductees
Monday, October 26, 2020
The OSU business college also names four as Outstanding Young Alumni
Oklahoma State University's Spears School of Business has announced that four distinguished alumni – Karl Bovee, Kyle and Lucina Thompson, and Shane Wharton – will be inducted into the school's Hall of Fame for 2020 in a ceremony to take place next fall.
The Spears Business Hall of Fame recognizes graduates with distinguished professional careers who have given back to their communities, to OSU and Spears Business, and who display strong leadership skills. As Hall of Fame inductees, Bovee, the Thompsons and Wharton will receive the highest honor awarded by Spears Business and will be recognized in a ceremony to be held in 2021.
Also, Spears Business alumni Leslie Johnson, Adam Logan, Tony LoPresto and Katie McKnight will be honored as Outstanding Young Alumni.
"We are pleased to welcome four new members into our Hall of Fame," said Ken Eastman, dean of Spears Business. "They have accomplished much in their careers and they are wonderful role models for all of us. We honor them also for their contributions to Spears, OSU and society at large.
"It is also exciting to recognize the early career success of our graduates. The group of young alums we are honoring have already amassed an impressive list of accomplishments and we look forward to seeing what the future holds for them."
Karl Bovee is the executive for banking business for the Southwest Region of Bank of America in Dallas, where he is responsible for delivering strategic financial advice and integrated solutions to companies in 12 states. In 2019, Bovee celebrated 25 years with Bank of America.
A native of Adams, New York, Bovee started his banking career, after attending OSU, in 1992 with Farm Credit Bank of Wichita working in Enid, Okla. In 1994, he joined Bank of America as a commercial loan officer in Enid, later being promoted and working for the bank in Oklahoma City. In 2007, Bovee moved to Charlotte, N.C., to work for the headquarters of Bank of America where he was soon promoted into a national executive role with responsibilities for driving business integration across the company. In 2014, Bovee relocated to Dallas where he was the Central Region executive for business banking before heading up the Southwest Region.
Bovee graduated from OSU in 1991 with a bachelor's degree in business administration with a major in finance and minors in accounting and marketing. He was a member of Pi Kappa Alpha fraternity, the national professional business fraternity Delta Sigma Pi, the OSU Financial Management Association and Marketing Club. Bovee was a University Scholar, on the Dean's Honor Roll and received a Lew Wentz Scholarship. As an alumnus, he has served as chair of the Spears School of Business Dean's Council Executive Committee, as a member of the OSU Foundation Board of Governors and the President's Fellows. In 2007, Bovee was named a Spears School Outstanding Young Alumnus and in 2014 he was included in the Spears School Tributes: 100 For 100.
Bovee is married to Carol Bovee, also a graduate of OSU. The couple have one son, Andrew, an OSU student majoring in marketing and finance.
Kyle Thompson, from Oklahoma City, met Broken Arrow native Lucina Thompson at OSU where both were business students. They graduated in 1981, Kyle with a bachelor's degree in accounting and Lucina with a degree in marketing, and were married in 1982. Kyle initially worked for the accounting firm Ernst & Young in Oklahoma City, while Lucina worked in marketing for banks including Bank of Oklahoma. The couple moved to Texas where Kyle was named CFO for Victoria Gas, working for two decades and eventually becoming the company's president and CEO. He was also a partner and director of Dale Gas Partners.
Lucina and Kyle together share a passion, based in their Christian faith, to help others both in their community and around the world. The couple helped found Watermark Community Church in Dallas, now with four campuses in Texas. They have traveled on mission trips to numerous countries around the world, many with their children, and have taken a special interest in Africa where they have made more than 20 trips.
The Thompsons credit their education and involvement with OSU as important to their many successes and have given back to their alma mater through endowments of scholarships and involvement in a variety of university efforts and organizations. Both are members of the OSU Foundation Board of Governors and have played a large role in helping launch and promote participation in the OSU Foundation's recent Orange Impact Scholarship Campaign. Lucina has also served on the Women for OSU Council.
The Thompsons live in Highland Park, Texas, and are parents of two adult children, Audrey Burks, a petroleum engineer, and Jordan, a video producer at Watermark Community Church.
Shane Wharton was named president of Love's Travel Stops and Country Stores, based in Oklahoma City, in 2019, in a newly created position for the company. He works closely with Love's co-CEOs Greg and Frank Love and oversees the company's operations, fleet sales, human resources, information technology and legal departments.
Wharton, who grew up in Geary, Okla., graduated from OSU in 1990 with a bachelor's degree in accounting, followed by earning a CPA license. He worked in the audit division of KPMG Peat Marwick in Oklahoma City for four years before joining the on-line technology company DataTimes as the firm's controller. When the company was sold in 1997, Wharton joined Love's Travel Stops and Country Stores where he was soon promoted to director of accounting and eventually to vice president of accounting and then executive director of accounting and administration.
Wharton was inducted into the OSU Accounting Hall of Fame in 2016 and has served on the OSU School of Accounting Advisory Board. His community service includes service on the boards of Youth Leadership Exchange, the Oklahoma Science Museum and the Homeless Alliance. He was honored with the Ray Ackerman Leadership award in 2010 for his service to the United Way and is a member of the American Institute of CPAs and Oklahoma Society of CPAs.
Wharton and his wife, Lori, live in Edmond, Okla., and have two children, Alec, an accounting major at OSU, and Avery, also an OSU student.
In 2001, the Outstanding Young Alumni award was established to recognize graduates who have provided significant service and achievement early in their professional careers. This year, Spears Business is honoring four outstanding individuals.
Leslie Johnson graduated from OSU with a bachelor's degree in hotel and restaurant administration and a minor in accounting. She was recruited by and currently works for Coury Hospitality in Oklahoma City. After starting for the company as its corporate marketing coordinator, she started Coury's social media program and helped launch the company's new marketing pilot program, Experience Curators. Johnson is a member of the OSU School of Hospitality and Tourism Management Advisory Board.
Katie McKnight is an assurance senior manager for the Oklahoma City office of EY working in the oil and gas sector. She earned bachelor's and master's degrees in accounting from OSU and is a CPA. She has been selected twice as a regional mentorship champion for work with subordinates and teams at EY and is a member of the Instructor Excellence program for her consistent, positive approach to educating EY employees. She was selected as an OSCPA Trailblazer in 2014 and was recognized as an ION OK NextGen 30 Under 30. Katie serves on the OSU School of Accounting Advisory Board and mentors Spears Business students.
Adam Logan began his career with ISN in Dallas in 2006 when the 600-employee company had just 30 employees. He graduated from OSU with a bachelor's degree in marketing and a minor in management information systems and international business. In 2012, Logan opened ISN's New York office, working there for two years. After returning to Dallas, he has worked leading several ISN teams, including the business analyst, product owners, research & development and data science teams. Logan has worked with the Spears Business Mentoring Program and served as a member of the Dean's Council.
Tony LoPresto is vice president and CFO for Griffin Communications in Oklahoma City. LoPresto graduated from OSU with bachelor's and master's degrees in accounting (2001, 2012) and is a CPA. He previously worked as an audit manager for KPMG and as director of finance for Love's Travel Stops and Country Stores. LoPresto is currently chair of the board of directors of the OSU Alumni Association and serves on the advisory board of the OSU School of Accounting and on the board of governors for the OSU Foundation.
For photos visit https://www.flickr.com/photos/spearsschoolosu/albums/72157716623811356/with/50532704173/.
For more information about the Spears School Hall of Fame, please contact Lindsey Wallace at 405-385-5160 or lindsey.wallace@okstate.edu.
MEDIA CONTACT: Jeff Joiner | Communications Coordinator | 405-744-2700 | jeff.joiner@okstate.edu