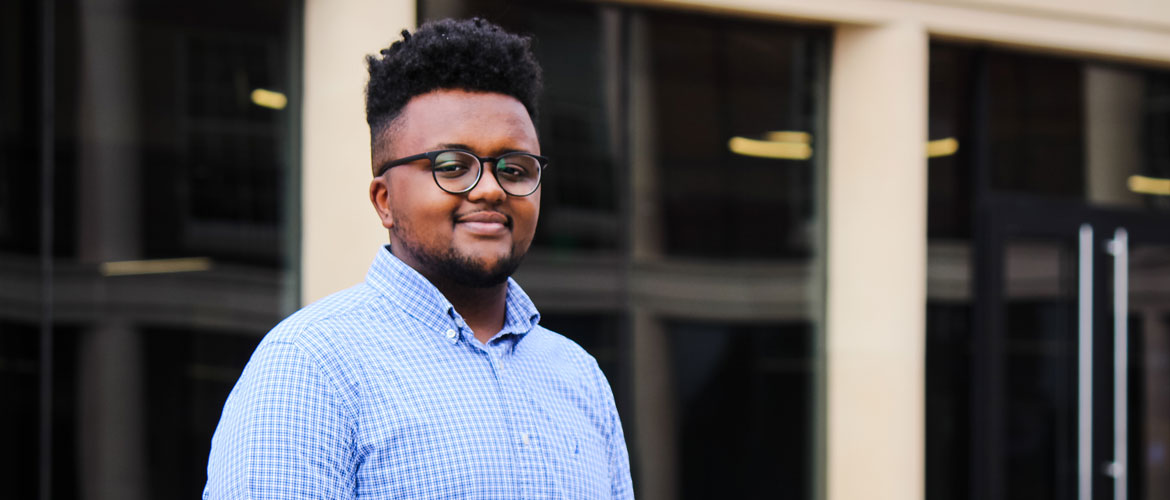 Accounting alum Nate Abebe awarded prestigious Silver Medal
Wednesday, December 9, 2020
Recent Oklahoma State University accounting graduate Nate Abebe is being recognized with the Silver Medal for achieving the highest score on all four parts of the CPA Exam within two consecutive windows. The award was presented by the Oklahoma Society of CPAs (OSCPA) at the 2020 Fall New CPA Ceremony.
Abebe earned both his bachelor's (2019) and master's degrees (2020) in accounting at the Spears School of Business and is employed with Ernst & Young in Tulsa.
"I am not at all surprised at Nate's success on the CPA exam," said Dr. Audrey Gramling, head of the OSU School of Accounting. "Nate was an outstanding student while at OSU and he certainly recognizes that success doesn't just come to you, you've got to go to it. Nate has done just that on so many levels. I look forward to seeing all that Nate accomplishes during his career. He is an outstanding example of how we are building the future of accounting at OSU."
The OSCPA awards CPA exam medals to candidates achieving the highest scores in one window or two consecutives windows in the spring and in the fall, in conjunction with the Oklahoma Accountancy Board's New CPA Ceremony.
"I was very excited and pleased to hear that I won this prestigious award," said Abebe, a native of Ethiopia who was a member of Beta Alpha Psi (an honorary organization for accounting students) and The Navigators (a campus ministry) at OSU.
As a student in the OSU School of Accounting, Abebe was the recipient of a $10,000 scholarship awarded by the Public Company Accounting Oversight Board (PCAOB). The merit scholarship encourages undergraduate and graduate students to pursue careers in auditing.
MEDIA CONTACT: Terry Tush | Director, Marketing and Communications | 405-744-2703 | terry.tush@okstate.edu