OSU hosts scholars examining cannabis industry
Wednesday, March 4, 2020
Nearly three dozen researchers from across the United States and Canada met in Oklahoma City Feb. 28 to explore legal, ethical and business issues confronting the nation's rapidly expanding cannabis industry. The research symposium was the first organized by the new Center for Legal Studies & Business Ethics at Oklahoma State University.
Launched just under a year ago at the Spears School of Business, the center promotes business and professional ethics and regulatory compliance through research exploring the intersections between law and business. According to director Laurie Lucas, one reason cannabis research was chosen as the center's first symposium topic was because many states have legalized cannabis, despite that it remains illegal under federal law. That conflict creates extreme uncertainty for consumers, businesses and governments, Lucas said.
"A key part of the center's mission is to support applied and theoretical research that brings value to our understanding of how the law may create opportunities for competitive advantage in any industry" said Lucas, Chair of Business Ethics and a Spears Business associate professor of legal studies. "The symposium's common element was the cannabis industry, but the real issues were related to the legal, ethical and compliance problems within that emerging and disruptive industry."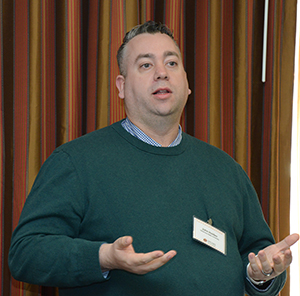 Presenters included experts in law, finance, banking, tax, entrepreneurship, medical research, international trade, marketing and ethics who were all considering issues faced by the cannabis industry. The symposium was co-sponsored by the American Business Law Journal, published by the Academy of Legal Studies in Business. The journal plans to publish a special issue devoted to the symposium topic.
"What made this symposium so successful was the diversity of thought and the interdisciplinary approaches taken by these scholars," Lucas said. "That diversity around a common topic, I hope, created a synergy for the participants, which may ultimately add value to their scholarship."
According to Lucas, at least one participant agreed the symposium fulfilled that goal. "It was an outstanding event! I met great scholars, got excellent feedback on my paper and listened to awesome presentations. I came away inspired to work on more research related to business law."
Visit https://business.okstate.edu/clsbe/ to learn more about the Center for Legal Studies & Business Ethics.
Media contact: Jeff Joiner | Communications Coordinator | 405.744.2700 | jeff.joiner@okstate.edu