OSU senior Chandler Goodman, neighbor team up to create Pop Up Pantry
Chandler Goodman considers himself an opportunist, so when the Oklahoma State University senior found himself sitting at his parent's home after the family's Oklahoma City business had been classified non-essential and closed on March 26, he sprang into action.
Goodman is still finishing up his senior year after his three classes were transferred online but he took the concepts he's learning in his Introduction to Entrepreneurship class and applied them to create a new business, Pop Up Pantry Oklahoma City.
After learning on March 18 that OSU was moving to virtual classes for the remainder of the school year, Goodman moved back home to live with his parents. It came sooner than he hoped, but it wasn't totally unexpected since the Spears School of Business finance major and accounting minor was expecting to join the family business after his May graduation.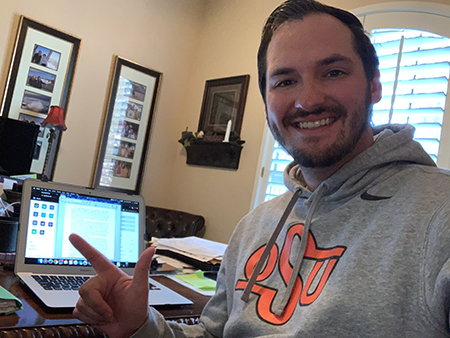 Goodman is going to be handling the financial operations and managing Alta Mere Window Tinting and Paint Protection Film in Oklahoma City, owned and operated by his family. But the business was shut down March 26 following Oklahoma Gov. Kevin Stitt's orders for all non-essential businesses to close.
That's when the OSU senior and his neighbor, John-Crawford Counts, a graduating senior at Delta State University in Mississippi, partnered to open Pop Up Pantry Oklahoma City. Counts' father works for the food industry distributor Sysco, which has been teaming up with restaurants and other businesses during the shut-down to sell Sysco products directly to customers.
"We're just trying to help out the community as much as possible," Goodman said of the Pop Up Pantry (PuP), which uses the Alta Mere drive-thru lanes to allow customers to pick up their orders without leaving their vehicle. Since opening on April 14, the pair have serviced nearly 200 customers and sold more than 850 items.
It's not exactly what Goodman – or any other of the nearly 1,000 Spears Business seniors who are completing coursework online – was expecting to be doing as the semester comes to a close.
"It really took me a couple of days to wrap my head around that my college career had ended in Stillwater," he said, "but I try to have a positive outlook on life. There are a lot of people who would love to be in my situation right now instead of the situations they're in. It's definitely not ideal, it's not what I would have asked for but then again is anything in life exactly what we ask for?"
Goodman was involved in numerous clubs and organizations during his four years at OSU, including the Student Alumni Board, Phi Kappa Phi honor society, and serving as a Spears Ambassador and OSU President's Partner. He was disappointed that he didn't get to participate in senior activities for those organizations.
"Obviously, graduation has been the hardest part. That's what I was really sad about. I was afraid first that I was not going to have a graduation, have some sort of virtual ceremony, which is great and all but man I went through four years of college to get a virtual degree? That's not what I wanted," said Goodman, who is determined to return to OSU in December to participate in the postponed commencement for spring graduates.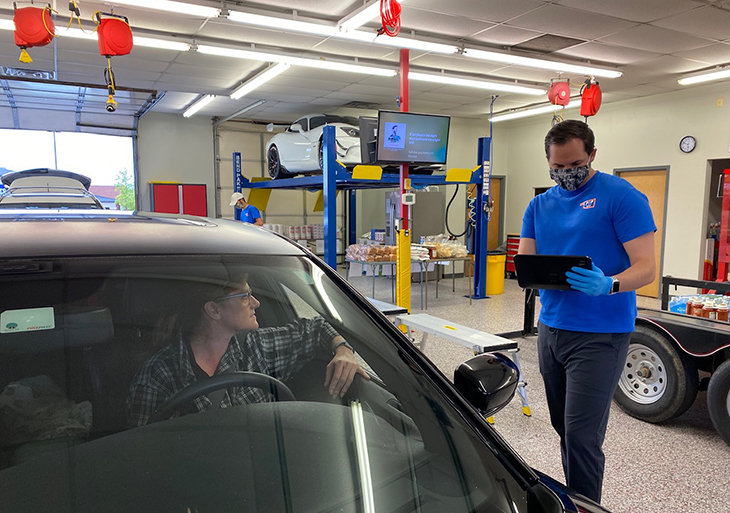 He now looks back nostalgically at his Operations Analytics class taught by Dr. Jeretta Nord that met on campus for the last time at 9 a.m. Thursday, March 12.
"There was a time I woke up and went to class, just drug myself to class, and I had no idea that would be the last time that I ever set foot in a classroom in Stillwater," Goodman said. "I think that realization has been the hardest part, and saying this is the last time I did X and Y with my friends, or this is the last time I went to the library, or this is the last time I went to the Colvin, or whatever it may be.
"I think that's been the hardest part, losing the big things like graduation and then finding little things that I loved about Stillwater and OSU that I can no longer enjoy. That hurts me a little bit."
But Goodman was determined to make the best of his circumstances by opening the Pop Up Pantry in Oklahoma City.
"Anybody who wants to come up to me and say, 'Chandler, I'm so sorry,' or 'Chandler, this is terrible, and I can't imagine what you're going through,' you're right, this is not ideal," he said. "I'm not enjoying this but in the grand reality, there are people who are losing their loved ones right now. There are people who are losing their jobs because of this. There are people whose lives have been turned completely upside down because of this.
"The thing I keep telling myself and what I want everybody to know, if I can use my voice for anything, it's that we will get through this and that this is just a small speedbump on the road of life."
MEDIA CONTACT: Terry Tush | Director, Marketing and Communications | 405-744-2703 | terry.tush@okstate.edu