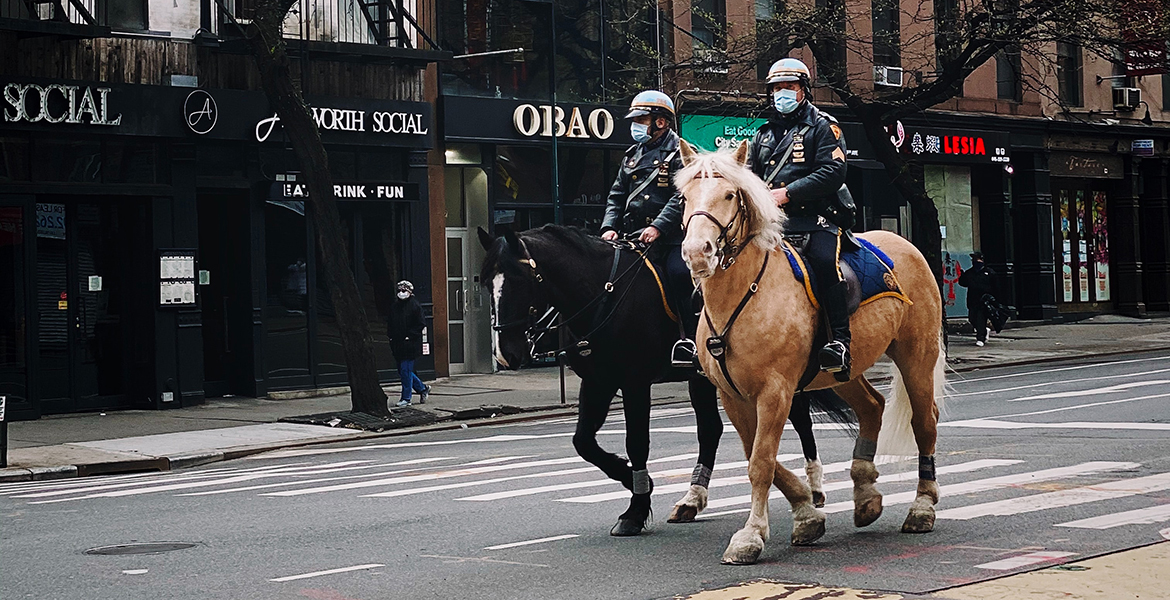 OSU alum leads NYC hotel through COVID-19
Thursday, May 21, 2020
Where serving the community meant staying open
The COVID-19 pandemic has placed hundreds of thousands of American health care workers on the frontlines of the crisis, and joining them are scores of lesser-recognized people supporting those nurses, doctors and others. One of those is an Oklahoma State University graduate who found himself working and living in the middle of what became the nation's worst coronavirus hotspot of New York City.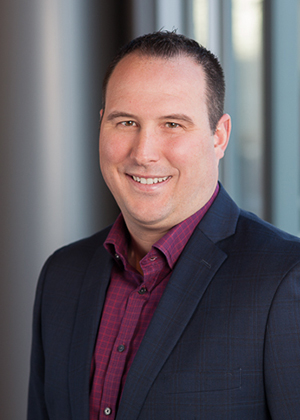 Jason Wade graduated from OSU in 2005 with a bachelor's degree in hotel and restaurant administration, which led him to a career managing large hotels around the country including overseeing the construction and opening of two properties for LodgeWorks Partners in New York City beginning in 2013. The Oklahoma City native was firmly planted in New York, but the successful hospitality businesses he managed were shaken to the core as the coronavirus pandemic arrived in the U.S. and New Yorkers began to get sick.
"Overnight we were in crisis mode," said Wade. "How do we protect our guests and our employees?"
On March 1, when the first confirmed case of COVID-19 in New York was announced, Wade was the area general manager for the 262-bed Hampton Inn Brooklyn Downtown. In the days that followed, the world watched as the number of infections in the region rose sharply until a state of emergency was declared in New York state just seven days after the first case was discovered.
Immediately, all nonessential services and industries were shut down while millions of workers in New York and New Jersey began to shelter in place. Taking the place of New York City's normal throngs of visitors and workers was a huge army of health care workers, government officials, contractors and others recruited to battle the pandemic, which had sickened more than 12,000 people in New York City by March 23.
For New Yorkers, life became a daily struggle marked by fear as family and friends became ill or were forced to self-isolate while just getting needed essentials like food and medicine became increasingly more difficult.
"There were lines for blocks and blocks around most of the grocery stores," said Wade, who lives in Brooklyn with his wife, Cara, and two young children. "It was unreal to see the city that never sleeps almost come to a complete stop overnight with no cars or people on the sidewalks and streets. It was something I never thought I would experience while living here."
Finally, Wade and Cara, also an Oklahoman, decided they couldn't risk the family contracting the virus while Wade continued to work and she took their 8-month-old, 2-year-old and the family dog to stay with family in Oklahoma.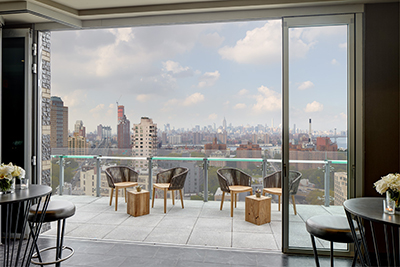 Though the Hampton Inn in Brooklyn took an initial hit, as the medical response ramped up in the city Wade and LodgeWorks executives found they could still serve the city by offering rooms to thousands of frontline health care workers coming from across the country to screen and treat COVID-19 patients filling area hospitals. By a twist of fate, the Hampton Inn is located at the epicenter of the coronavirus battle in New York.
"We're right across from the (New York City) Office of Emergency Management and the 911 call center," said Wade. "And we're centrally located to multiple hospitals that we have good relationships with. As nurses began mobilizing and other emergency workers began to arrive, we realized we could help."
The Hampton Inn and other LodgeWorks properties joined a national pledge by Hilton Hotels and American Express to give away 1 million hotel nights to health care workers during the pandemic. Wade also worked with several companies that contract with traveling nurses to provide rooms.
Through the peak of the crisis in New York City, Wade's hotel hosted more than 110 nurses a night with several thousand in total staying since the crisis began in March. Even as late as mid-May, as COVID-19 cases in New York leveled off, the hotel was still seeing 80 to 100 nurses staying each night. Wade said the Hampton Inn staff worked tirelessly to bring as much normalcy to their stay as possible under the circumstances.
"It wasn't easy asking our team members to come to work daily in this environment or spend time away from their families," he said. "We all agreed that we needed to do our part and support our community and the front-line workers coming in."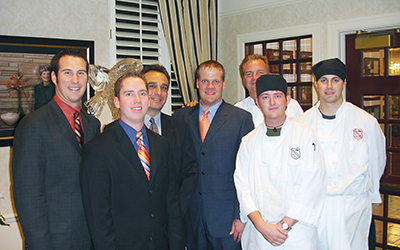 Wade said an invaluable support network developed through the crisis among graduates of the OSU hotel and restaurant administration program as former classmates from around the country called each other for advice, information or just to check in.
"Some of my friends were losing their jobs, so we were a support system for each other," Wade said. "We talked through what each other's companies were doing, what the expectations were for our guests and what the next phase of this looks like. And we checked on each other's families."
Though New York City is far from the bustling global business center it once was, the number of those sick with COVID-19, and dying from the illness, plateaued. On May 15 many outstate areas of New York began a phased-in reopening of some businesses and activities, which was delayed for New York City until June. By May 19, the city had experienced 194,500 confirmed COVID-19 cases while statewide more than 20,000 people died as a result of the virus.
"We're obviously not back to normal but people are out," said Wade. "Everyone's still wearing masks and most stuff is still closed, but we're definitely in a better place than we were."
On May 19, Wade flew back to Oklahoma where he quarantined in an Oklahoma City hotel before rejoining his family, who he hadn't seen in more than a month and a half. They plan to return to New York City and resume their lives.
MEDIA CONTACT: Jeff Joiner | Communications Coordinator | 405.744.2700 | jeff.joiner@okstate.edu