Award-winning research offers insight into gender gap in economics education
Wednesday, February 26, 2020
Female college students who took an online principles of microeconomics course have been shown to earn higher grades in a follow-on intermediate microeconomics course than females who took the introductory class in a traditional classroom, according to a study by Oklahoma State University researcher Dr. Laura Ahlstrom. The research suggests class format could affect the success of women studying economics.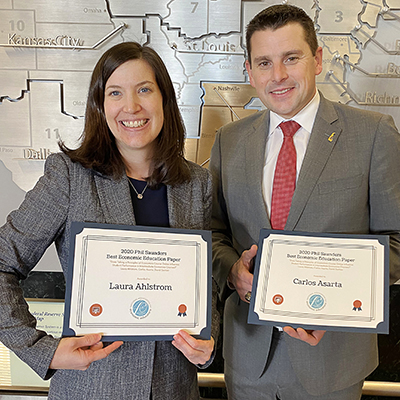 The research identifying a correlation between course format and gender performance earned Ahlstrom and her co-authors the Phil Saunders Best Economic Education Paper Award for 2020 from the National Association of Economic Educators. With Ahlstrom as lead author and contributions from Drs. Carlos J. Asarta, with the University of Delaware, and David M. Switzer, with St. Cloud University, the paper offers insight into a persistent gender gap for women in economics.
"My prior research looked specifically at the gender gap in economics course persistence and degree selection or degree completion," said Ahlstrom, an assistant professor of economics in the Spears School of Business. "We wanted to look at differences in performance between students who take a face-to-face course format versus online, but we wanted to take it in a new direction, so we looked at their follow-on course performance in intermediate microeconomics."
The data from more than 1,300 female and male students at a land-grant university over a nine-year period clearly showed that women performed better in their intermediate microeconomics course when taking the principles class online rather than in a face-to-face setting. The data showed no such correlation between the grades for male students and class format.
"In terms of what I can hypothesize, female students may feel they have a deeper level of learning and might be more engaged with the material than if they're sitting in a face-to-face course," Ahlstrom said. "Some of the research suggests that female students may face what has been called a 'chilly' classroom environment, particularly in traditionally male fields such as economics."
Ahlstrom, who has studied the gender gap in economic education since writing her dissertation on the topic at the University of Delaware, is now following up on her earlier research by examining possible reasons for the gap. According to research by Ahlstrom and others, the ratio of men versus women who earn degrees in economics is three to one, a significant difference that has persisted for decades.
Ahlstrom said research has also shown that female students are more sensitive to receiving lower grades in introductory economics courses, which may discourage them from majoring in the discipline, which is generally a lower grading department compared to other fields.
"Women may need higher grades in introductory economics courses in order to persist in taking additional courses and to choose economics as a major," she said, adding that online introductory courses could help address the gender gap by encouraging more women to major in economics because of improved performance.
Media contact: Jeff Joiner | Communications Coordinator | 405.744.2700 | jeff.joiner@okstate.edu