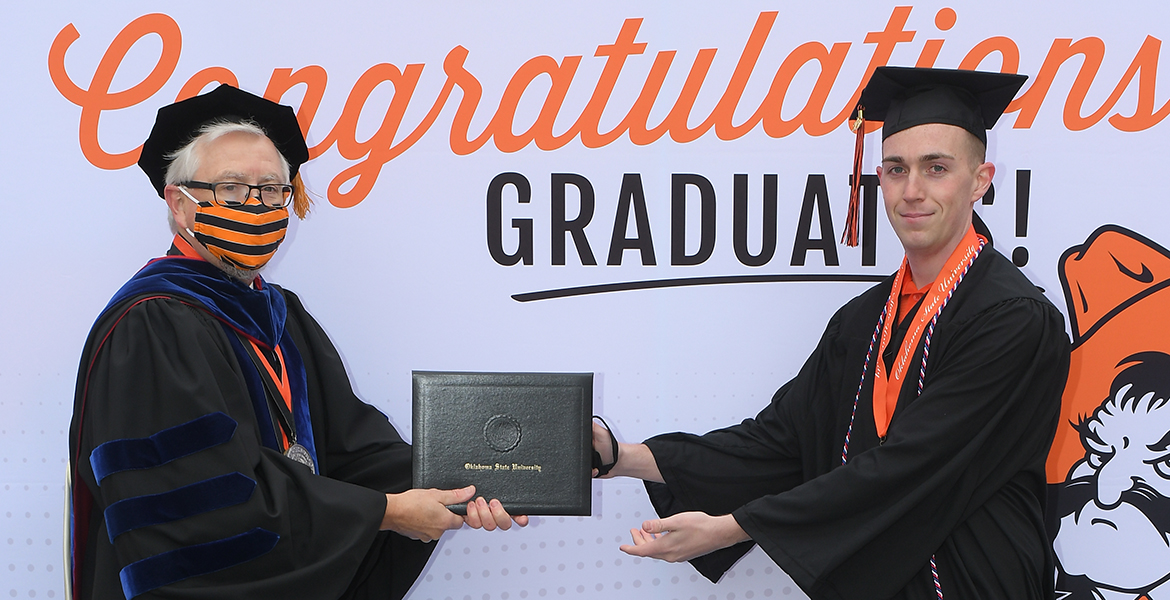 New grad flying high
Friday, December 11, 2020
Reservist returns from deployment to earn OSU management degree, sets sights on MBA
When Thomas Drakeley boarded the Airbus 777 on Jan. 1, 2020, to fly overseas to fulfill a dream of serving his country, the Oklahoma State University management major had visions of what to expect. The 22-year-old's plan was to take a semester off from taking classes at the Spears School of Business while delaying his graduation, serving with the Air National Guard in Qatar for six months and then returning for the fall semester to a Stillwater campus similar to the one he left.
Drakeley found out firsthand that the best plans are often out of his control. When he left for the Middle East, OSU's Stillwater campus was bustling with more than 20,000 students and almost no one had heard of COVID-19. But his return to the United States was delayed a month by the coronavirus pandemic and when he arrived back in Oklahoma in August, he found a campus unlike the one he left.
Instead of classrooms full of students, Drakeley and his classmates faced taking classes and tests remotely and learning how to work on team projects through video chats. Drakeley and OSU students made the best of the situation, and he will be one of more than 6,000 graduates from 2020 recognized during this weekend's virtual commencement ceremonies.
"I just really appreciate the opportunity that Oklahoma State gave me," Drakeley said. "It's definitely been the best four or five years at Oklahoma State. I've gained a lot of insight and I've gained a lot of knowledge from the school. It's definitely prepared me to become a leader."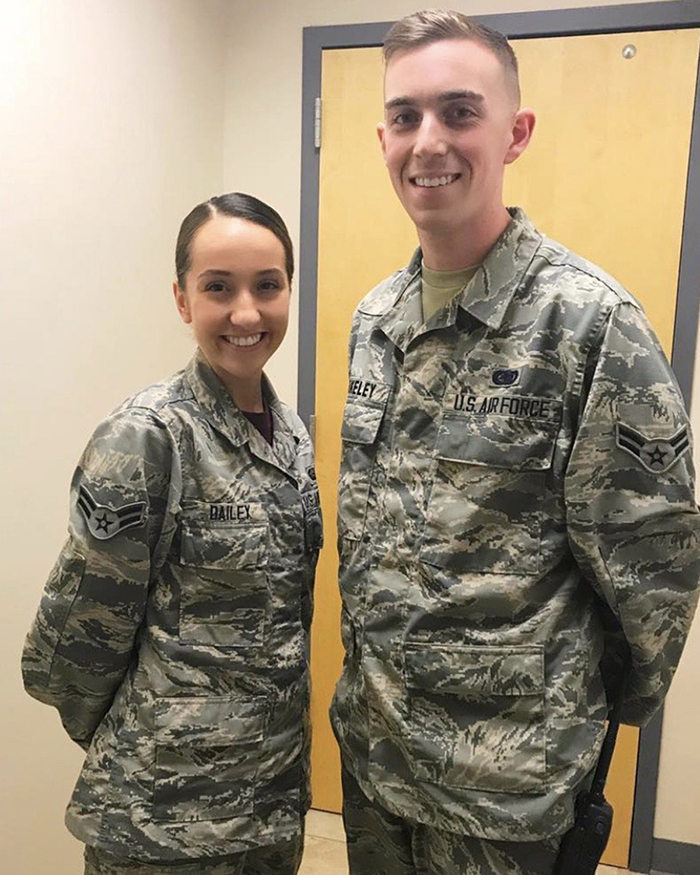 Born and raised in Hartford, Connecticut, Drakeley followed his sister, Molly, to Oklahoma State. She graduated in 2018 with a bachelor's degree in animal sciences and is a third-year student in the OSU veterinary medicine program. He pursued a management degree upon his arrival on campus in August 2016, and also decided to join an Air National Guard unit based in Tulsa.
Little did he realize it was a decision that would change his life. In October 2019, he volunteered for a six-month deployment to Al Udeid Air Base in Qatar.
"I asked them if there's ever an opportunity (for deployment) in January or closer to May where I'd just miss a fall semester," Drakeley said. "I never really had the opportunity to fully engage in the military environment, so I really wanted to deploy, and I really wanted to make sure it only took up one semester. So, when that January opportunity arose, I decided it was too good to pass up."
Drakeley served with an aircraft refueling team at the air base, which serves as a hub for all U.S. aircraft flying into the Middle East.
"It's the largest operating base for the Air Force in the Central Command, and I really enjoyed my job," said Drakeley, whose 180-day stay was eventually extended to around 220 due to the pandemic. "I've had the opportunity the past four years to work in the career field of fuel distribution. But I got to do that overseas and I got to fuel more planes in my six or seven months over there than my entire time in Tulsa. They had so much more equipment, and there were so many more different planes from different countries."
But going overseas wasn't the only life-changing aspect of coming to Oklahoma and joining the Air National Guard. It's also where he met his fiancée, Destiny Dailey. He joined the Air National Guard in August 2016, just a few weeks after she did. They met in a Student Flight program for new members, and quickly became friends. The pair kept in touch as they completed basic training and throughout tech school, and the friendship turned into something more.
Drakeley's immediate plans are to pursue a Master in Business Administration (MBA), while Dailey is studying to become a registered nurse at Rogers State University in Claremore, Oklahoma. The pair plan to marry in January 2022, and both hope to graduate in May of that year.
"The business school has done a great job of finding professors who care about what they teach, and they have made the learning experience something that I've enjoyed. I'm so very glad that I took the opportunity to come to Oklahoma State, and I wouldn't trade it for anything."
- Thomas Drakeley
He says none of this would be possible – finding a fiancée, joining the Air National Guard and traveling to the Middle East and earning his bachelor's degree – without following in his sister's footsteps.
"I've really enjoyed my time at Oklahoma State and the Spears School was very impressive," he said. "It was a program that I was really happy to be a part of for the past four years. Obviously with the new Business Building, that was super cool to see come to life and to be there when it opened (in January 2018)."
Drakeley had the opportunity to spend his sophomore and junior years as a resident assistant in the Living Learning Program (LLP) for Spears Business, and the experience he gained has been invaluable, he said.
"I had an opportunity to oversee 40 students in the business school, mostly freshmen, and help guide them and direct them, and help them to become the best students they could be," he said. "It taught me how to be a better leader while working with people who are younger than myself, and I also learned that I can make a solid impact on students who need that guidance."
Drakeley says he'll never forget the past four years of his life.
"The business school has done a great job of finding professors who care about what they teach," he said, "and they have made the learning experience something that I've enjoyed. I'm so very glad that I took the opportunity to come to Oklahoma State, and I wouldn't trade it for anything."
MEDIA CONTACT: Terry Tush | Director, Marketing and Communications | 405-744-2703 | terry.tush@okstate.edu