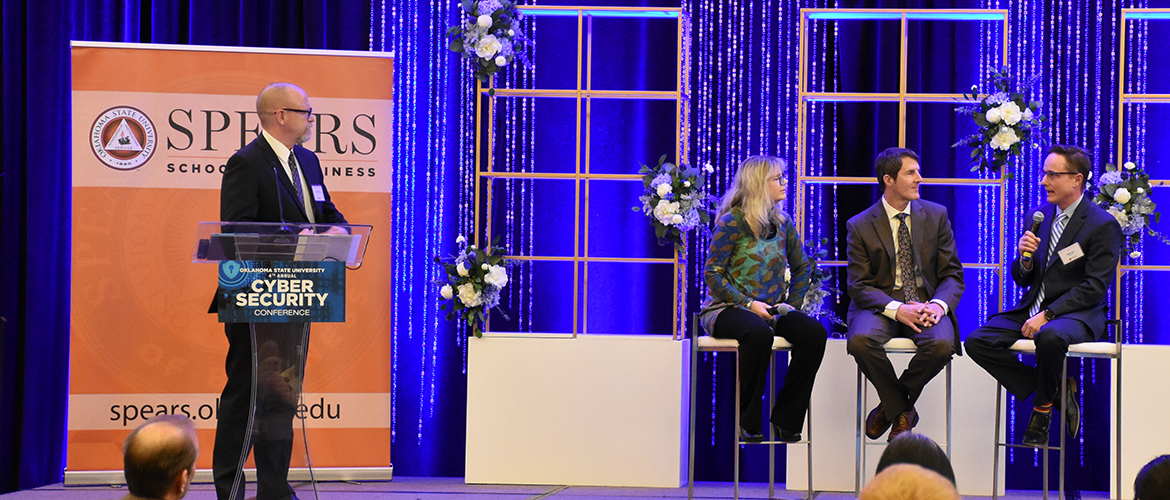 Cyber Security Conference attracts national information technology leaders, experts
Thursday, February 20, 2020
The OSU Spears School of Business Management Science and Information Systems department and the Center for Executive and Professional Development are presenting the fifth annual Cyber Security Conference April 7 at the Hilton Garden Inn at Edmond, Okla. A pre-conference networking breakfast will be from 8-9 a.m. with the conference following from 9:15 a.m.-3:30 p.m.
The conference is designed for senior-level leaders, human resource and information technology management professionals, operational technology specialists, systems and data administrators, and other business leaders involved in the decision-making process for cyber security strategy, implementation, and management.
"Cyber security breaches increase yearly," said Rick Wilson, department head of management science and information systems in Spears Business. "The Cyber Security Conference offers professionals the opportunity to glean useful knowledge from national and regional experts that they can take back to their companies to be more prepared and proactive in approaching cyber security threats."
Speakers and topics include:
Real Stories from the Dark/Cyber Side by Sundeep Kapur, educator and founder, Digital Credence, Inc., Lexington, Kentucky;
Successful CISO Leaders Excel at these 7 Factors by Todd Fitzgerald, chief security information officer and cybersecurity leadership author, CISO Spotlight, Chicago;
Hacking Exposed - A Look Inside the Techniques of OceanLotus/APT32 by Brian Robison, Chief Evangelist, Blackberry Cylance, Irvine, California;
Cybercrime Finds a Way by Rick Holland, chief information security officer, vice president strategy, Digital Shadows, Dallas;
Cyber in Oklahoma - Talent, Tax Credits, Education, Economy by Madeline Mitchell, senior consultant, Commercial Cyber Practice, Deloitte, Tulsa;
How Do You Get Support Throughout the Company? by Shane Hadlock, executive vice president of Information Technology and Information Security, Paycom, Oklahoma City.
Individual registration for the conference is $275 per person. A multiple registration discount is available for eight or more participants. Conference sponsors are BlackBerry Cylance and Hobby Lobby. Sponsorship opportunities are still available.
Media Contact: Terry Tush | Director, Marketing and Communications | 405.744.2703 | terry.tush@okstate.edu