Retired Brigham Young University accounting professor Dr. Kevin Stocks is the recipient of the 2020 Don Herrmann Distinguished Accounting Ph.D. Alumni Award presented by the Oklahoma State University School of Accounting.
The award was created in honor of the late Dr. Don Herrmann, a member of the OSU School of Accounting faculty for 13 years who passed away May 8, 2018 at the age of 54 after battling brain cancer.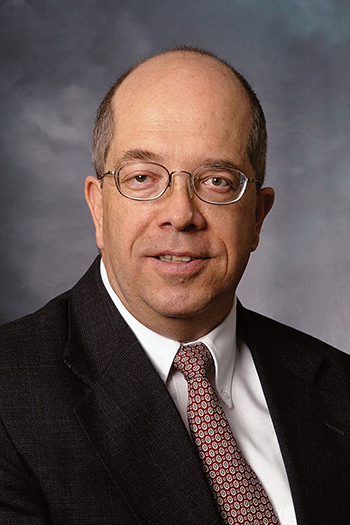 "My experience at OSU set the foundation for a wonderful career," Stocks said. "I had the unique experience of coming to OSU as a Ph.D. student and then moving into a faculty position. The training I received in the Ph.D. program was then enhanced by the tutoring I experienced from faculty colleagues. The importance of not just research but also of teaching and being involved in the profession was established for me during my years at OSU.
"To be recognized with this award is a great honor. I treasure my OSU experience and have always tried to positively represent the program and the university throughout my career."
Stocks was accepted into OSU's accounting doctoral program after earning his bachelor's and master's degrees from BYU in 1978. He earned his Ph.D. in 1981 and taught at OSU for two years before taking a job at the BYU Marriott School of Business, where he made a lasting impact on students and faculty before retiring in 2018.
Stocks directed the BYU School of Accounting from 2003 to 2012. During his tenure, he oversaw the separation of the School of Accounting from the Department of Information Systems, which enabled both departments to flourish independently.
In addition to teaching, Stocks has an extensive research portfolio. His work on subjects such as internal auditing, healthcare accounting, business ethics and accounting education was featured in various business and academic publications. He presented on his findings around the world, including in China, Europe and New Zealand.
"I am very pleased that we are honoring Kevin with this award," said Dr. Audrey Gramling, head of the OSU School of Accounting. "He has done so much to benefit the accounting profession and the accounting academy. He is an outstanding representative of the accounting program at OSU. We are proud to count him among our alumni."
OSU accounting associate professor Dr. Sandeep Nabar said the selection of Stocks was an easy choice.
"When our committee assessed the research and service accomplishments of our graduates, Kevin stood out due to his years at the helm of BYU's top-ranked accounting department, and his various leadership roles in the American Accounting Association, culminating in his presidentship of the AAA in 2011," said Nabar, chairman of the award committee. "Kevin was thus an easy, unanimous choice for this year's award."
Herrmann worked as an auditor for Deloitte in Colorado before moving to Stillwater where he earned his Ph.D. in accounting from OSU in 1995. He spent nine years teaching at Oregon State University before accepting a faculty position at OSU in 2005. In addition to his research, teaching and textbook authorship, Herrmann served in various roles at OSU, including accounting department head and Ph.D. coordinator.
The Herrmann family spent the past 15-plus years in Stillwater where he was active in the community, serving as an elder at Countryside Church, leading numerous Bible studies and coaching many youth sports teams.
Two of his four children followed in Herrmann's footsteps, earning accounting degrees. Both daughter Rachel Cox, an OSU faculty member, and son Nathan Herrmann earned bachelor's and master's degrees in accounting from OSU. His son, David, earned his bachelor's degree in chemical engineering from OSU before earning a medical degree from OSU's Center for Health Sciences in Tulsa. Youngest son, Micah, attended OSU for a year in 2018-19 before transferring to John Brown University in Siloam Springs, Ark., his dad's alma mater, to play soccer.
MEDIA CONTACT: Terry Tush | Director, Marketing and Communications | 405-744-2703 | terry.tush@hotmail.com