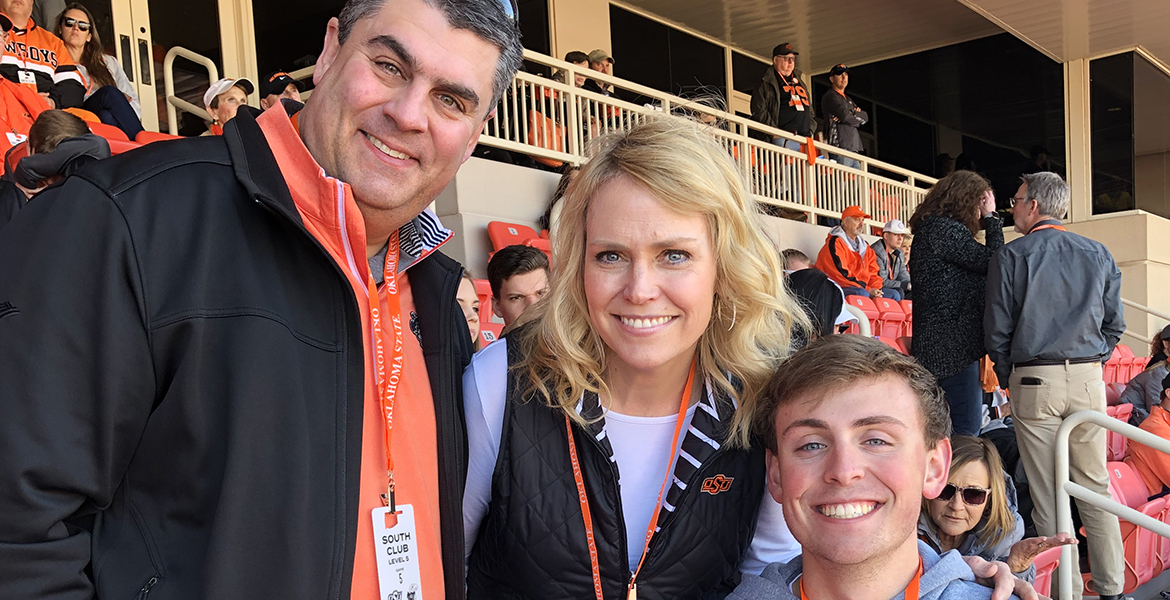 A lifetime of work ethic leads Karl Bovee to Spears Alumni Hall of Fame
Wednesday, January 27, 2021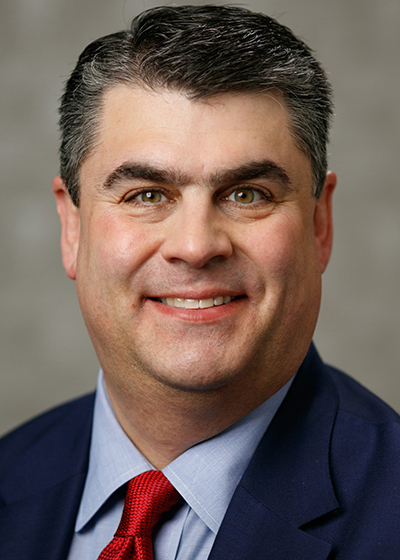 It is not unusual for executives of major U.S. businesses to come from small-town backgrounds. Many of those leaders will tell you that values and work ethic learned while growing up in rural communities influenced their leadership style and often impacted their career success. Bank of America executive and Oklahoma State University graduate Karl Bovee believes an appreciation for his upbringing and education at OSU guided his professional journey.
"For me, work ethic is a key differentiating factor," said Bovee, a Spears School of Business 2020 Distinguished Alumni Award honoree and one of several graduates who will be recognized later this year at the Spears Business Hall of Fame banquet, which was delayed because of the coronavirus pandemic.
The annual Spears Business Hall of Fame banquet recognizes graduates with distinguished professional careers who have given back to their communities and to OSU and who have displayed strong career and personal leadership. As a Hall of Fame inductee, Bovee will receive the highest honor awarded by Spears Business.
Bovee graduated from OSU in 1991 with a bachelor's degree in business administration with a major in finance and minors in accounting and marketing. A native of upstate New York, Bovee has embraced demanding assignments and leading people throughout his 29-year banking career.
Though Adams, New York, is 1,400 miles from Stillwater, Oklahoma, Bovee and his family had developed friendships with several Oklahoma families over the years, influencing where he ultimately decided to go to college. Jim and Phyllis Holliday, OSU alumni from Tulsa, introduced Bovee to OSU and encouraged him to consider attending. During college, Bovee spent two summers working for Holliday at his commercial mortgage banking firm, which only encouraged his growing passion for finance.
"Being so far from home, I didn't go to OSU with a built-in support network," he said.
As a freshman, it was his work study job at the Support Services Department for the College of Business Administration that allowed him to begin building his network and involvement on campus. Seemingly menial duties such as running the computer lab, delivering mail, cleaning and serving as a "runner" gave him the opportunity to actively engage with faculty and staff.
"I loved it because it allowed me to interact with a lot of the faculty and staff in a much more casual setting," Bovee said. "Those relationships encouraged me to do more and looking back on it now, I felt like getting to know the faculty and staff was kind of like the 'Power of Personal' before there was a tagline for it."
It was also while working in Support Services that he developed some excellent student friendships that prompted him to join Pi Kappa Alpha fraternity and become active in several campus organizations. The College of Business Administration also led to another milestone when he met his future wife, Carol, in the computer lab. They were married in September 1991 and continue to share a love for OSU and have remained active with Spears School of Business despite their cross-country moves.
Bovee began his banking and finance career in 1992 in Enid, Oklahoma, where he worked as a loan officer for the local Production Credit Association, part of the Farm Credit System. Nearly three years later, he accepted his first job with Bank of America at the bank's Enid location as a commercial loan officer. At age 28, he began managing the entire market and was named the market president prior to joining Bank of America's office in Oklahoma City in 1999.
Bovee was developing a reputation at Bank of America for getting things done and fixing problems. His "can do" attitude and the move to Oklahoma City exposed him to even more opportunities. In 2007, Bovee was moved to Bank of America's corporate headquarters in Charlotte, North Carolina.
"I ultimately developed expertise in areas that got me noticed and led to taking on regional credit and relationship management jobs in commercial banking that were pretty substantial," he said.
In 2011, he was tapped by Bank of America's chief operating officer to lead a new national corporate strategy team focused on driving integration and partnership across multiple business lines within Bank of America and Merrill Lynch. Despite the obvious challenges, he notes that "the three-year effort was personally gratifying."
In 2014, Bovee moved to Dallas to become the business banking executive for Bank of America's Southwest Region where today he is responsible for the bank's strategy and execution in covering mid-size commercial clients in a 12-state region.
"I love this client segment because the people that we get to impact are business owners and entrepreneurs who are growing their companies," he said. "Their business is their baby. Having spent so many years working with commercial clients provides prospective in helping clients find the right solutions from all the bank has to offer."
Bovee said his career trajectory and success is due to both loyalty to the people he works for as well as to the people who have worked for him. Just as faculty at Oklahoma State and leaders at Bank of America invested in him, Bovee believes in investing in and mentoring others.
"It is rewarding to share my experience and life lessons and help others grow in their careers," he said.
And what advice does Bovee offer young banking associates or university students? "It all goes back to work ethic. Check your ego at the door and get to work," Bovee said. "Just find ways to add value in every way you can in the role that you are in. Do not look past the job you have and show that you really want to learn and to work. People who do that will advance."
Bovee and his wife, Carol, are also investing in future business leaders by funding multiple scholarships for OSU business students through the Karl G. and Carol A. Bovee Scholarship and through the Spears Business Orange Impact student scholarship campaign.
"There is so much financial assistance needed as the cost of school has continued to rise. I remember the challenge of making ends meet while in college and paying off student debt for years to come. We don't want the lack of funds to keep students from even trying to reach their educational goals."
The Bovees are proud that their son, Andrew, will likely be a future business leader when he graduates from OSU where he is currently a sophomore at the Spears School of Business majoring in marketing with a minor in finance.
"We encouraged him to look at as many schools as possible in-state, out-of-state, public, private, and ultimately he chose OSU. He said it felt like home. We are pleased that he is continuing a third-generation legacy at Oklahoma State."
MEDIA CONTACT: Jeff Joiner | Communications Coordinator | 405.744.2700 | jeff.joiner@okstate.edu