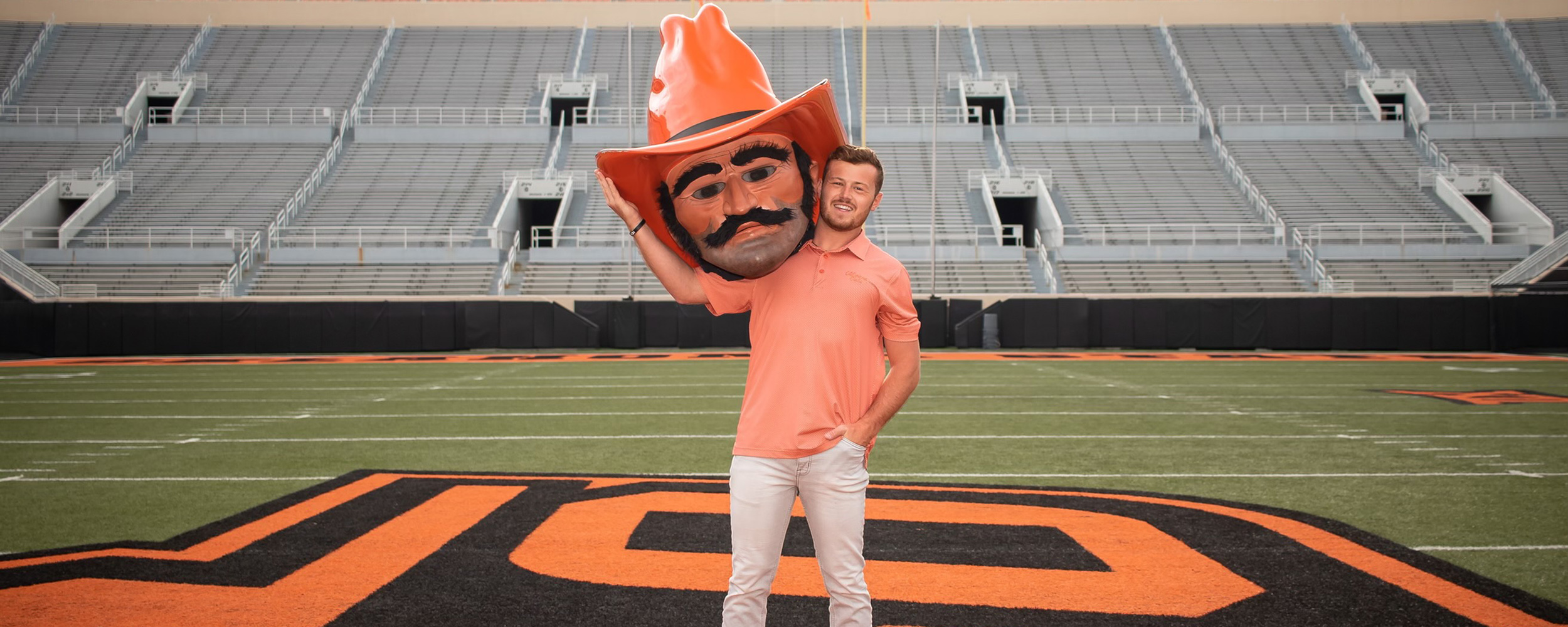 Face2Face with Parker Wilson: one of three legacy Pistol Petes
Monday, November 1, 2021
Media Contact: Bailey Stacy | Marketing and Communications, Coordinator | 405-744-2700 | bailey.stacy@okstate.edu
"Ride 'em Cowboys," waving the wheat, "Here comes Bullet," America's Greatest Homecoming, "pistols firing," tailgating, singing our alma mater and the habitual "Go Pokes!" when seeing anyone wearing orange are all time-honored traditions at Oklahoma State University.
Another one of those traditions that has become synonymous with OSU is the pistol-wielding, 10-gallon-hat wearing, mustache-sporting iconic mascot that is Pistol Pete.
As one of only three legacy Pistol Pete's in more than 60 years, Parker Wilson, Spears Business Master of Business Administration student and Department of Finance alumni, is following in his father's bootsteps.
Rick Wilson is a former Pistol Pete from 1984 to 1986 and the first Pistol Pete to be named an all-American mascot.
"I grew up going to Pistol Pete events," Parker Wilson said. "We would come up for football games and always hang out with my dad's friends who were also former Pistol Petes. I got to be a part of the Pistol Pete Homecoming parade and ride the float. I always knew it would be a really cool opportunity if I got to try out and do it."
Wilson's journey to become the iconic mascot required resilience and perseverance from the young man who tried out for the role as a college freshman, sophomore and junior. Taking pointers from his dad, who judged the mascot try outs for 15 years, Wilson worked hard to emulate the legendary symbol which is Pistol Pete.
After trying out three years in a row, he finally landed his dream gig of wearing the Pistol Pete head and continuing the legacy his father began. He spent his senior year juggling classes and making appearances as Pete.
"Trying out a couple of times and not making it made that goal a little bit bigger," Parker said. "Once I got it, I was very happy, and I've loved it ever since."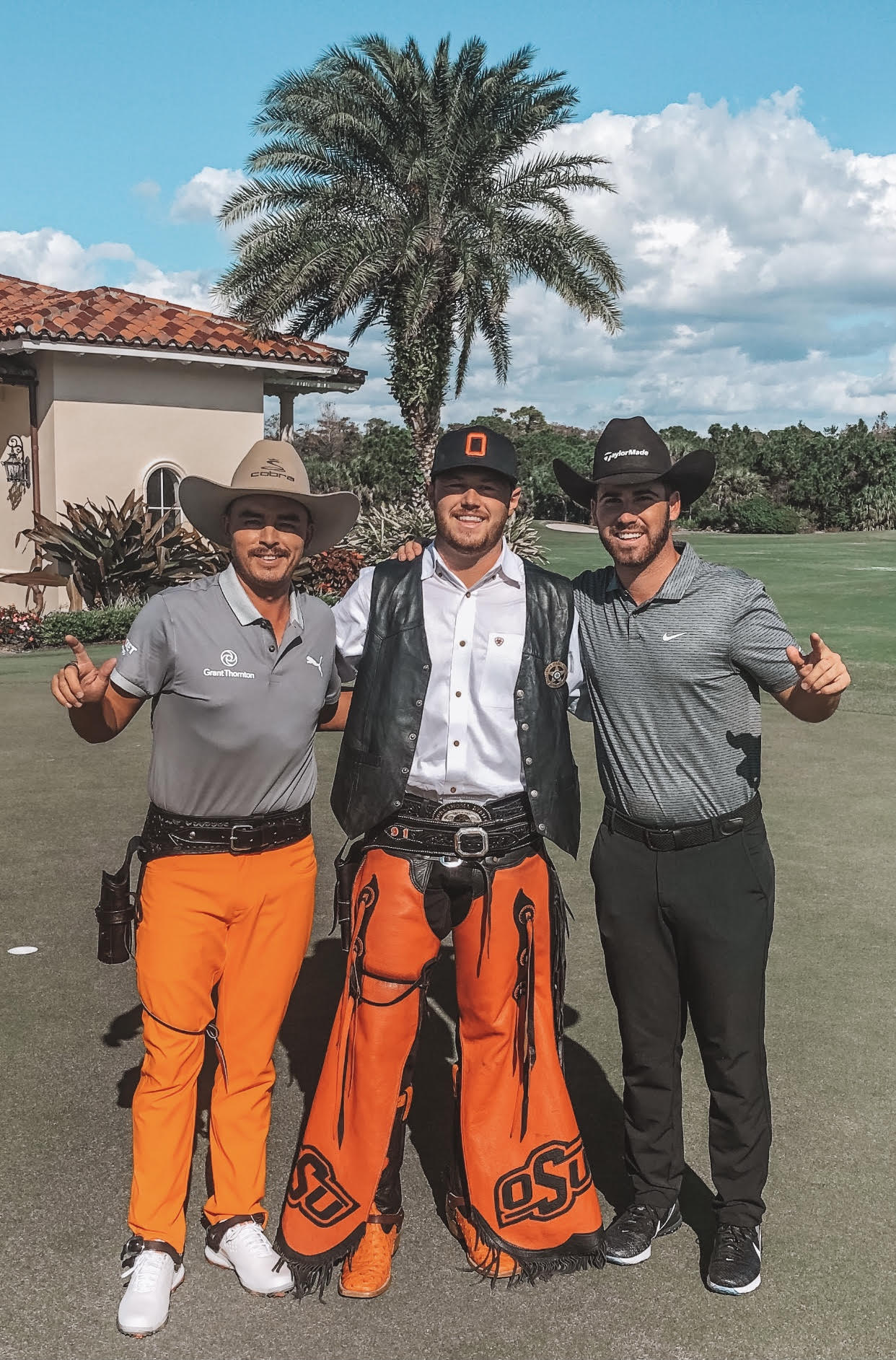 This job has afforded him many opportunities to meet distinguished fans and alumni and attend hundreds of events. One of the most memorable was shooting a commercial at the TaylorMade golf event in Jupiter, Florida, for the company's release of their new Pistol Pete golf balls where he met former OSU All-American golfers — Rickie Fowler and Matt Wolff, who are now playing on the Professional Golf Association Tour. Forming a quick bond over their love for OSU, Wolff invited Wilson to fly back to Oklahoma on his private jet and he eagerly agreed.
"They didn't give me any information on what I'd be doing beforehand," Wilson said. "I had no expectations and then I came home on a private jet."
The 2021-2022 academic year will be his second year to sport the head and his first as an MBA student. Wilson's goal after graduation is to begin a career as a commercial real estate broker.
"The Spears School of Business has done a great job when it comes to putting everything together," Wilson said. "It really gave me a good base of understanding when it came to business finance, how to grow a business and how to develop relationships. I can't thank Spears (Business) enough for what they've done and what they've taught me here at OSU."
Wilson is proud to continue the legacy of Pistol Pete and the family tradition his father started many years ago.
"It's kind of funny, you walk around as a normal person, and you're not any different from anybody, but as soon as you put the Pistol Pete head on, you are embodied as Pistol Pete and Frank Eaton," Wilson said. "Oklahoma State fans just resonate with that. It's kind of crazy how you go from just a regular person to somebody who everyone wants to get their picture with. It's a really different and cool feeling.
"I've had the greatest time in my life getting to do this job and I wouldn't do anything different."