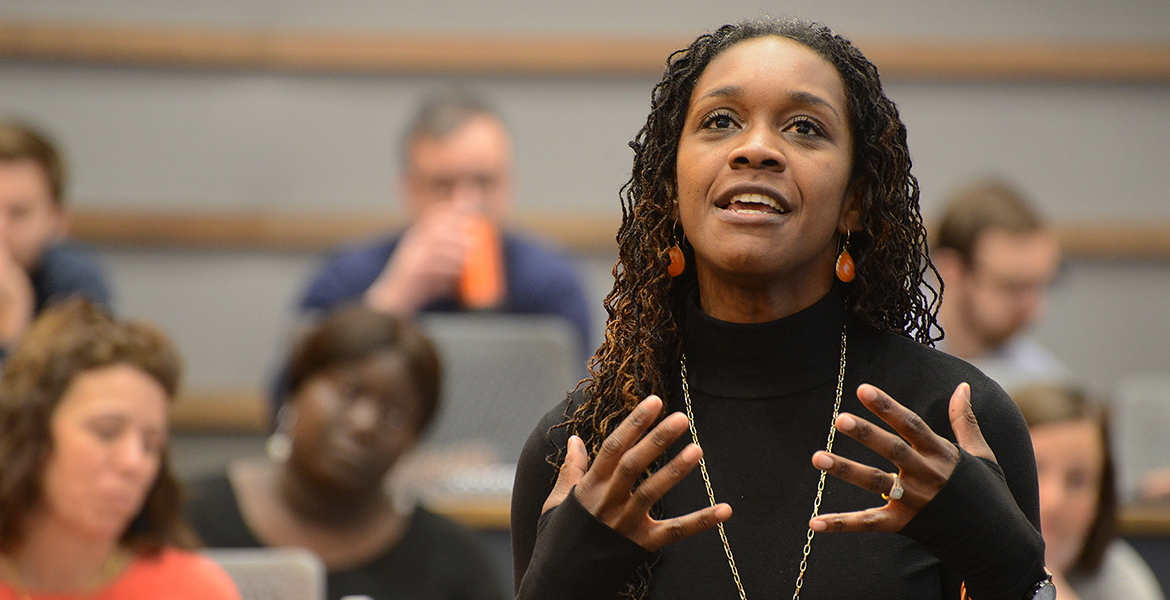 Dr. Lex Smith Washington presented outreach awards by OSU, Spears School of Business
Monday, March 15, 2021
Dr. Lex Smith Washington, associate professor of management and senior inclusion officer for the Spears School of Business, is being recognized with the 2020 Outreach Faculty Excellence Award from Oklahoma State University and the Richard W. Poole Outreach Award from the Spears School of Business. These awards recognize contributions made by a faculty member to advance the outreach mission of OSU and Spears Business throughout the Oklahoma and the surrounding community.
"We are excited to bestow the Richard W. Poole Outreach Award on Dr. Washington," said Dr. Ken Eastman, dean of Spears Business. "She is a remarkable scholar and leader who does a terrific job of sharing leadership knowledge across Oklahoma."
Washington has been with the Department of Management since 2012 and during this time she has presented many outreach programs on emotional intelligence, diversity and inclusion, and unconscious bias. In the last three years, she has taught 120 hours at 45 outreach programs to more than 2,450 business professionals.
"It is our great pleasure to have Dr. Smith Washington be our Outreach Faculty Award winner in 2020," said Dr. Christine Ormsbee, associate provost and director of the Institute for Teaching and Learning Excellence. "The OSU Outreach Faculty Award is evaluated on impact of outreach programs, innovation and creativity in program content or delivery, and participant experience and satisfaction. Her activities show her dedication to businesses and citizens in Oklahoma and elsewhere."
Washington has spoken at organizations such as Chesapeake Energy and the Oklahoma Department of Transportation and has also presented a variety of pro bono programs including speaking with employees at the nonprofit Wings of Hope and participants of the Leadership Stillwater program. In addition, she has served for six years as the moderator for the annual Women's Business Leadership Conference, which is hosted by the International Women's Forum and Spears Business.
"I am honored to receive these awards," Washington said. "It has been an incredible experience being able to connect with various organizations and people in Oklahoma to share the insights and knowledge from my research. I'm proud to help advance the land-grant mission of OSU through my outreach and look forward to continuing to do so."
MEDIA CONTACT: Terry Tush | Director, Marketing and Communications | 405.744.2703 | terry.tush@okstate.edu