Spears' students sixth out of nearly 3,000 teams in strategy simulation competition
Wednesday, April 14, 2021
Media Contact: Terry Tush | Director, Marketing and Communications | 405-744-2703 | terry.tush@okstate.edu
Three Oklahoma State University students teamed up to take sixth out of nearly 3,000 teams competing from 136 different universities from around the world in the GLO-BUS online business strategy simulation competition.
By virtue of its sixth-place finish, the Condor Corporation team of Addison Browne, Blake Engelbart and Shae Martin has been invited to compete in the Best-Strategy Invitational virtual competition over a two-week period in May.
The three are students in Dr. Jeanine Porck's Strategic Management class, a senior-level course in which she introduces students to the strategy simulation competition. Porck's students explore why some companies outperform others and why firms operate the way they do. The students are asked to make strategic decisions that company executives make every day.
"Placing sixth out of 3,000 teams meant that all of our hard work not only in the simulation, but throughout the last three years in our classes has paid off," Browne said.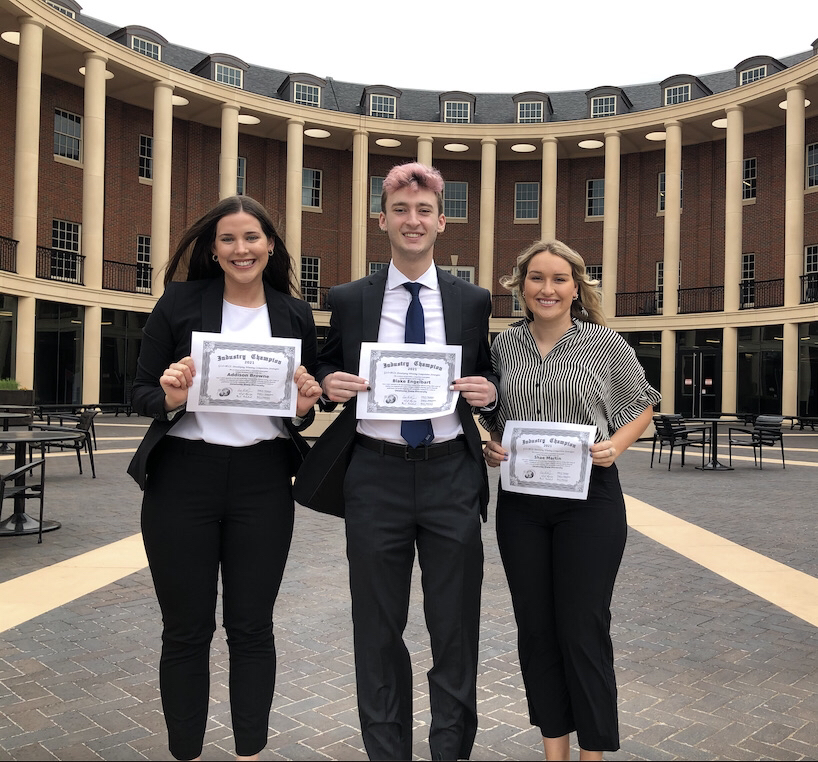 The Spears School of Business management students are looking forward to competing in the Best-Strategy Invitational.
"Being invited to the Best-Strategy Invitational is a huge honor and accomplishment for our team," Martin said. "We are excited and proud to represent OSU and the Spears School of Business."
Each semester, Porck uses the GLO-BUS strategy simulation to give her students experience in making decisions on the core concepts of strategic management. In the simulation, student teams run companies that compete against other companies run by other student teams in their class and against other student teams around the world.
The assistant professor of management ensures that her students have the knowledge necessary to succeed through her lectures. In addition, she provides the teams with a variety of assignments that range from direction setting and formulizing competitive advantage to setting an international strategy and strategy execution — all to support their strategic decision making.
In GLO-BUS, student teams have to make strategic decisions relating to topics such as the pricing and marketing, the financing of company operations, workforce compensation and corporate social responsibility and citizenship. In addition, teams need to think about the competitive efforts of rival companies, have accounting and cost data to examine, import duties and exchange rate fluctuations to consider, and shareholder expectations to satisfy.
"I am very proud of Blake, Shae and Addison for making it to sixth place worldwide and excited to see how they will do in the upcoming Best-Strategy Invitational hosted by GLO-BUS," Porck said. "Their achievement shows that they are ready to enter the professional world with both a well-rounded understanding of business, as well as teamwork and problem-solving skills."
This semester, 2,950 teams worldwide competed in the GLO-BUS simulation.
"At the beginning of the simulation, I felt confident in the calculations and projections that I was making, but I constantly questioned my decisions because of how different they were compared to the other teams," Engelbart said. "I think the biggest takeaway I received from the simulation was to be confident in the knowledge I have acquired throughout my career as a scholar and professional. I learned that differentiation is one of the most important factors toward success, and I should not be afraid of being different as it often results in accomplishments like this."